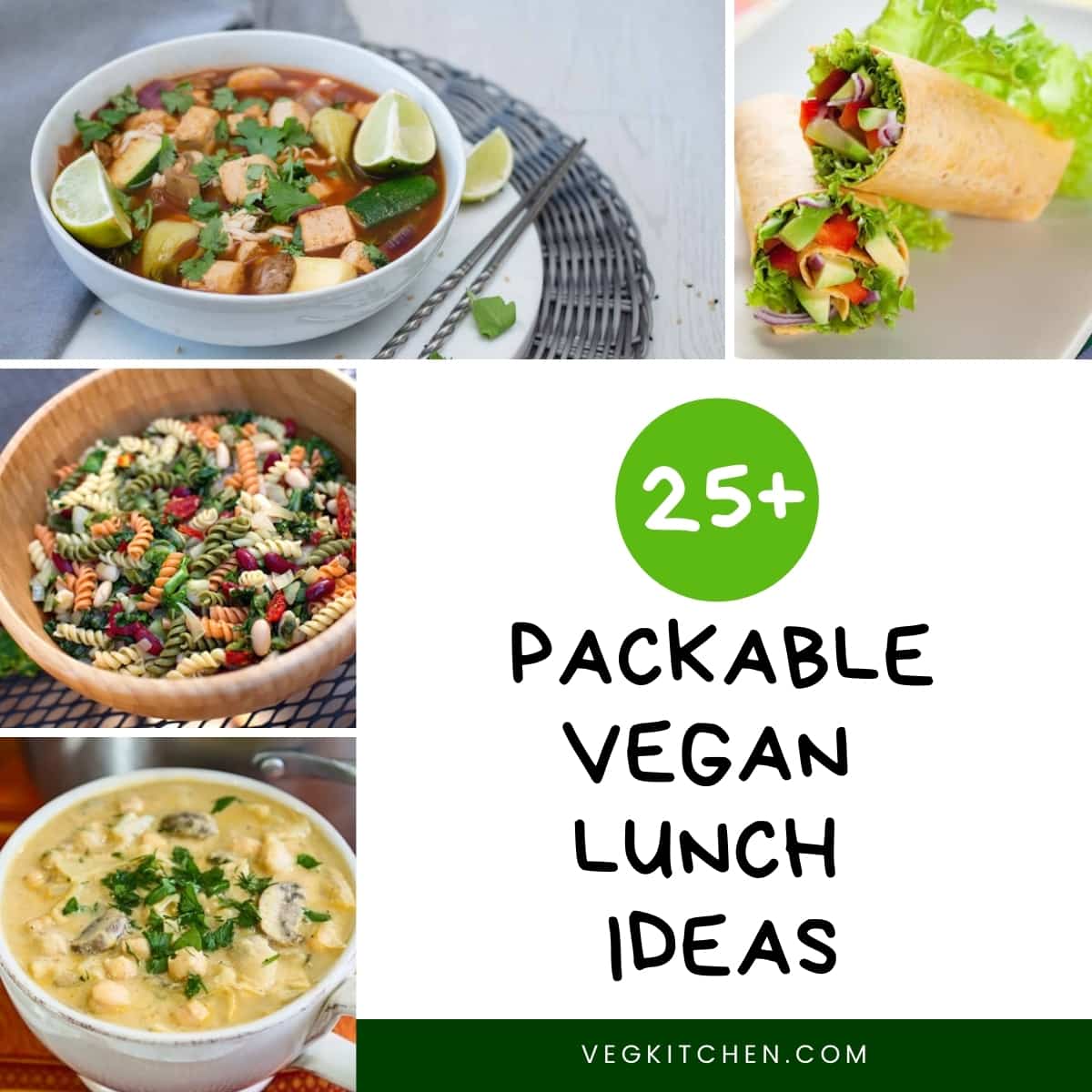 Lunchtime one of the busiest times since it's right in the middle of the day! Having a packable lunch option is great for eating a nutritious meal on the go. This list of 25+ packable vegan lunch ideas will give you plenty of options to keep your lunches simple, quick, and nutritious!
Packable Vegan Lunch Ideas
This list of 25+ packable vegan lunch ideas will give you plenty of options to keep your lunches simple, quick, and nutritious!
This delightful Pulled Jackfruit Sandwich requires about an hour to prepare. It's made with cabbage, jackfruit, onion, and so much more! These sandwiches make for an incredible lunch packed with flavor.
These delicious Grilled Portobello Popeye Club Sandwiches are very nutritious and super tasty. In each sandwich, you will find portobello mushrooms, zucchini, and vegan pesto. This sandwich will keep you full during a busy workday.
This easy recipe combines hummus, tomatoes, quinoa, and baby greens to make a delicious lunchtime wrap. Each Hummus and Quinoa Wrap is loaded with vitamins and nutrients.
These delightful Cool Refried Bean Wraps make for the perfect lunch! They have a bright, vibrant, and colorful filling that is loaded with nutritional value.
These Chickpea Wraps are very filling, super tasty, and packed with nutritional value. They are quick and straightforward to make and are a great source of protein. These wraps will keep you satisfied until supper, for sure!
These delicious Hummus and Veggie Lavash Wraps are packed with hummus and fresh vegetables. Roasted red peppers, cucumbers, lettuce, and more stuff these wraps, making them absolutely delicious!
These tasty Avocado Black Bean Wraps only take ten minutes to prepare. They are loaded with healthy ingredients and create a very filling lunch.
Crispy lettuce, red bell pepper, and cucumber combine in these Tossed Salad Wraps. To make these wraps more filling, simply add chickpeas or tofu.
This wonderful Massaged Kale Salad with Orange-Miso Dressing is packed with delicious, healthy greens; hearty rice; and crisp, fresh vegetables. It's tossed in a savory and sweet orange-miso dressing and is wonderfully vibrant!
This salad combines green peas, celery, bell peppers, and radishes to create a refreshing meal that is perfect for lunch! This Green Pea, Radish, and Vegan Cheddar Salad is vibrant and healthy.
This delightful salad is tossed in a homemade, yogurt-based dressing. It features fruit such as melons, berries and nectarines. This beautiful lunchtime salad is juicy and bright. Late Summer Fruit Salad with Agave-Mint Dressing provides delicious satisfaction in every bite!
This Papaya or Mango and Black Bean Salad is nutrient-dense and very refreshing. It's also high in protein and makes for a great lunch!
This Massaged Kale Salad with Cranberries and Cashews can be easily customized with your favorite toppings. This salad looks beautifully festive and is full of nutrients.
Crunchy, bright, and healthy, this Black Bean Salad with Tomatoes, Olives, and Croutons makes for a wonderful lunch. This salad is made with fresh vegetables and nutrient-filled black beans.
This comforting Chickpea-Mushroom Soup with Tahini is hearty, nutritious, and quick to prepare. It's made with delicious ingredients such as chickpeas, mushrooms, and tahini sesame paste.
This Easy Tofu Ramen Soup is simple to make. Store this soup in a sealed container and warm it up at lunch, or invest in a Thermos to keep your soup warm all day. This ramen soup is filled with firm tofu, ramen noodles, ginger, and zucchini. This soup is delightful, cozy, and full of amazing flavor!
Top this soup with crunchy sesame seeds for the best taste. This Vegan Ramen Miso Soup is cozy and flavorful. It's made with zucchini and tofu and filled with healthy vitamins that will keep you satisfied!
This Vegan "Vegetable" Noodle Soup is easy to make and can use up all the leftover veggies in your fridge. It's delicious and makes for a very cozy lunchtime meal. This soup has loads of vegetables and is a very hearty soup!
This Peanut Kale Soup is a delicious combination of rich, creamy soup and crunchy, hearty nuts! This soup is full of nutrients and vitamins and has the most divine flavor.
This delightful pasta combines eggplant, olives, and your favorite kind of pasta. Pasta with Roasted Vegetables and Olives is very filling.
This delightful Hearty Pasta Jambalaya with Vegan Sausage gives a bold taste and flavor. It's made with celery, bell pepper, diced tomatoes, and more, making it vibrantly colorful and nutrient-filled.
This colorful pasta dish is filled with vegetables! Enjoy mushrooms, broccoli, sun dried tomatoes, and more in this delightful Pasta Primavera. This pasta dish is vibrant, juicy, and absolutely mouthwatering.
This luxurious Vegan Mac and Cheese is rich, creamy, and healthy. You'll love the ooey-gooeyness of this dish!
This Pasta with Two Beans and Escarole is colorful (if you use tri-colored pasta) and packed with protein. It's made with kidney beans, cannellini beans, and spiraled pasta. This pasta dish requires only twenty minutes to prepare and twenty minutes to cook.
This recipe combines nutrition with creamy, rich alfredo sauce. This Vegan Fettuccine with Peas and Alfredo Sauce is a refreshing meal that will keep you satisfied and content all afternoon.
These Cold Cucumber-Chile Noodles are quick to make and bursting with cool and spicy flavors in every bite! They are made with delicious cucumber ribbons and tangy green onions.
Reader Interactions