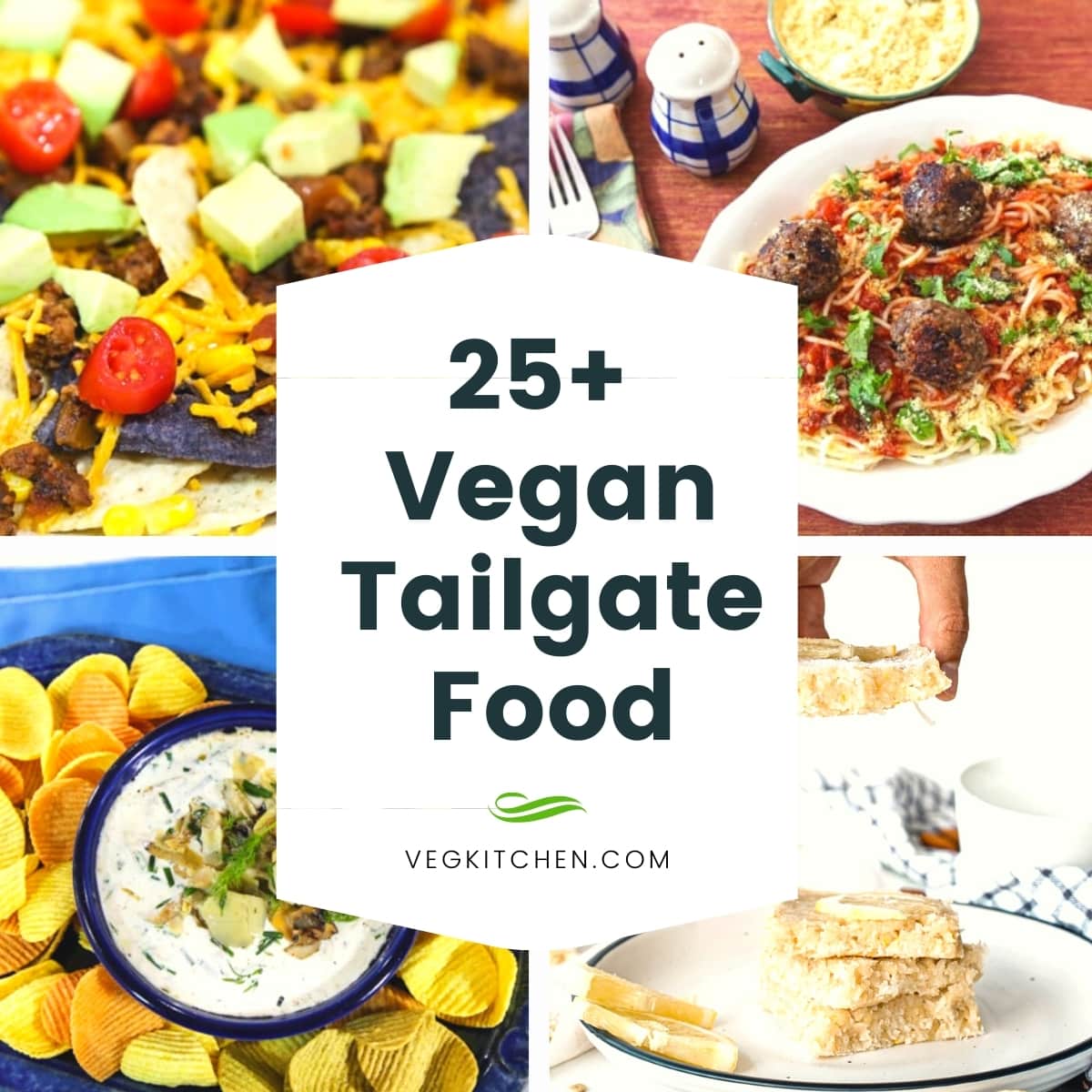 It's that time of year again—time for tailgate parties! But you don't have to miss out because you're vegan. Put together an entire vegan feast with this list of 25+ vegan tailgate food ideas. From dips to desserts, you'll find everything you need!
Vegan Tailgate Food
Put together an entire vegan feast with this list of 25+ vegan tailgate food ideas. From dips to desserts, you'll find everything you need!
This plant-based Vegan Spinach Artichoke Dip will have everyone coming back for more! It's entirely vegan, creamy, rich in flavor, and can be served with various dippers. Chop up some fresh vegetables or pull out some of your favorite crackers and enjoy!
Jackfruit is wonderfully sweet and gives this dip a creamy texture. This Vegan Jackfruit Crab Dip is seasoned with Old Bay seasoning and has a texture that mimics traditional crab dip. Serve this dip with crackers, corn chips, or freshly chopped vegetables.
This 5-Minute Vegan Artichoke Dip requires just a few simple ingredients. It's made with artichoke hearts, vegan sour cream, and tasty seasonings. This dip is perfect for anyone who loves artichokes.
This Silken Tofu and Sun-Dried Tomato Dip is packed with flavor! Its bold and vibrant color makes it a tasty and beautiful dip to bring to a tailgate party!
This Spicy Avocado Edamame Dip is rich in protein and vibrant in color! Its bold flavor pairs brilliantly with just about anything.
A tailgate party isn't complete without the classic vegetables and ranch dip. This Vegan Ranch Dip takes only five minutes to prepare. You can use it for salads or as a dip!
This Pineapple and Tomato Salsa is entirely different from any other. It's a perfect blend of sweet, spicy, and low-calorie. Every bite of this salsa is savory and full of flavor. It has a festive look and is simple to prepare and easy to pack!
This salsa doubles and triples easily, so it's perfect to make for a big tailgate party! It looks very festive and is packed with exquisite taste. This Fresh and Chunky Homemade Salsa is sure to be everyone's favorite!
This refreshing, juicy, and light Cherry, Tomato, and Peach Salsa makes for the perfect party food! Enjoy it with your favorite tortilla chips or crackers.
This Smoky Lentil and Sweet Potato Chili is deliciously different and absolutely mouthwatering. It features a beautiful soft smoky flavor that isn't overly spicy. Garnish your chili with vegan sour cream and fresh parsley for maximum flavor.
Nachos are fun to bring to any party! These Fully Loaded Vegan Nachos are entirely vegan and simple to prepare. They're made with tons of fresh vegetables and taste so delicious!
These "Beefy" Vegan Nachos Grandes are full of meaty flavor but without the meat!
These smoky, spicy, and uber cheesy nachos are sure to be a crowd favorite! Vegan Nachos with Chile con Queso are tasty and addicting!
These Laughably Easy Vegan Meatballs really are so, so easy to make—and fun to snack on! They taste delicious and take only thirty minutes to make.
These little Vegan Sushi Sandwiches will be a hit at your tailgate party! They are made with tofu and are entirely vegan. Slice them small for bite-sized deliciousness.
This Seasoned Edamame Appetizer may seem too simple, but its taste is out of this world. These magical beans are rich in fibre and vitamin k.
Customize this tasty snack by making it with your favorite nuts! This recipe includes sweet maple syrup, a pinch of cinnamon, and dried cranberries. Sweet and Spicy Glazed Nuts blend sweet with smoky and crunchy with chewy!
Skillet Spiced Chickpeas are a delightful snack and excellent to toss in with anything else. This recipe can be easily doubled and is perfect to set out at a tailgate party. The chickpeas have a light nutty flavor and a great texture.
Twice-Baked Golden Potatoes look beautiful and taste great. These potatoes avoid the fat and deliver the creamy, richness you'd expect. Make a large batch, because these potatoes are going to fly off the plate!
These Little Macs with Very, Very Special Sauce are fun to serve and taste great. The little burgers are loaded with delicious vegetables and have a flavorful special sauce.
This Simple Green Bean Salad combines green beans, cherry tomatoes, and bell pepper to make a wonderfully refreshing, juicy, and flavorful dish. It's bold in color and delicious to serve alongside anything.
This Papaya or Mango and Black Bean Salad is nutrient-dense and super healthy. Choose whichever tropical fruit is your favorite—or use both!
Potatoes are always so comforting, and they don't disappoint as an addition in this salad. This Potato and Black Bean Salad is high in protein and tastes very good.
This Pasta Salad with White Beans and Corn is loaded with tomatoes and juicy, sweet corn! It's made with rotini pasta and fresh vegetables.
These little Vegan Carrot Cake Bliss Balls taste so good and are very healthy. They are oil-free and have a soft, moist texture. Top them with chocolate glaze, coconut flakes, or serve them plain.
These No-Bake Vegan Lemon Bars only require six ingredients. They are simple to make and require zero baking time. With their lemon-coconut flavor, these bars are sliceable, vegan, and simple.
These Vegan Triple Citrus Cupcakes will be a delight at your next tailgate party! They have a wonderful lemon curd filling and tangy lime frosting. These citrusy cupcakes will be a hit with everyone!
These little Nu-and-Seed Energy Balls are packed with energy, making them the perfect tailgate party snack! They are a delicious combination of healthy nuts and seeds.
Reader Interactions