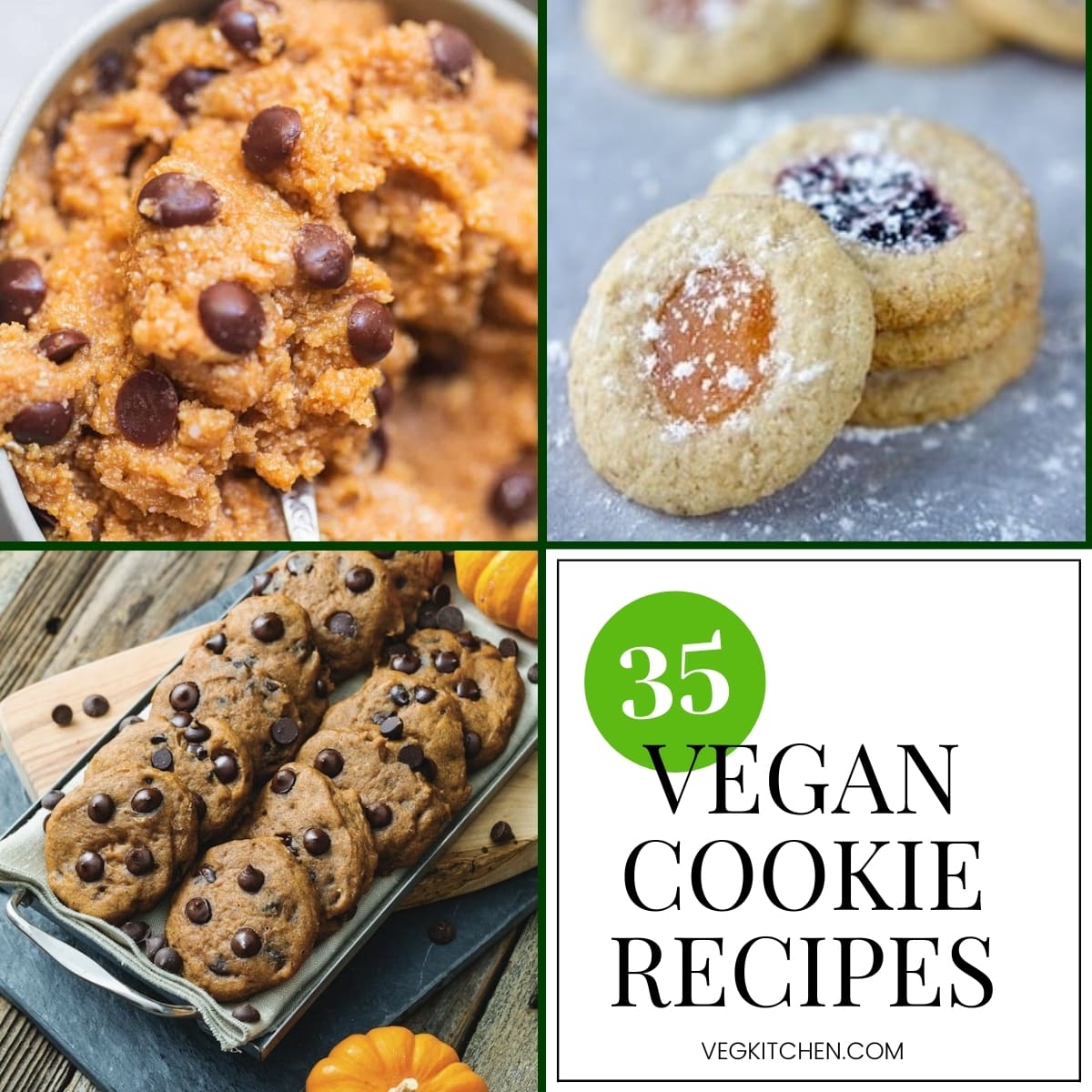 Cookies may be one of the most well-known desserts of all time. They are versatile, portable, and come in every flavor imaginable! This list of 35 vegan cookie recipes has every kind of cookie you could want. From black-bean chocolate to fluffy pumpkin to granola, these vegan cookies will amaze all of your friends and family!
35 Vegan Cookie Recipes
Cookies may be one of the most well-known desserts of all time. This list of 35 vegan cookie recipes has every kind of cookie you could want!
These Chocolate Crinkle Cookies are both soft and chewy. Dusted with powdered sugar, these cookies are incredibly easy to make, bake, and eat! These small cookies pack a punch with their smooth, sweet chocolate and gluten-free deliciousness!
These Vegan and Gluten-Free Almond Thumbprint Cookies are both delicious and gorgeous! They are sprinkled with confectioners sugar and massively delicious in every bite. Baked for only 15 minutes, these cookies are quick to put together and probably won't stay uneaten very long!
This recipe makes four dozen little Chocolate Nut Cookies, so it's perfect for large families, classrooms, and BBQs! These cookies are super easy to put together. For extra deliciousness, top them with powdered sugar! Enjoy the delightful combination of chocolate and walnuts with this simple recipe.
This Chewy Chocolate Strawberry Cookies recipe uses dried strawberries, an ingredient found in many health food or bulk stores. You can easily substitute coconut oil or vegan butter for the dairy butter in this recipe to veganize these delicious cookies. There really is no better dessert combo than chocolate and strawberries!
Vegan No-Bake Chocolate Cookies are the perfect cookie for even the beginning baker! These cookies are simple to put together and ready in just minutes. This cookie recipe is simply divine! It's soft, chewy, and delightful.
This summery cookie is a heavenly combination of both blackberry and orange flavors. These Vegan Blackberry Cookies are velvety, fluffy, and perfect for those who have a sweet tooth.
These triangle Vegan Hamantaschen cookies are heavenly. They can be customized with your favorite fillings and flavors. Choose from apricot, peach, and strawberry to create the most quaint little cookies!
Enjoy the comforting taste of peanut butter in this delectable recipe. This Easy Vegan Peanut Butter Cookies recipe is straightforward and easily customizable!
These Vegan Peanut Butter Granola Cookies combine the smooth, nutty flavor of peanuts and the crunchy, sweet, and salty flavor of granola. These cookies are simple to make, sweet, and sure to be finished very quickly!
These Einkorn Cocoa Walnut Cookies are light, fluffy, and high in protein. They're perfect for those of us who enjoy cookies for breakfast!
This recipe makes delicious No-Bake Breakfast Cookies! These cookies are delicious for any time of day. This recipe makes swapping ingredients easy for all types of diets (low sugar, gluten-free, etc.).
This recipe makes a soft, chewy, moist cookie. The perfect amount of cinnamon spice makes these Cinnamon-Tahini Cookies delightful.
Pumpkin is delicious all year round, and it's the shining ingredient in this recipe. These Pumpkin Chocolate Chip Cookies are delicious, soft, and super chewy. The beautiful combination of pumpkin and sweet chocolate in this recipe is divine!
Nutritious and jam-packed with wholesome, healthy ingredients, these Coconut Chocolate Chip Cookies are easy to make and will be quickly enjoyed. This recipe makes a sweet, indulgent cookie that is vegan and delicious!
These Peanut Butter Chocolate Chip Teff Cookies are iron-rich and nutrient-dense. They are also perfect for those who have a sweet tooth! These cookies are delicious, moist, and comforting with the familiar taste of peanut butter.
Free of refined sugar, these Crunchy Almond Cacao Nib Cookies are healthy, light, and boast the perfect texture. Made with nature's chocolate chip (aka cacao nibs), these cookies are delicious and healthy! These cookies only take ten to twelve minutes to bake and probably less to eat!
The combination of coconut, almond, and raspberry jam is hard to beat! These Coconut, Almond, and Raspberry Jam Thumbprint Cookies are moist, flavorful, and the ultimate comfort cookie that you need in your cookie jar.
These rich Chocolate-Flecked Pumpkin Seed Cookies are chewy, moist, and sweet. In addition, pumpkin seeds are high in zinc and protein, making these cookies an excellent choice for any time of the day!
Using only a third of the sugar customarily required, these Low-Fat Vegan Chocolate Chip Cookies are fantastic! The recipe makes approximately sixteen cookies and bakes for only ten minutes. Fast, easy, and mouthwatering, these are sure to be your next favorite cookies!
These Vegan Chocolate Chip Oatmeal Cookies are vegan and delightful for any time of day. Serve them with tea, coffee, or—well—anything! Because what doesn't taste delicious with chocolate chip cookies?
Everyone will love these Vegan Black Bean Double Chocolate Chip Cookies. Soft, moist, and chewy, these cookies are amazing!
Crispy on the outside and perfectly soft and chewy on the inside, these Pecan Shortbread Cookies are going to be your new favorite. This straightforward recipe requires only four ingredients and bakes for only eleven minutes.
These cookies are filled with a rich, luscious buttercream frosting. This recipe makes twenty-four Cream-Filled Maple Leaf Cookies and is made with pure maple syrup!
These delightful Chewy Chocolate Chip Cookies with Dates are full of nutrients and vitamins. This recipe is perfect in every way—and it's gluten-free!
These crunchy little cookies will delight you! Sesame-Crispy Rice Cookies have the perfect amount of sweetness and are a treat for texture lovers. These cookies are light, crispy, and ultimately satisfying!
Full of seeds and packed with flavor, these Seed Jumble Cookies are splendid. Similar to a granola bar, these cookies are crumbly, filled with seeds, and delicious. Enjoy the seeds in these cookies—ground flax, sunflower, sunflower, and pumpkin.
These Graham Thumbprint Cookies are a treat to make and to eat. Fun to make and delicious to eat, these cookies will delight everyone you're serving!
These Vanilla Wafer Cookies have that delicious smooth buttery flavor of animal crackers. Top these cookies with crunchy nuts, vegan chocolate, or fruit jam. The sweet flavors of maple syrup and vanilla extract come together in these cookies. They are soft, moist, and scrumptious!
Cookies don't get cuter than these, that's for sure! Decorated with fondant to look like chic tiny strawberries, these Strawberry-Shaped Vegan Cookies will be a hit with everyone. In addition, these cookies are vegan-friendly, easy to make, and can be made to accommodate a gluten-free diet.
These light, buttery Vegan Shortbread Cookies will be eaten quickly! This recipe requires only three ingredients and is super simple to make.
Enjoy traditional snickerdoodles with a vegan flair! These Vegan Snickerdooles are chewy, soft, and packed with that delicious cinnamon-sugar taste you know and love.
Soft, chewy, and naturally sweet, these Banana Oatmeal Cookies are fantastic any time of the day. Serve them with fruit for breakfast or enjoy them as a healthy snack. They come together in only twenty minutes and are oil-free and vegan!
If you love eating cookie dough, then this is the recipe for you! This Vegan Cookie Dough is sweet, savoury, and loaded with dark chocolate chips. This dough is bake-free, egg-free, and dairy-free.
These Vegan Oatmeal Cookies are bursting with chocolate chips and rolled oats. Made with natural, whole, simple ingredients, these cookies are extra enticing. Add in your favourite nuts and seeds for added flavor and nutrition!
Goey and decadent, these Totally Addictive Vegan Double Chocolate Cookies are going to have everyone begging you to bake more! They are soft, moist, and have the beautiful taste of sea salt and dark chocolate.
Reader Interactions