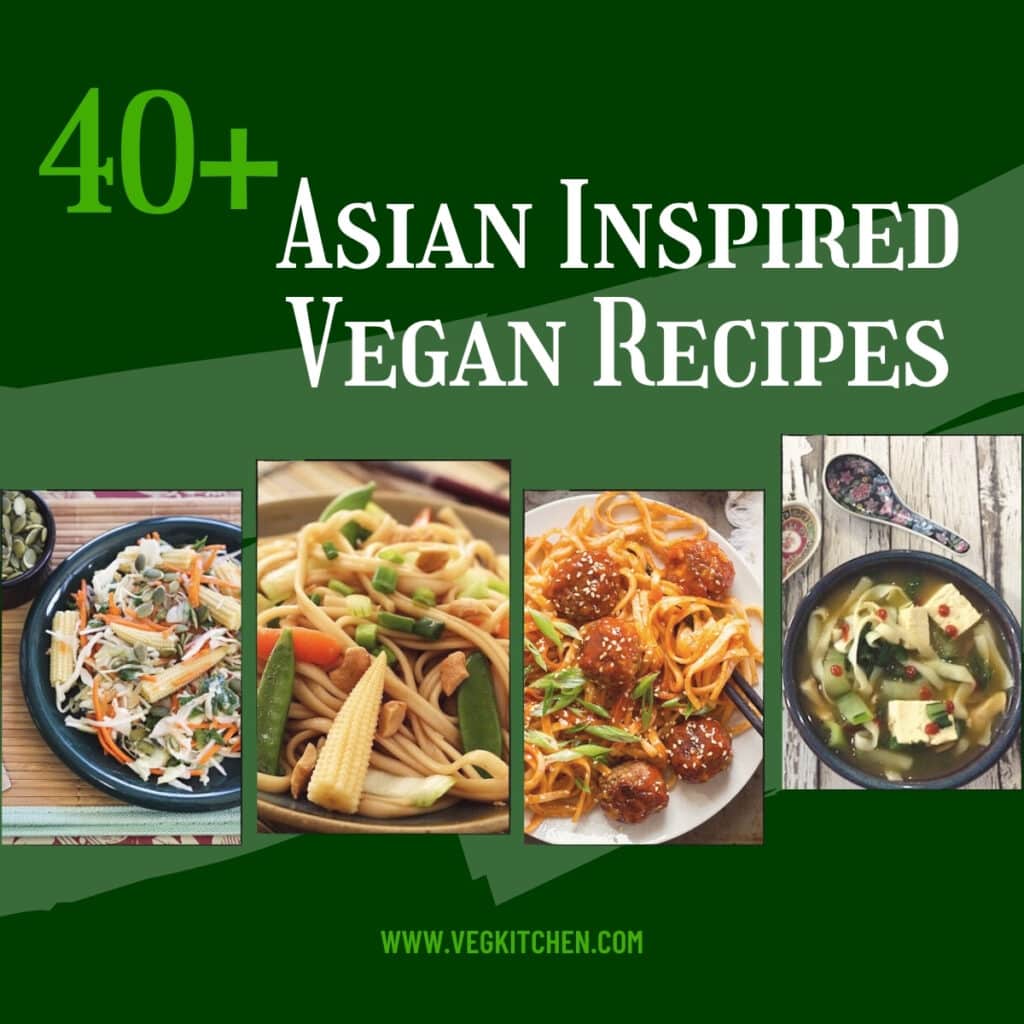 Who says you have to eat meat to enjoy Asian food? This list of 40+ Asian inspired vegan recipes is full of classic dishes that everyone can enjoy!
40+ Asian Inspired Vegan Recipes
Who says you have to eat meat to enjoy Asian food? This list of 40+ Asian inspired vegan recipes is full of classic dishes that everyone can enjoy!
These slightly spicy Vegan Asian Veggie Noodles are easy to make and taste delicious! Vegetables are hidden in every bite. Enjoy forkfuls of noodles wrapped in carrots, red pepper, peas, and more.
This Crispy Breaded Tofu with Asian Sauce coated with a delicious breading. The Asian sauce packs a bit more punch of flavor and is perfectly paired with the tofu.
This tasty noodle soup that only takes twenty minutes to prepare! The 20-Minute Asian Vegetable Noodle Soup is loaded with vegetables and makes a cozy, comforting, healthy meal.
This Easiest Asian Slaw is crunchy, colorful, and delicious! It's a great salad to accompany any meal and can be topped with pumpkin or sesame seeds for an even tastier bite!
These refreshing, Cold Asian Noodles & Teriyaki Tofu are tossed with crisp fresh vegetables and a fragrant sauce.
These Instant Pot Asian Steamed Dumplings are super easy to make. They are made with store-bought wrappers and cook easily in an instant pot—and they are completely vegan!
Tempeh Satay with Asian Greens is high in protein and nutrient-rich. It's made with tempeh, zucchini, broccoli, and a few other simple ingredients. This wonderful Asian dish is easy to make and looks beautiful.
This quick and vibrant Colorful Asian-Style Vegetable Tofu Soup is delicious! Vegetables like red pepper, baby corn, broccoli, and more peek through in each spoonful.
This recipe makes a wonderful Asian-Flavored Edamame and Tofu Chopped Salad. It can be served with just about anything, including as a stuffing in halved peppers.
These cold noodles are cooked to al-dente perfection and tossed with fresh, crisp vegetables and savory hoisin sauce. Hoisin-Flavored Cold Asian Noodles with Crisp Veggies is a simple dish and easy to put together. Healthy, bright veggies will be in every bite!
Spices and nuts fuse together in this delightful noodle dish. Smokey tempeh is tossed with thin, smooth noodles with a bold Asian flavor. This Southeast Asian-Flavored Noodles with Tempeh Croutons dish is savory and spicy at the same time!
This Chili-Orange Asian Noodles with Crisp Vegetables is perfect for serving year-round. The salad is flavored with a sweet citrus glaze and tossed in a homemade Asian sauce.
This savory stir-fry combines Napa cabbage, mushrooms, and tofu to create a wonderful Asian-inspired dish. Asian Noodles with Napa Cabbage, Mushrooms, and Tofu is quick to prepare and cook. It's delicious and sure to be a family favorite!
These smokey-spicy Asian-Flavored Quinoa Wraps are a great source of protein and make an excellent meal. Carrots and avocado mix together with cooked quinoa and are wrapped in a soft whole-grain wrap.
This easy, spicy dish is delicious and is ready in almost no time! Cooked Asian noodles combined with stir-fried corn and cabbage to make a delightful meal. Asian Noodles with Spicy Stir-Fried Corn and Cabbage is a tangy, spicy dish that will really surprise you!
This Asian-Spiced Kabocha Squash is slightly sweet with a hint of spice. It makes a delicious breakfast, or, any time of day, food!
This Mixed Greens Salad with an Asian Spin is a beautiful mix of greens, vegetables, and a hint of citrus. It is colorful and tastes perfect paired alongside anything.
These Spicy Asian Peanut-Ginger Noodles can be made with a wide variety of vegetables. Purchase whatever is in season or make it from what is in the refrigerator. This smooth, nutty, and spicy dish is heavenly!
This Asian Noodle Platter with Crisp Veggies and Peanut Sauce is both impressive and delicious. The center is full of long, delicate noodles with fresh vegetables surrounding it. This platter is best enjoyed at room temperature, so it's perfect for gatherings and potlucks.
This Asian Noodle Soup with Baby Bok Choy and Mushrooms makes a delicious and filling meal. It's filled with vegetables and is a beautiful soup to serve as an appetizer or a meal!
This Asian Peanut Stir-Fry with Black Rice is made slightly more elegant with its black rice. Packed with vegetables, this stir-fry has the perfect hint of spice and is ready in under one hour.
This refreshing Hot-and-Sour Asian Vegetable Soup features both sour and hot flavors and has many vegetables in it such as bok choy, tomatoes, mushrooms, and more. This soup is incredibly aromatic and delicious.
This Asian Mushroom-Noodle Soup is simple to make and features a delicious number of ingredients. Enjoy the taste of carrots, green peas, mushrooms, spinach, and more in this soup!
This simple dish of Gingery Asian Noodles with Snow Peas and Shiitake Mushrooms is healthy and loaded with delicious ingredients. It is a delightful mix of beautiful textures and tastes.
These Southeast Asian-Flavored Spicy Mashed Potatoes are delicious! They have a smoky Asian taste and are made with fresh chili pepper, coconut yogurt, and ginger.
This Vegan Thai Pineapple Stir-Fried Rice creates a beautifully colored dish. Enjoy the bold taste of broccoli and the sweetness of pineapple as they fuse. The recipe only requires twenty minutes to prepare, making it an excellent choice for a work-night meal!
This Vegan Thai Asparagus Stir-Fry is easy to make and looks beautiful for any dinner or gathering. It's entirely vegan and super healthy!
This Thai-Flavored Tofu and Broccoli is perfect when served over rice or alongside your favorite noodles. The delicious combination of broccoli, carrots, baby corn, and more give this dish a versatile flavor.
This Vegan Pad Thai is the perfect comfort dish! Pad Thai is rice noodles mixed with tofu and vegetables, and this recipe is vegan and easy to make.
This warm, smokey Creamy Thai Carrot Sweet Potato Soup is like a hug in a bowl! It is cozy, spicy, sweet, and divine. It takes only twenty-five minutes to prepare and cook, so it's ready to enjoy in under one hour!
Winter squash fuses with Thai red curry to create this tasty dish. Thai Red Curry with Winter Squash, Mushrooms, and Broccoli is a warm and comforting dish that's completely full of flavor! This dish is filled with healthy ingredients that make it rich in vitamins and nutrients.
This Thai-Style Green Veggies with Coconut-Peanut Sauce creates a beautiful and delicious meal! Bright, freshly steamed vegetables give the dish an enormous amount of vitamins and nutrients.
This Spicy Thai Braised Kale and Tofu is bright, bold, and delicious. It's easy to make and can be served alongside many dishes.
This Thai Coconut Tempeh with Pineapple Salsa is the perfect amount of sweet and spicy. It's best served with cooked rice and makes everything taste better!
This Thai-Spiced Sweet Potato Stew can be made as spicy as you would like! Enjoy a hearty, warm, comforting bowl of this bold and delicious stew.
This exotic entrée is best enjoyed served over warm rice. Thai Chickpea Almond Curry is ready in barely any time at all, making it perfect for serving any day of the week!
This luscious noodle dish is the perfect partner for so many side dishes! These Vietnamese-Style Bean-Thread Noodles are delicious and versatile. Enjoy exploring them with different things and find your favorite!
These Chinese Noodles with Spicy Szechuan Bean Curd are savory and mouthwateringly tasty. This dish is spicy, smoky, and has a great texture.
This Chinese-Style Vegetable Fried Rice is packed with flavor. Enjoy bell pepper, corn, carrots, and more in this Chinese-style dish!
This wonderful "Buddhist's Delight" Chinese-Style Vegetable Stew is packed with vegetables! It's healthy and comforting at the same time.
Say hello to your new favorite meal! This Chow Mein is loaded with flavor and is surprisingly simple to put together.
These delicious Thai Red Curry Noodles will be your new favorite! This Thai dish is loaded with flavor and layers and layers of rich, spicy flavor.
This spicy Korean Noodles & Tofu Meatballs dish is comforting and beautiful. In this dish, Korean noodles intertwine with spice and moist tofu meatballs. This dish is easy to make and is mouthwateringly tasty!
Reader Interactions