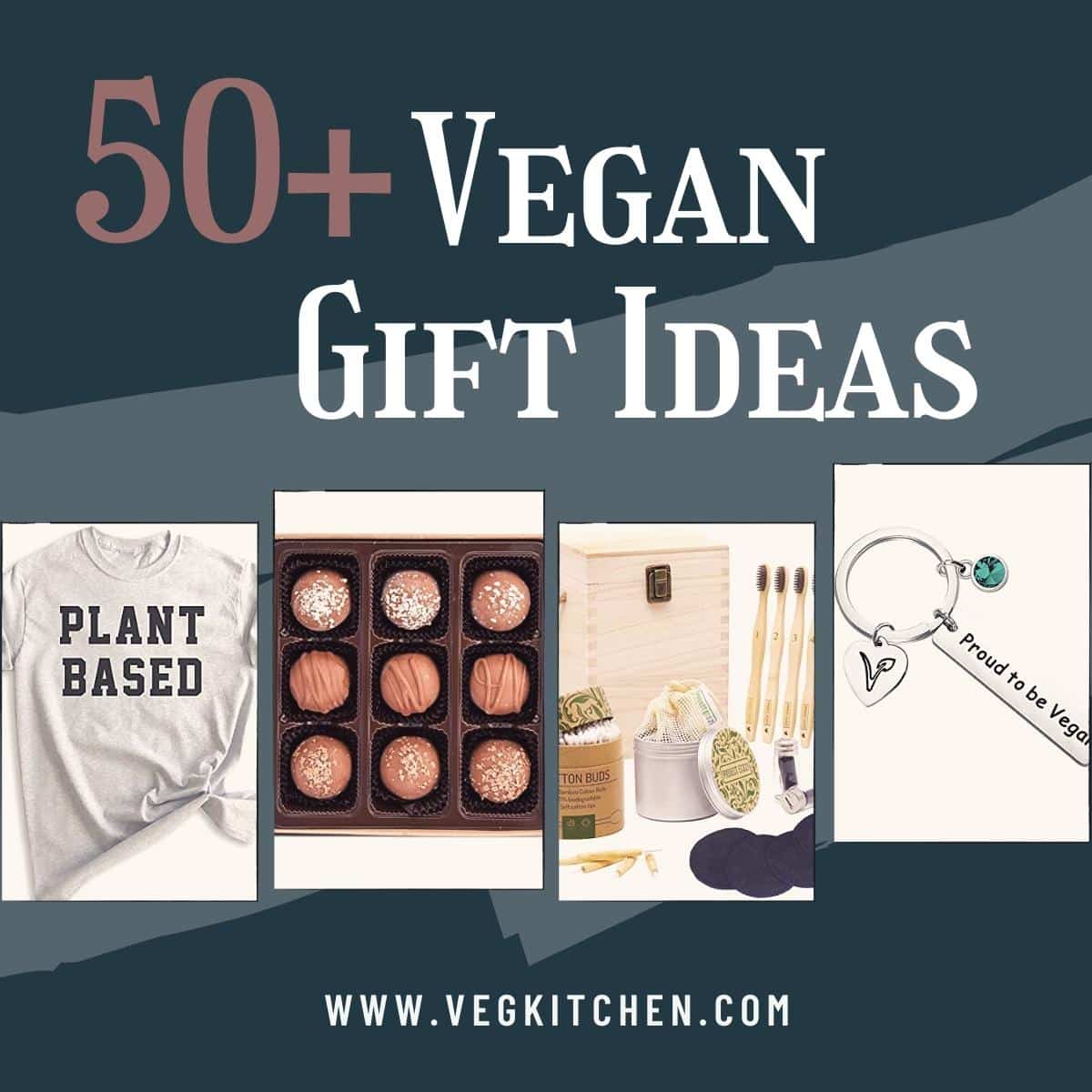 It's easy to share your love with animals and your friends and family with these 50+ vegan gift ideas! From food to apparel to cosmetics, you can find a vegan gift for everyone on your gift list.
50+ Vegan Gift Ideas
It's easy to share your love with animals and your loved ones with these 50+ vegan gift ideas! Find a vegan gift for everyone on your list.
These egg-shaped sponges are perfect for all types of makeup applications. This Makeup Sponge Set is designed for both wet and dry use. In addition, the sponges all come in a cute case!
The vegan on your shopping list will be mesmerized by the traditional cake scent of this Cake Beauty Vegan Sugar Scrub. This scrub is sugar-based and excellent for removing dry skin. It's 100% vegan and certified cruelty-free!
These hydrating lip balms make a great gift! They are entirely vegan-friendly and make moisturizing your lips fun. This Pacifica Beauty Vegan Lip Balm Trio comes with rainbow watermelon, rosewater, and bali coconut flavors.
This Project Eco21 Eco-Friendly Products Gift Set is a beautiful gift to give the vegan in your life. It contains reusable cotton pads, bamboo toothbrushes, charcoal dental floss, and more. Even the packaging is plant-based and sustainable, making this a great zero-waste gift!
This vegan Karma Organic Beautiful Natural Nail Polish Set leaves nails with a glossy finish. In addition, these polishes are filled with vitamins to strengthen nails and prevent chips and peeling! This nail polish set improves nail health and leaves a beautiful, professional result.
This special Vegan Bath Bombs Gift Set makes an excellent gift for your vegan loved ones. Choose between an 8-pack or a 9-pack, and give the gift of relaxation with these beautiful bath bombs. Each bath bomb dissolves quickly and fizzes a lot. They are infused with therapeutic scents and are a great tool for relaxation!
These sixteen eyeshadows are bursting with pigment and come in matte and shimmer. Warm nudes and bold shimmers are making this Vegan Eyeshadow Palette a perfect palette for all! The palette features a magnetic lid for easy closure and a built-in mirror.
This Cruelty-Free Make-Up Brush Set is available in three different colors. They are silky-soft and 100% vegan. This ten-piece makeup brush set also comes with a beautiful carrying case!
These small-sized lotions are perfect for moisturizing on the go! Choose from original, sweet pineapple and honey melon scents. This Lotion Set is perfect for hydrating and reducing redness.
This fantastic Purezero Coconut Milk Shampoo & Conditioner Set makes a great gift. It gets rid of frizz and brings out intense shine in your hair! This shampoo locks in moisture and hydration, is made with wholesome ingredients, and is free of fillers and sulphates.
This three-piece Vegan Organic Seasonings set is a delight! It features spices that are suitable for all meals during the day. Enjoy a dash of sweetness with the savory maple cinnamon spice and the hint of everything spice.
These elegant jars will look beautiful on a counter or shelf. In addition, each spice offers excellent health benefits! Isadore Nut Co's Spicy 3-Jar Gift Set would make an excellent gift for all of your vegan friends!
All the spices in this Simple Girl Gourmet Vegan Spice Set are gluten-free, oil-free, and sugar-free. They are the perfect addition to vegan cooking and a must-have for every vegan kitchen. This set comes with four seasonings—lemon herb, southwest, sweet & hot Louisiana, and steak seasoning.
This awesome kit allows you to make six different kinds of vegan cheeses. The Big Vegan Cheese Making Kit comes with ingredients and recipes—a great kit for a foodie!
These plant-based Vegan Chocolate Truffles make for a delightful gift! The chocolate is rich, creamy, and absolutely decadent. They arrive in festive packaging and are certified Kosher. As a bonus, these vegan chocolate truffles are tasty and support animal welfare!
These premium vegan-friendly Dark & White Chocolate-Covered Pretzels are absolutely decadent. Choose from sets of 4, 12 and 16 delicious pretzels. These pretzels look beautiful and arrive in amazing packaging, making them a perfect gift!
This Healthy VEGAN Snacks Care Package would make a great gift for your vegan loved one. The package is overflowing with easy, grab-and-go snacks that are vegan-friendly, healthy, and delicious!
This nutritious, sweet Oh! Nuts Dried Fruit Gift Basket makes for a wonderful gift. The dried fruit arrives on a beautiful wooden tray that doubles as a basket, increasing its beautiful aesthetic. Once the fruit is finished, the basket/tray can be used again and again!
These oil bottles look sleek and elegant while providing flavor and taste. This TruffleHunter White Truffle Oil & Balsamic Vinegar Gift Set arrives in a secure box, making gift wrapping easy.
This cute Avocado Vegan Hoodie features a cartoon-style piece of toast and half an avocado! Available in a few different colors, this hoodie is suitable for every occasion. It's soft, cozy, and chic!
Everyone needs a comfortable plain tee, and that's exactly what this Evertree Clothing Plant-Based T-Shirt is! It's available in ten different colors and has the words "Plant-Based" across the front. In addition, the shirt is made of 60% cotton, making it breathable, cool, soft, and comfortable.
This stylish BLANKNYC Vegan Leather Jacket makes for a wonderful gift. It is available in two colors and goes great with all fashion!
These fun Vegan Burger Socks will serve as a very delightful gift! Packaged to resemble a vegan burger, these socks are perfect for any vegans on your list.
This awesome Be Kind, Be Cool, Be Vegan Journal is a great gift. It features a bright, bold cover and blank pages for creative expression inside!
This cute Vegan Booty Coffe Mug makes for a great gift! It is made of high-quality ceramic that is solid, durable, and coated in a long-lasting color.
A fun gift for the vegan on your list, these Fun Vegan Statement Socks are cute and look great paired with any outfit. They are made with only high-quality materials that prevent pulling and loose ends. They are made with luxurious cotton and printed with a beautiful pattern.
This phone case features the phrase "Vegan AF" in a bold green color. It has very precise cutouts, so buttons are easily accessible. This Vegan AF Phone Case is also scratch-resistant and will hold up for a long time!
These Vegan Be Happy Stickers are an excellent gift to give to the vegans in your life. The stickers are perfect for decorating notebooks, water bottles, laptops, and more. This set comes with ten brightly colored stickers that have a strong adhesive.
This 20 oz Onebttl Vegan Wine Tumble Cup is cute, chic, and has two font options. It can be used for coffee, juice, water, and any other liquid. This tumbler features a spill-proof lid and a high-quality stainless steel straw. It's also vacuum insulated, which makes it perfect for both hot and cold beverages!
This 12 oz Vegan AF Wine Tumbler or Coffee Cup is cute and chic! It's available in shades of green and rose gold. And it's also rust-proof and stain-resistant!
This Four Orangutans Funny Engraved Cutting Board is excellent for your vegan loved one! It's fun, entertaining, and perfect to display. The backside doubles as the cutting board, so it is still functional. This gift is great to display on a counter, wall, or shelf.
This Funny Vegan Notebook makes for a great gift! It's funny, cute, and can be used for so many things.
These bright Funny Kitchen Tea Towels make a funny gift to give your vegan loved one. This set of four towels are machine washable and feature funny vegetable sayings. Made from a highly absorbent material, these tea towels perfect to add to someone's kitchen!
These bowls were carefully crafted from coconut shells, so they are each unique in shape and color. Each bowl is slightly different and 100% natural. They are easy to clean and care for. As a bonus, this Vegan Handmade Coconut Bowls and Coconut Spoons Gift Set arrives in a wonderful gift box!
This beautiful Buddha Cork Vegan Zip Cork Wallet makes for a beautiful gift. On the wallet is a wonderful design to inspire mindful spirituality. The wallet is soft and durable and has space for cards, phones, and money. It's also equipped with a small wristlet band to help you carry it easily.
This Vegan Coloring Book would make an awesome gift for the vegans in your life! Coloring is a wonderful way to express creativity and cope with stress.
Give the gift of organization with this funny Badass Vegan Monthly Calendar Planner! There are self-care trackers, birthday reminders, and goal setting throughout the book to help you stay organized all year.
This funny Awesome Avocados 2022 Calendar is brightly colored and makes a great gift. It has eighteen full-color pictures and large boxes to write in!
This fun piece of Vegan Food Wall Decor is perfect for any vegan on your shopping list. It comes unframed with multiple surface options (poster, canvas, etc.). The print is very high-quality and makes for a unique decoration!
This Vegan Wooden Wall Clock is available in two different sizes and adds a rustic-wooden feel to any space. The numbers are made of a high-quality material to prevent fading and glares.
This Losea Vegan Kitchen Metal Tin Retro Sign is a great gift! It's made of tin and has a retro-vibe feel to it. This sign is green and would fit in well in any kitchen!
This Vegan Tin Sign Wall Decor makes for a wonderful gift for any vegan! It offers helpful information for vegan cooking for optimal taste and health impact. In addition, it has a retro-vibe style and would fit perfectly into any kitchen.
This beautiful Inspired Silver Vegan Memory Charm Bracelet is made with high-quality sterling silver and cubic zirconia. It's very sparkly, and perfect for all of your fashionable vegan friends!
This Handmade Inspirational Morse Code Bracelet is made of an eco-friendly material that won't turn your wrists green! These bracelets won't fade or tarnish. They are also adjustable to fit many wrist sizes and come packaged in a cute gift box!
This JoycuFF Vegan AG Cuff Bangle is made with surgical-grade stainless steel that will not fade or tarnish. The bangle has carefully rounded edges and is made for comfortable everyday wearing.
This stainless steel WSNANG Vegetarian Vegan Keychain makes for a wonderful gift for the vegans in your life. This keychain will help to keep your keys safe and organized. The design is hand-engraved and is packaged in a soft velvety gift bag.
This Handmade Vegan Cactus Leather Mouse Pad makes for a great gift. It's made with sustainably sourced vegan cactus leather and is soft and comfortable. This mousepad is a gorgeous color and is entirely eco-friendly.
This book, Plant-Based on a Budget: Delicious Vegan Recipes for Under $30 a Week, in Less Than 30 Minutes a Meal, is available on Kindle, in paperback, and coil-bound. The recipes in this book can be made in thirty minutes or less. It also gives readers tools to learn how to make substitutions when needed!
This Weeknight One-Pot Vegan Cooking: 75 Effortless Recipes with Maximum Flavor and Minimal Cleanup cookbook takes vegan cooking to a new level of ease. Every recipe has easy clean-up, delicious healthy ingredients, and is excellent for weeknight cooking! These simple, healthy vegan meals will delight all-vegan foodies.
This book, 72 Reasons to Be Vegan: Why Plant-Based. Why Now., is written by a vegan activist and makes a great read. It's educational and full of great, easy-to-digest information. It is available on Kindle, Audible, and paperback.
Reader Interactions