Six ingredients are all you need to make these Almond Butter Protein Balls. These are great pick-me-up snack to fuel your body and curb your sweet tooth cravings. Cocoa, shredded coconut, almond butter, and more make the most incredible bite-size vegan protein balls.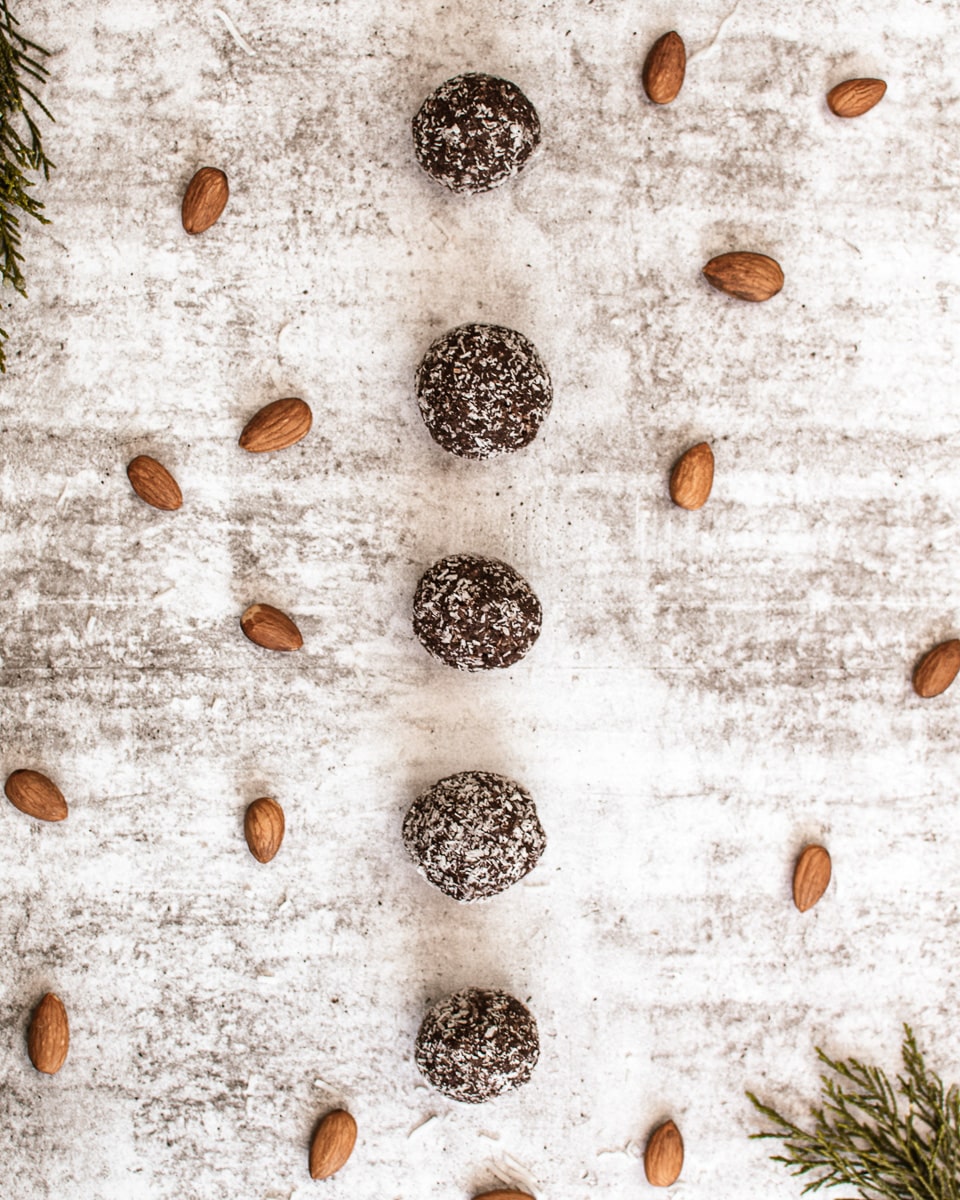 Prep these on Sunday and have these protein balls all week to pack for your lunch, to combat the 2 pm slump, or as an after school treat for the kids. These protein almond balls are even freezer friendly!
These Almond Butter Protein Balls Are…
Vegan 
Vegetarian 
Gluten-Free 
Dairy-Free 
Great for meal prepping snacks 
Freezer Friendly 
How to Make Almond Butter Protein Balls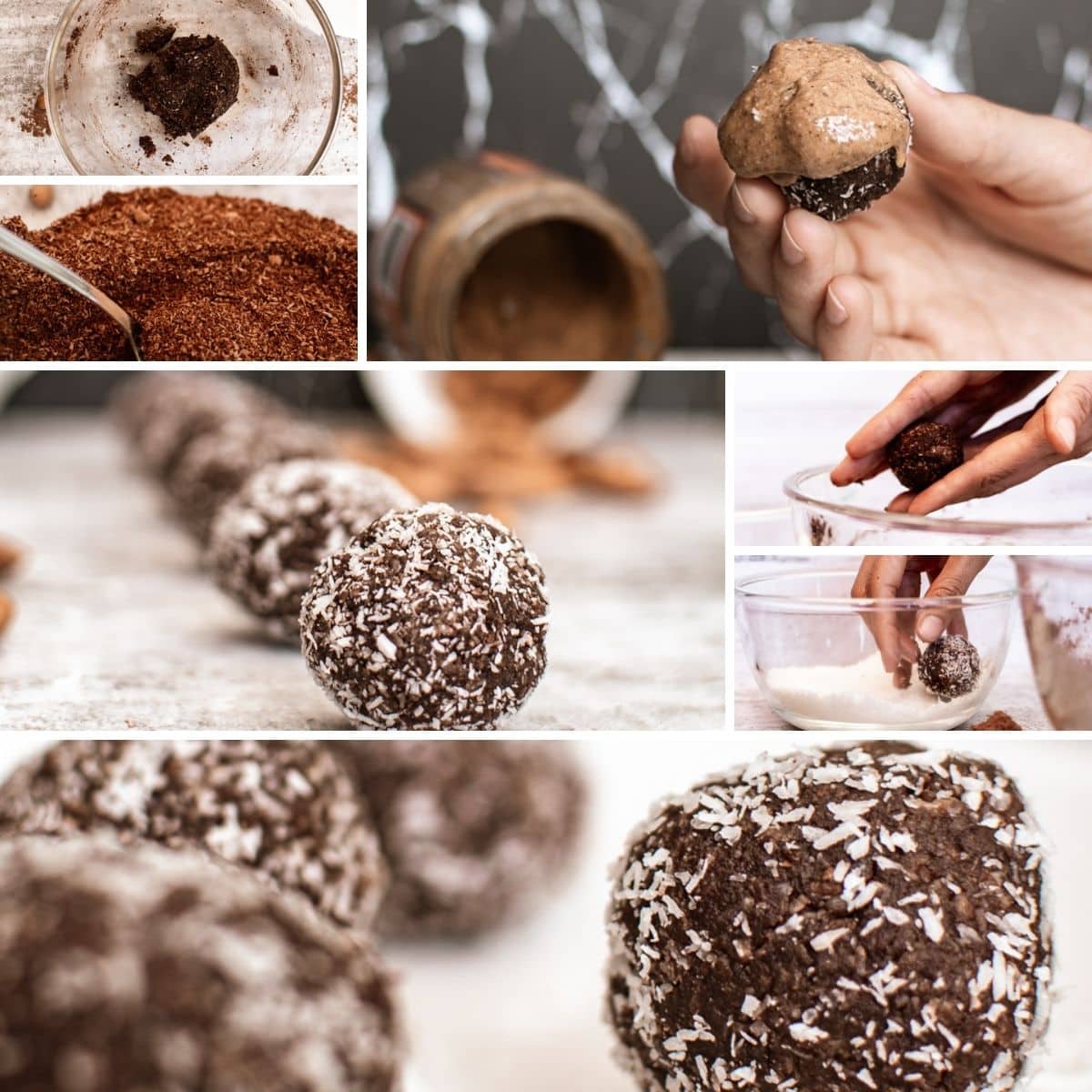 Add your activated chia seeds, cocoa powder, almond butter, maple syrup, almond meal, and coconut in a bowl.  
Mix until well combined. Roll into balls. 
Coat each protein ball with the leftover coconut flakes.
Tips and Tricks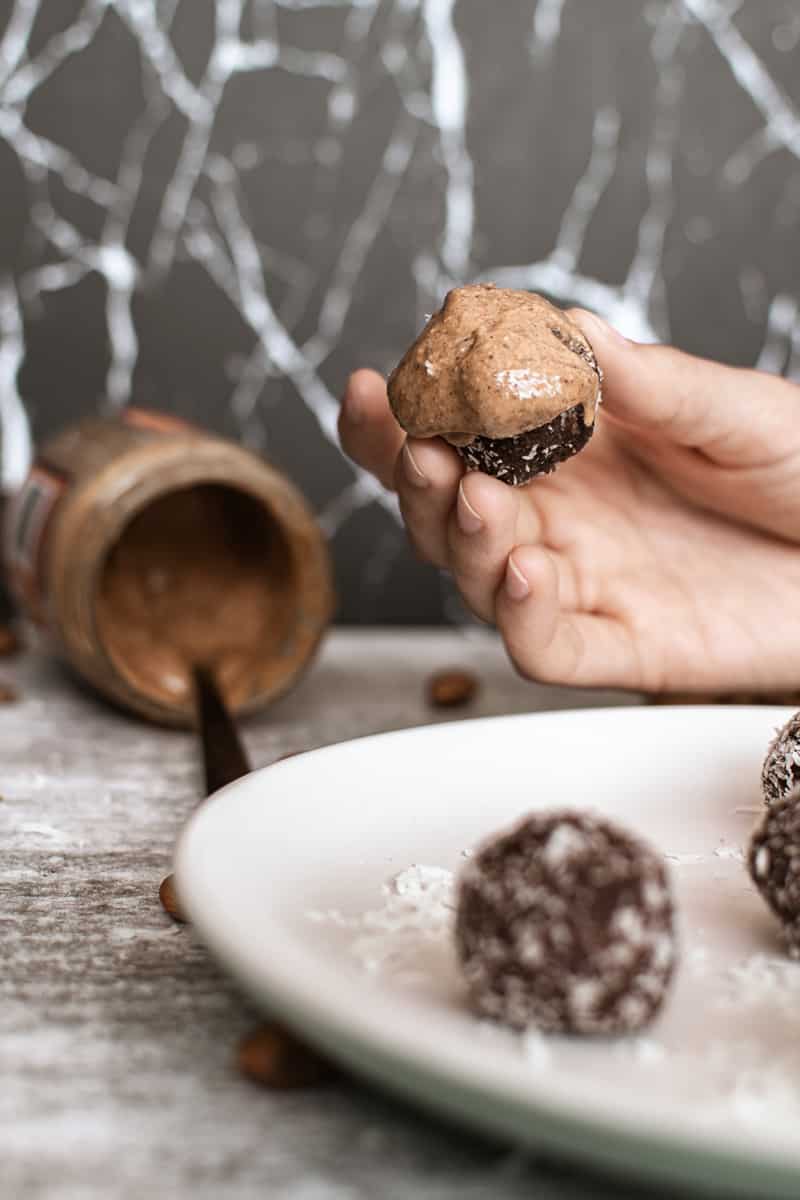 Activate chia seeds
To activate chia seeds, they need to be soaked in almond milk. Once they swell up they will resemble tapioca pudding. Combining 2–3 tablespoons of milk with the chia seeds will work. Let them soak for 15–20 minutes. If you find they run out of liquid, add a splash more in. 
Texture 
You will find that once you roll up the balls, they will be slightly sticky in terms of texture. Roll your balls in the coconut; you may need to gently press to push the coconut flakes into the balls. This coconut coating will help keep the no-bake protein balls from sticking together. 
Variations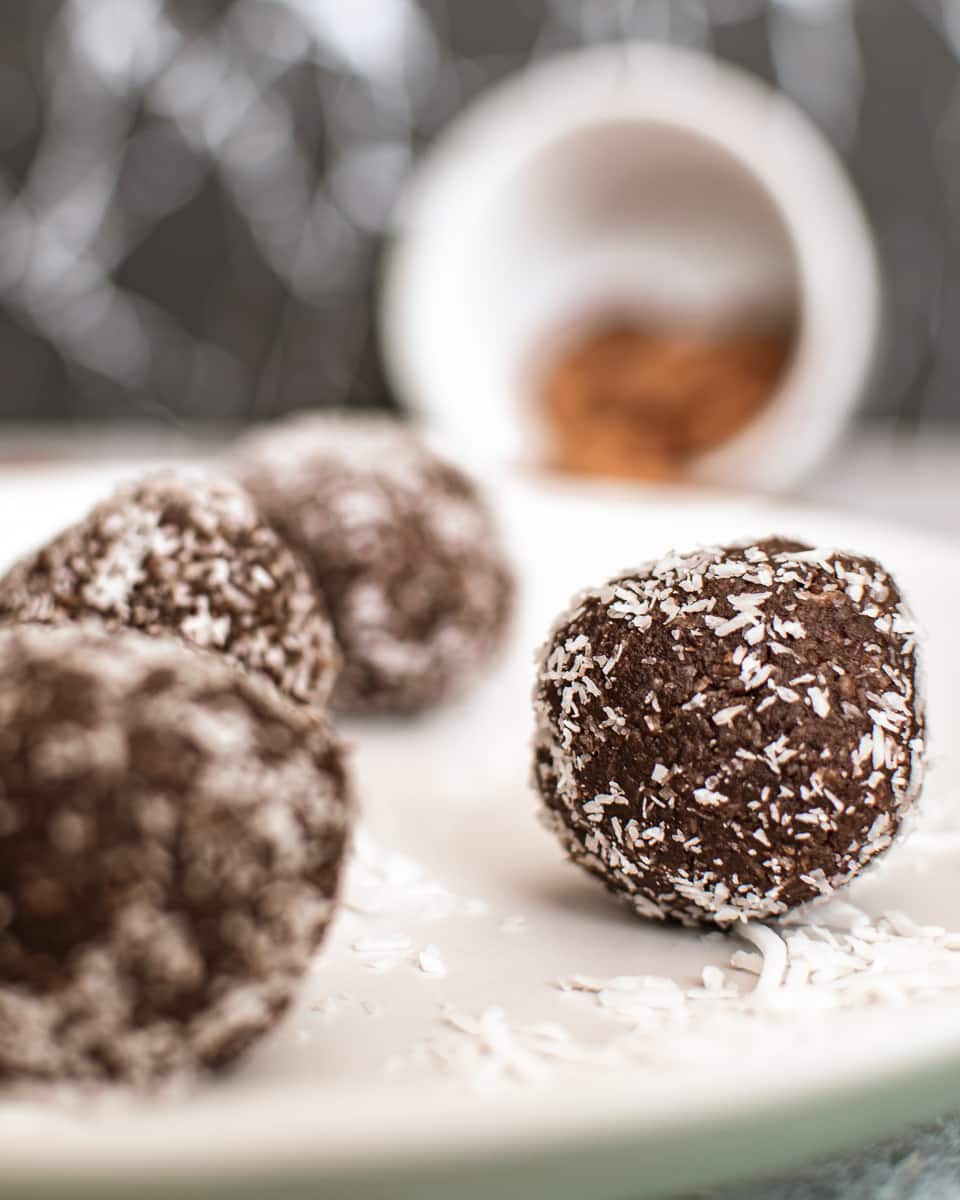 Chocolate Chips 
Stir in some vegan chocolate chips to give these protein balls more chocolate flavor and sweetness. If you are not vegan, any chips will work; for low carb use sugar-free chips.
Maple Syrup Alternative 
If you do not want to use maple syrup, you can use agave or even honey, depending on your dietary needs. Any liquid sweetener can work to add texture and sweetness to these bite-size protein balls. 
Flaxseeds 
You can consider adding a little flaxseed into the mix to add more nutrients to the balls. Flaxseed is full of omega-3 fatty acids, fiber, and more—a great way to add more nutrients into your diet. 
Dried Fruit 
Another option is to add a few dried cranberries or even blueberries to your protein balls. They would make a delicious addition to the flavor. 
Almond Butter Protein Balls FAQs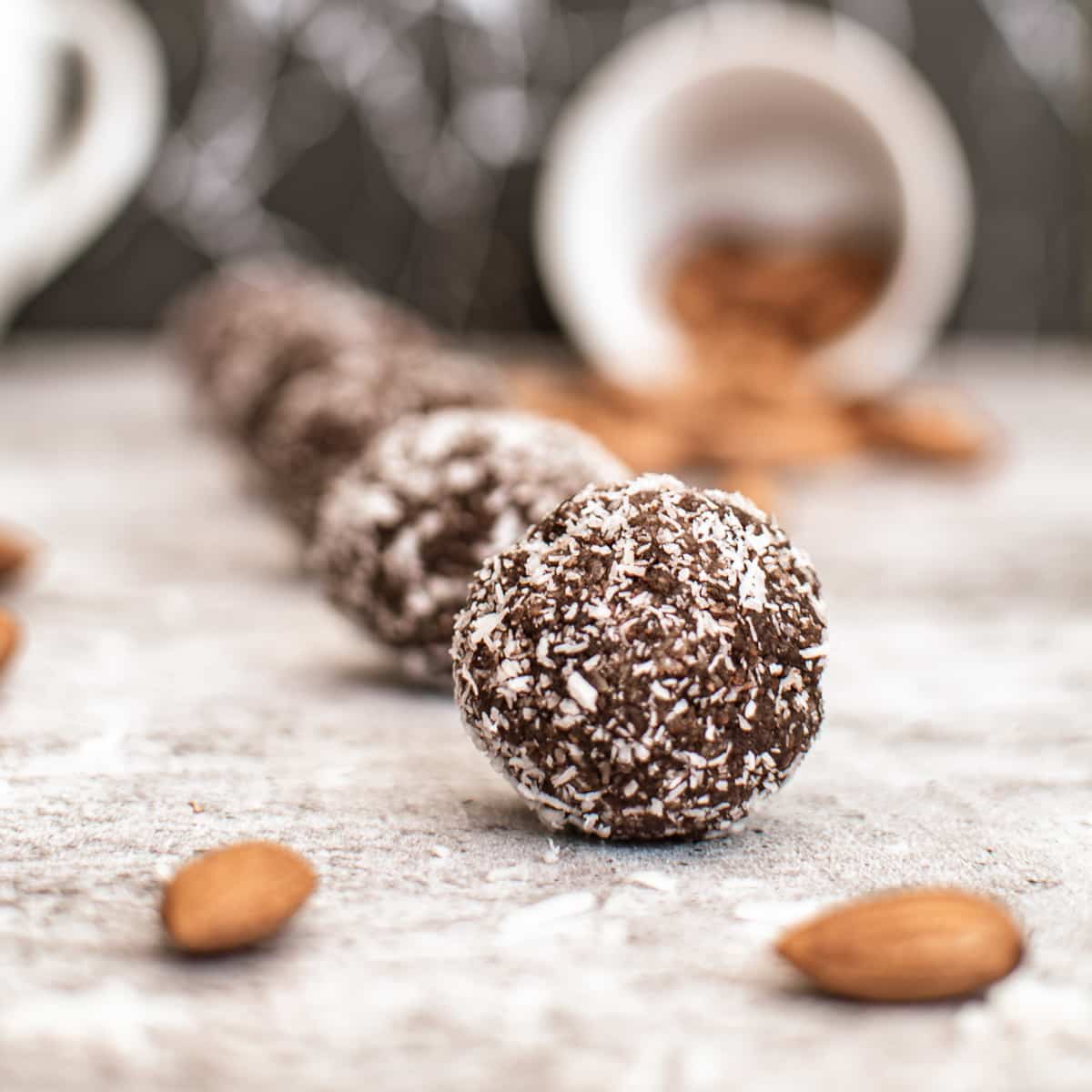 How should I store almond butter protein balls? 
These protein balls can be stored in an airtight container in the fridge for up to two weeks. If you are going to stack the balls within the container, I recommend laying some wax paper between layers to prevent the protein balls from sticking together. 
Can you freeze almond butter protein balls? 
These no-bake protein balls can be frozen for up to 4 months. Just place them in a freezer bag or container and store them. If you want to meal prep, put a couple in a small bag and then place those smaller bags in a gallon-sized freezer bag. Then you can pull out a snack-size bag when packing lunches or on the go.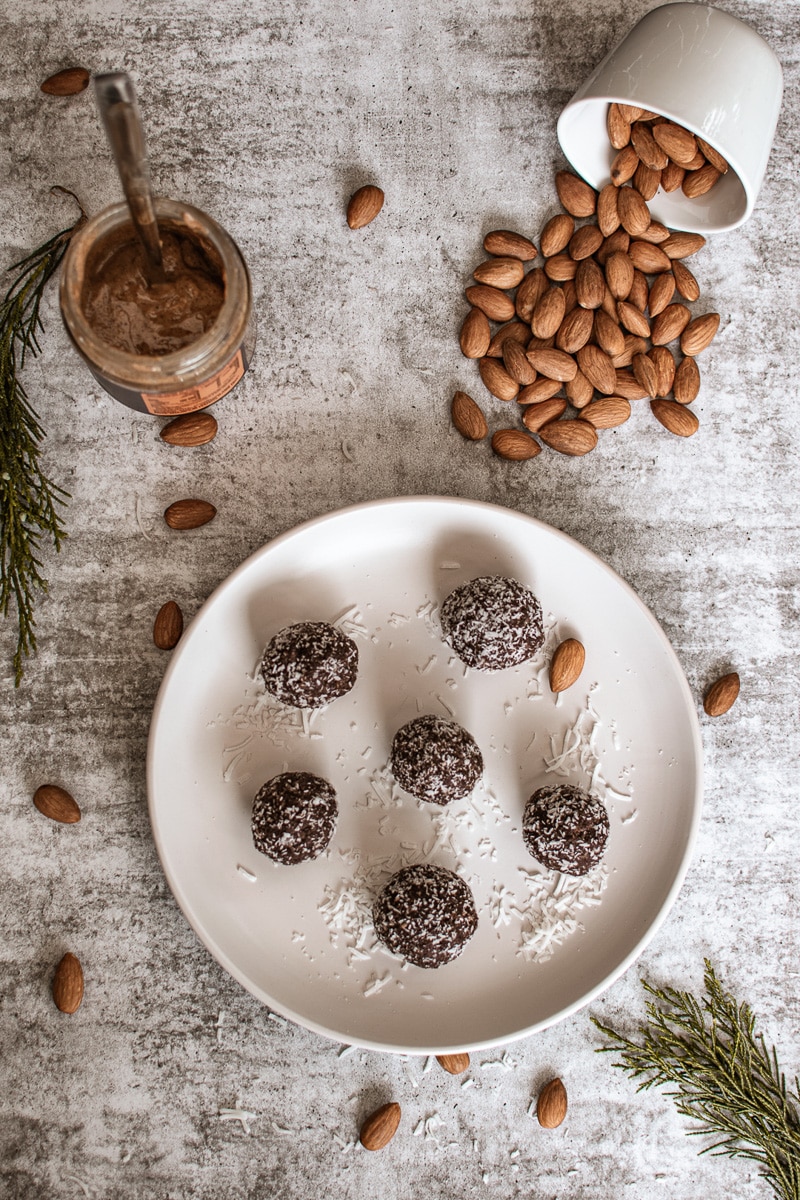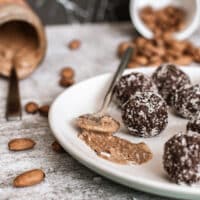 1

cup

shredded coconut

½

cup

almond butter

1

cup

almond meal

⅓

cup

maple syrup

2

tbsp

cocoa powder

or cocoa protein powder if desired

1

tbsp

chia seeds
Calories: 185kcal | Carbohydrates: 14g | Protein: 5g | Fat: 13g | Saturated Fat: 3g | Trans Fat: 1g | Sodium: 22mg | Potassium: 140mg | Fiber: 3g | Sugar: 9g | Vitamin A: 1IU | Vitamin C: 1mg | Calcium: 74mg | Iron: 1mg