Creamy and colorful, this easy broccoli slaw recipe is a delicious side dish. Pack it up for a picnic, or serve it for dinner with whatever you're grilling!
Jack is obsessed with this broccoli slaw recipe. Don't get me wrong, I love it too, but I haven't heard him rave about a salad this much since…I don't know when. His favorite part is the dried cranberries, and how their sweet-tart flavor contrasts with the crisp veggies and creamy, tangy dressing. I made it as a side dish with dinner the other night, and he hasn't stopped talking about it since!
Luckily for him, this broccoli slaw recipe is exactly the sort of thing I like to make in the summer. It's light and refreshing, and it keeps well in the fridge for a couple of days, making it a great choice for picnics and cookouts. I'm planning to have it on repeat all season long, and I hope you will too.
Broccoli Slaw Recipe Ingredients
Another great thing about this broccoli slaw recipe? It uses an entire head of broccoli, stalk and all! Here's how I prepare it:
First, slice the broccoli florets off the stalk. You want really small florets for this recipe, so cut away as much of the stalk as you can. Use your hands to break the florets into little pieces, and measure 2 cups.
Next, trim off any tough, woody parts of the stalk. I slice off the bottom 1/4-inch of the stalk with a knife and use a vegetable peeler to peel away any thick skin.
Then, slice the stalk into thin planks, like the ones pictured above. Cut the planks into 1 1/2-inch matchsticks. Or, if you have a julienne peeler, leave the stalk intact and use the peeler to slice it into thin strips. Work until you have 3 cups julienned broccoli stems, from 1 very large or 2 medium heads of broccoli.
When your broccoli's ready, prep the remaining ingredients:
Sliced cabbage and julienned carrots – They add vivid color to this broccoli slaw recipe.
Red onion – For sharp depth of flavor.
Dried cranberries – They add sweet-tart flavor and delicious chewy texture.
Sliced almonds – For a yummy nutty crunch.
And coleslaw dressing – Nope, not the kind from the grocery store! I make my own with good-quality mayo, apple cider vinegar, Dijon mustard, and maple syrup. I mix in celery seeds when I make traditional coleslaw, but I omit them in this broccoli slaw recipe. And heads up – you won't need all the dressing. Start with 3/4 of it and add more to taste.
Find the complete recipe with measurements below.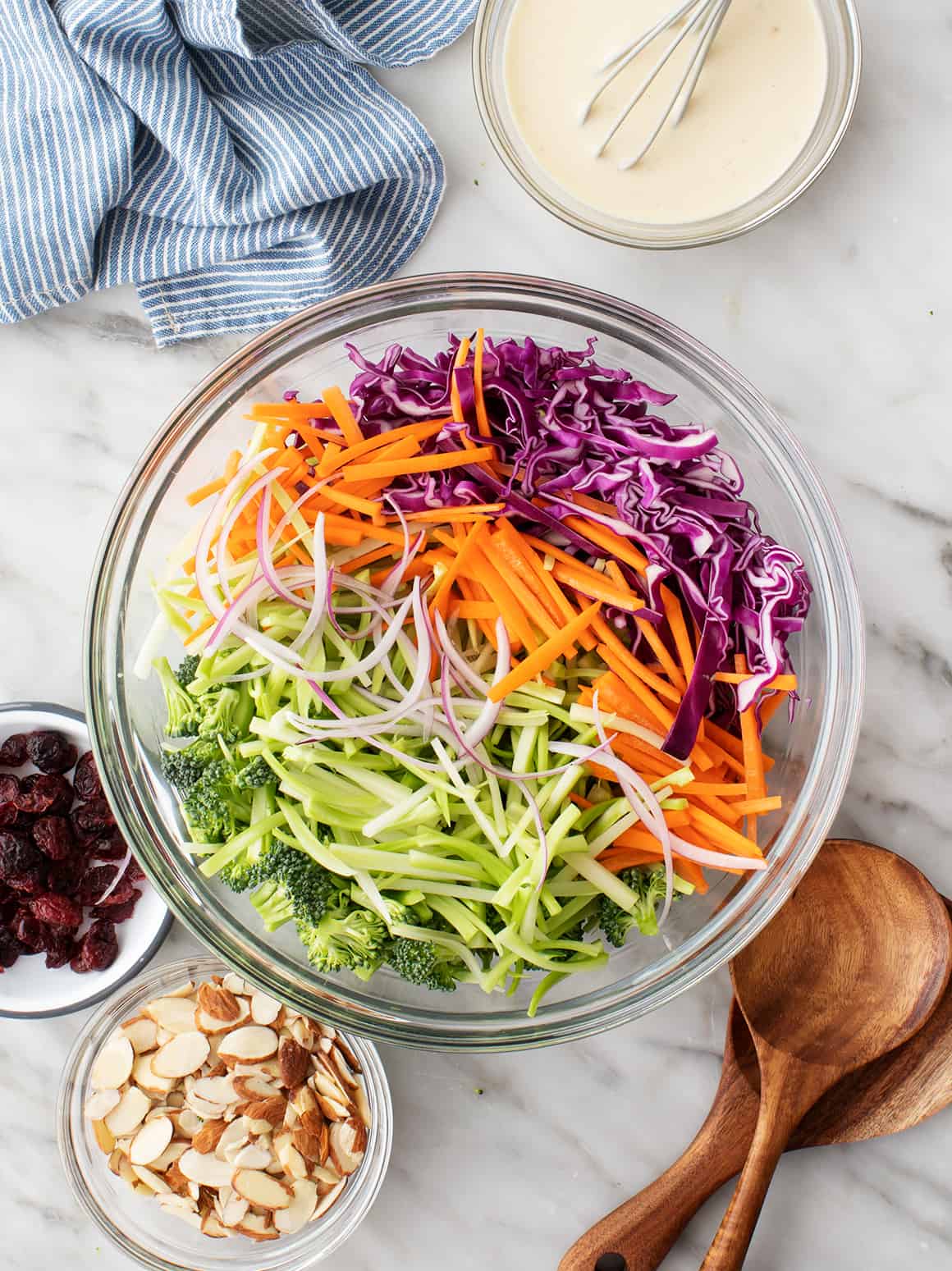 Once you slice the veggies, this broccoli slaw recipe is SO simple to make! Just whisk together the dressing ingredients, measure the almonds and cranberries…
and toss!
Broccoli Slaw Recipe Tips and Variations
Let it marinate. This slaw is tasty right away, but I like it best when the flavors have a chance to meld in the fridge. If you can, make it a few hours or up to a day before you plan to serve it.
Save some almonds and cranberries for garnish, especially if you're making the broccoli slaw ahead of time. The almonds and cranberries soften as they sit in the dressing, so they'll have the best texture if you add them right before you eat. They're a pretty finishing touch for the salad, too!
Make it vegan. Use vegan mayo in the dressing. I like Sir Kensington's or this homemade kind.
Make it nut-free. Replace the almonds with toasted sunflower seeds.
Take a shortcut. Instead of slicing your own veggies, use a bag of store bought broccoli slaw mix. The amount of dressing you need will vary based on the size of your bag. I recommend starting with half the dressing for a 12-ounce bag of slaw mix and with 3/4 of the dressing for a 1-pound bag. From there, add more to your liking.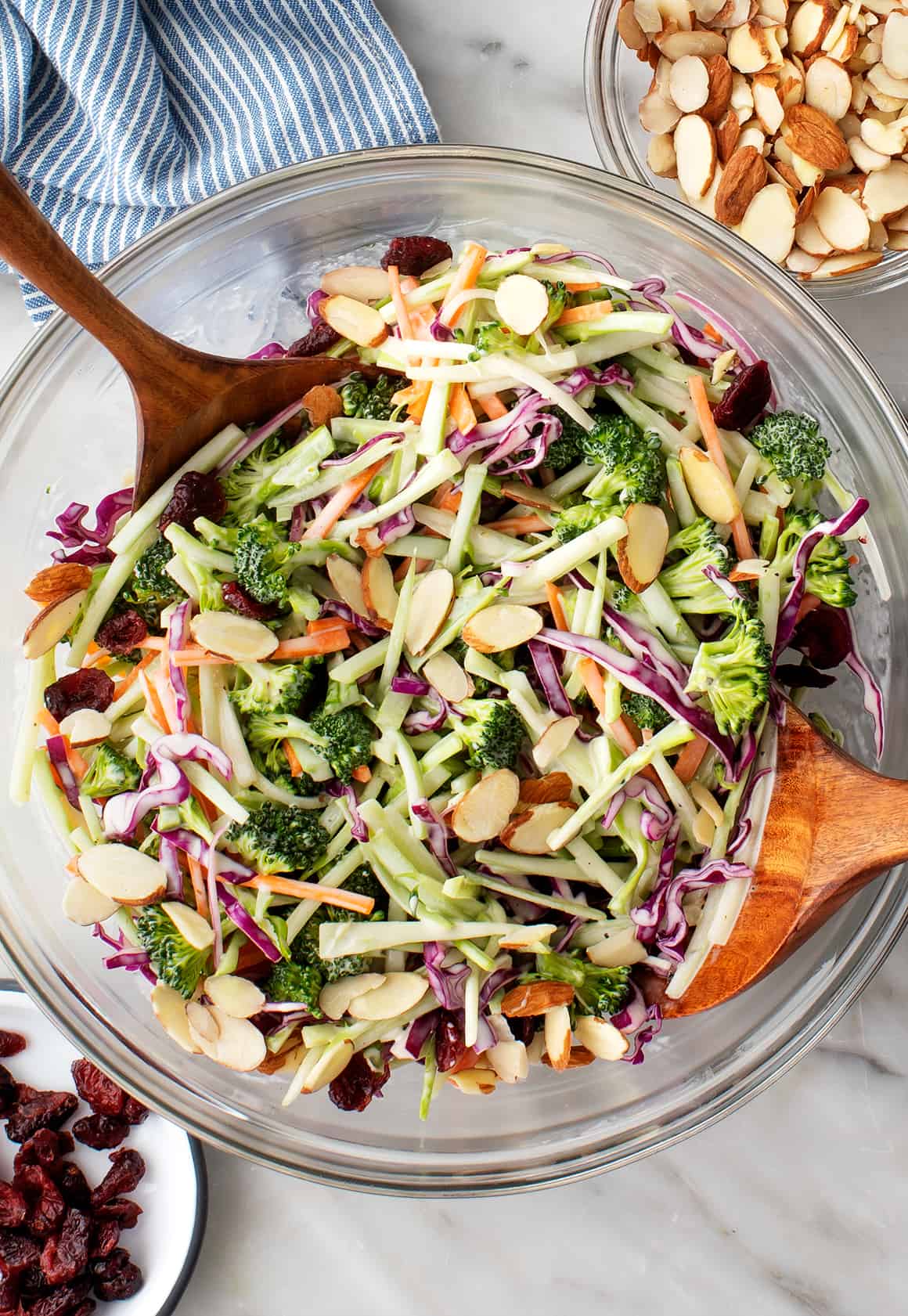 Broccoli Slaw Serving Suggestions
This broccoli slaw would be a perfect side dish for barbecues, cookouts, and potlucks. It pairs well with other summer sides like grilled corn on the cob, grilled veggies, fruit salad, and pasta salad. And for a main course, you can't go wrong with one of these:
For a simpler meal, serve this broccoli slaw as a side with your favorite protein. We also love packing it up for picnics with these Caprese Sandwiches or these Chickpea Salad Sandwiches. Enjoy!
More Favorite Summer Salads
If you love this broccoli slaw recipe, try one of these summer salads next:
Broccoli Slaw
Serves 4
This easy broccoli slaw recipe is a delicious side dish! We love packing it up for picnics and serving it at summer cookouts. To get 3 cups of julienned broccoli stems, you'll need 1 very large or 2 medium heads of broccoli.
3

cups

julienned broccoli stems

2

cups

small broccoli florets

1

cup

julienned carrots

1

cup

sliced red cabbage

¼

cup

thinly sliced red onion

½

cup

toasted sliced almonds

,

reserve some for garnish

⅓

cup

dried cranberries

,

reserve some for garnish

Coleslaw Dressing,

omit the celery seed
In a large bowl, combine the broccoli stems, florets, carrots, cabbage, onion, almonds, and cranberries.

Drizzle with about ¾ of the dressing and toss to coat. Add more dressing, if desired. Garnish with the reserved almonds and cranberries and serve.
Note: for a shortcut, you can use a 12- to 16-ounce bag of store-bought broccoli slaw in place of the broccoli stem, florets, carrot, and cabbage. Adjust the amount of dressing to your liking.