Whip up a batch of these flavorful Lentil Fritters with Garlic Sauce. Mushrooms, garlic, lentils, quinoa, walnuts, and more come together in this lentil cake recipe.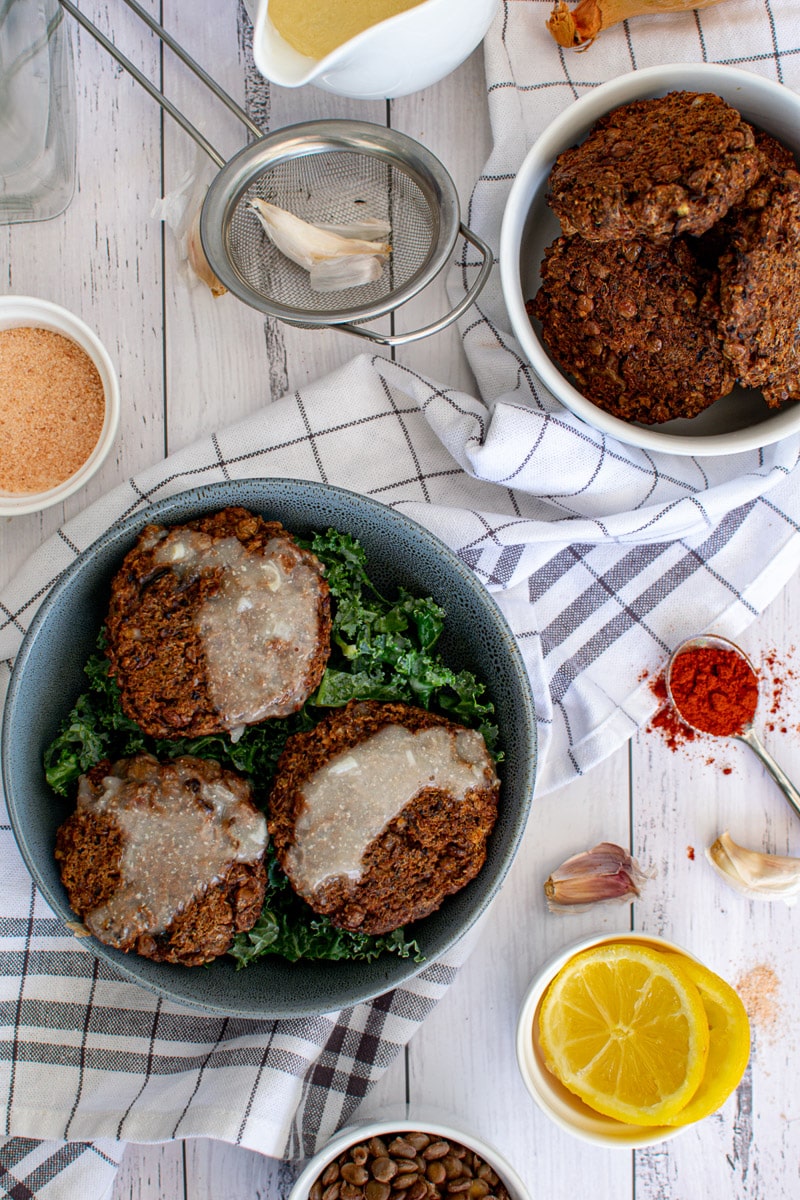 These lentil patties are great for a tasty vegan lunch or dinner. They're also great for meal prepping! Here is a plant-based recipe that kids and adults can enjoy. 
This lentil fritters recipe is…
Vegan 
Vegetarian
Gluten-free
Dairy-free
Flavorful 
Great for meal prepping
How to Make Lentil Fritters with Garlic Sauce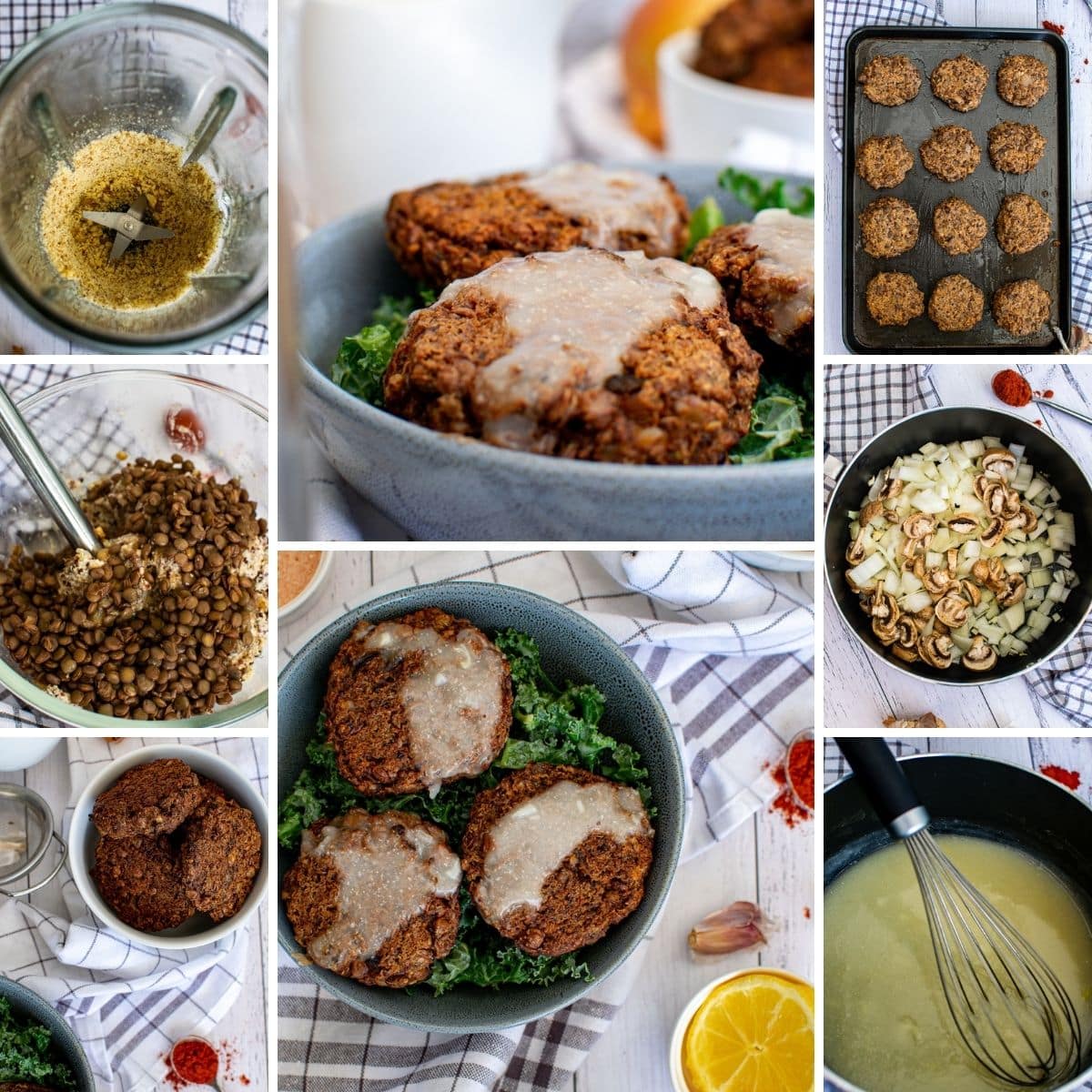 Start by cooking your lentils as directed on the package. 
In a saucepan, add oil, onion, garlic, and mushrooms. Cook occasionally. 
You will add in your nuts and pulse in a food processor until the walnuts form a powder. 
Add mushroom mixture and half the lentils to a bowl. Add in walnut powder and mix.
Once thickened into dough, add in your remaining lentils. Mix well. 
Create 12–15 patties to pan sear. 
Full measurements and directions can be found in the printable card below. 
Lentil Fritters Variations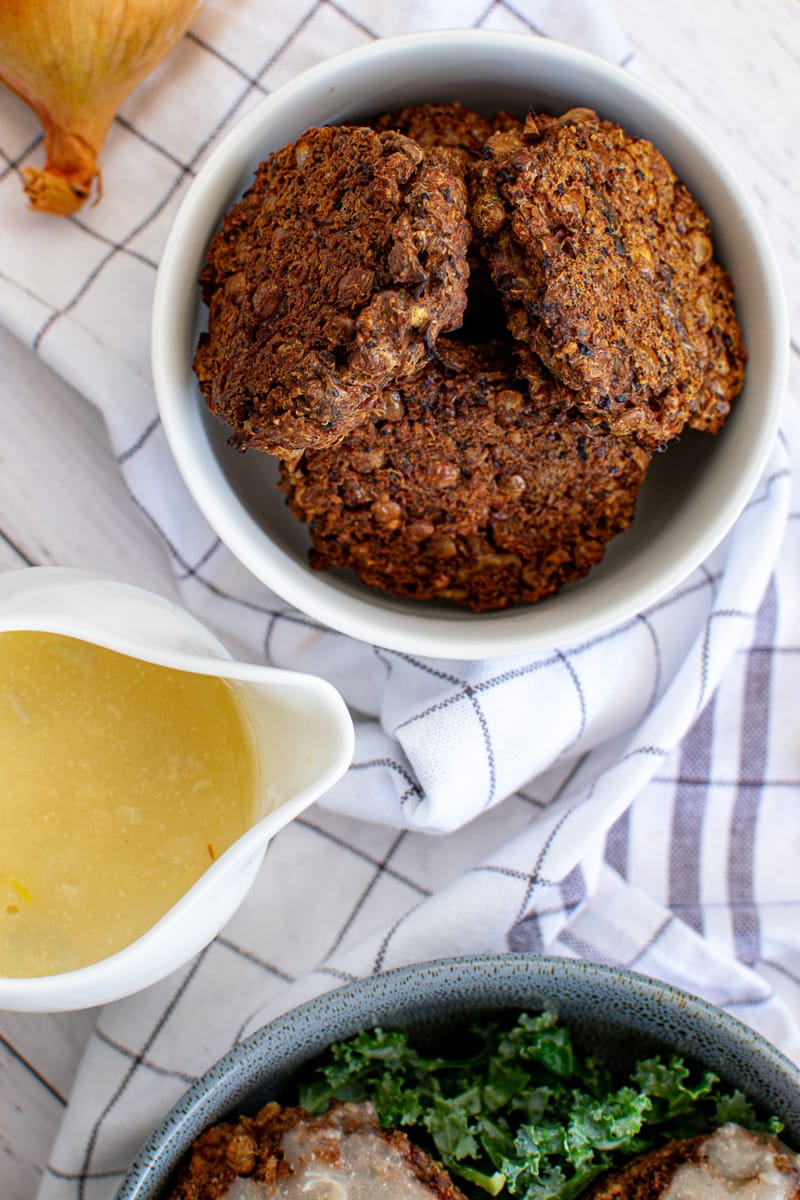 Change Up The Vegetables 
In terms of vegetables, add in extra or leave the recipe the same. Any finely chopped veggie could work well in this dish—carrots, bell peppers, etc. 
Air Fryer Instead of the Oven
Consider air-frying your lentil fritters. You could cook a few lentil patties at a time, making sure to leave space between them. 
Serving Without Sauce
If you want to skip the garlic sauce, go ahead. Maybe you'd like to serve your fritters with a splash of lemon juice on top or some salt and pepper? No matter how you serve your lentil cakes, they are delicious. 
Lentil Fritters FAQs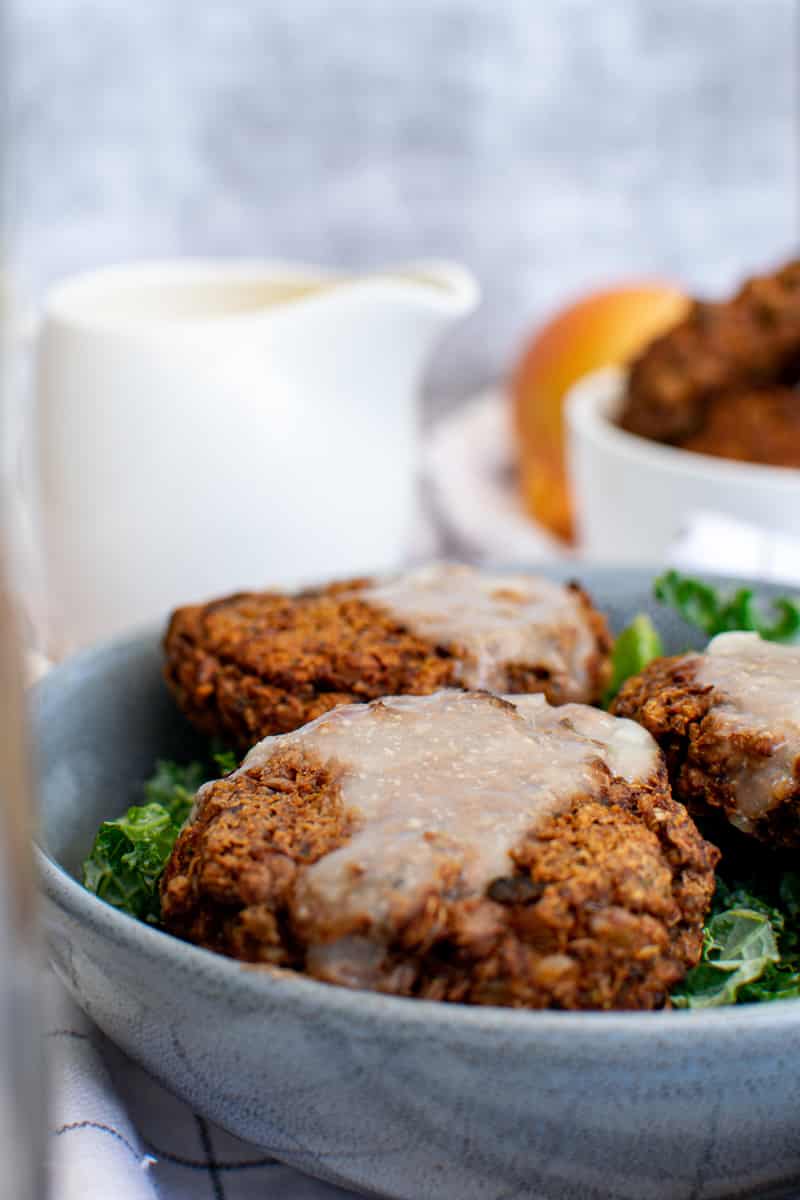 What can I do with leftover cooked lentils?
This lentil cake recipe has become my go-to way to use up lentils. Saving leftovers allows me to simplify the prep in this recipe. 
What do you serve with fritters?
If you are not a vegetarian, you might want to serve with some catfish or even chicken. Otherwise, pair with a creamy pasta salad, cucumber and onion salad, or other sides. 
Why are my fritters soggy? 
Most of the time, there are two potential reasons for soggy fritters: not enough fry ingredients or too many liquid ingredients. Eyeballing your measurements can make the fritters off-texture. Make sure to measure all your ingredients carefully!
Best way to reheat fritters? 
I have found reheating your lentil cakes in a pan on the stove provides the best texture. When you microwave the lentils, it can make them a bit soggy and rubbery. Slowly heating the lentil cakes on the stove gives a slow heat that will crisp them up. 
Interested in More Lentil Recipes?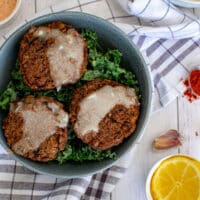 Lentil cakes
2

cups

cooked lentils

1

tablespoon

olive oil

½

onion

diced

4

garlic cloves

rough chopped

8

ounces

mushrooms

sliced

½

cup

cooked quinoa

½

cup

walnuts

or cashews

1

teaspoon

cumin

1

teaspoon

smoked paprika

1

teaspoon

dry or fresh parsley

¾

teaspoon

salt

1

tablespoon

ground flax

+2 tbsp of water

3

tablespoons

water

2

teaspoons

soy sauce
Garlic sauce
1

cup

of soy milk

2

tbsp

nutritional yeast

2

chopped garlic or 1 tbsp garlic powder

1

tbsp

cornstarch

or another thickener

salt and lemon to taste
Instructions for Lentil Cakes
Instructions for Garlic Sauce