These No-Bake Vegan Lemon Bars require just six ingredients. Whip up these bars for a weekday pick-me-up, packing in school lunches, etc. 
These vegan lemon bars are a breeze to whip up—made with shredded coconut, almond flour, lemon juice and zest, and maple syrup. If you are a fan of that tart and sweet lemon flavor, you'll love this tasty lemon bar recipe!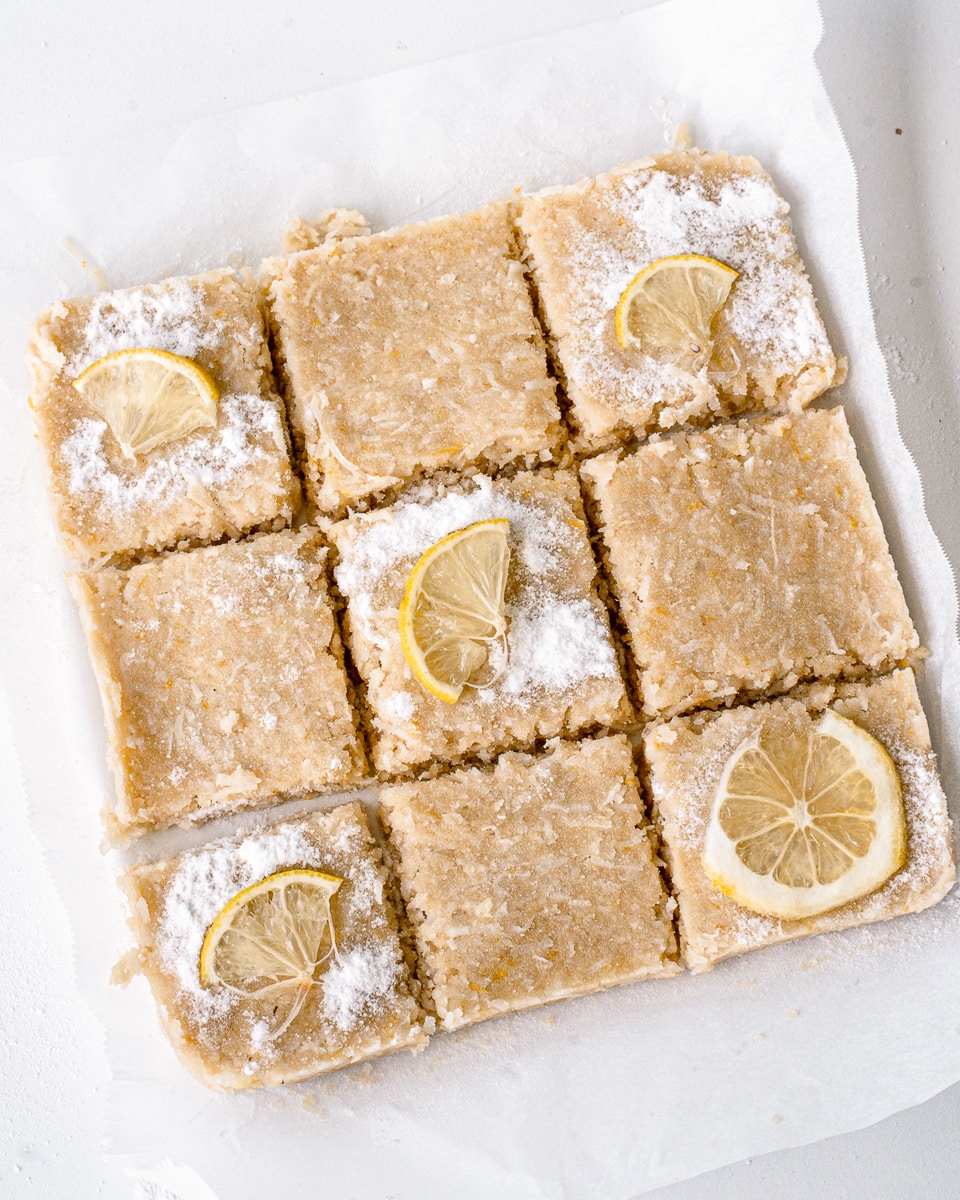 The texture of these lemon bars is different than the traditional kind, but trust me—these bars are incredible. These sliceable lemon and coconut flavored bars really hit the spot when your sweet tooth is calling your name. 
Vegan
Gluten Free
No Bake 
Simple
Almond Flour | I recommend using a fine almond flour when making these bars. Otherwise, the coarser flour can give it a gritty texture. You can always take your flour and run it through a food processor to make the flour more delicate in texture. 
Lemon | Lemon juice and lemon zest are both used in this recipe. I find that both of them help to elevate that tartness and sweetness in the no-bake bars. 
Maple Syrup | I wanted to use maple syrup to sweeten the bars. I find it adds a nice warm flavor to the bars that isn't overpowering. You could swap the maple syrup for an agave liquid as well. 
Shredded Coconut | I know you might be thinking, "Coconut in a lemon bar recipe?!" But trust me, the flavors go perfectly together. The coconut helps to soak up the mixture and acts as a binder to hold the bars together. 
Salt and Vanilla Extract | These two ingredients help to level out all the flavors in the bars!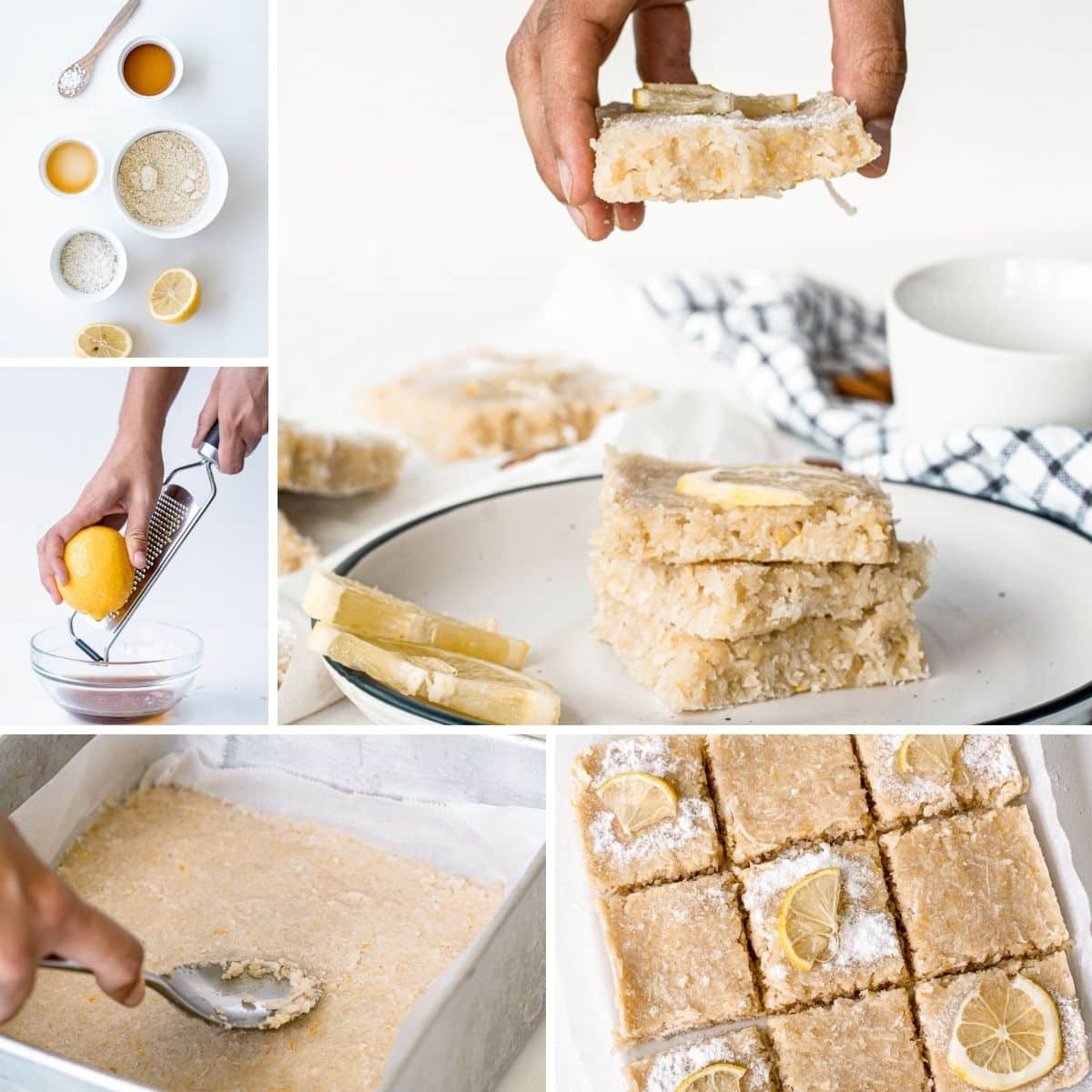 Mix lemon juice, zest, vanilla, and maple syrup in a bowl. 
Add in almond flour, coconut, and salt. Mix until it creates a thick paste. 
Press into a 6″ square pan. 
Refrigerate the bars to set, then slice and serve.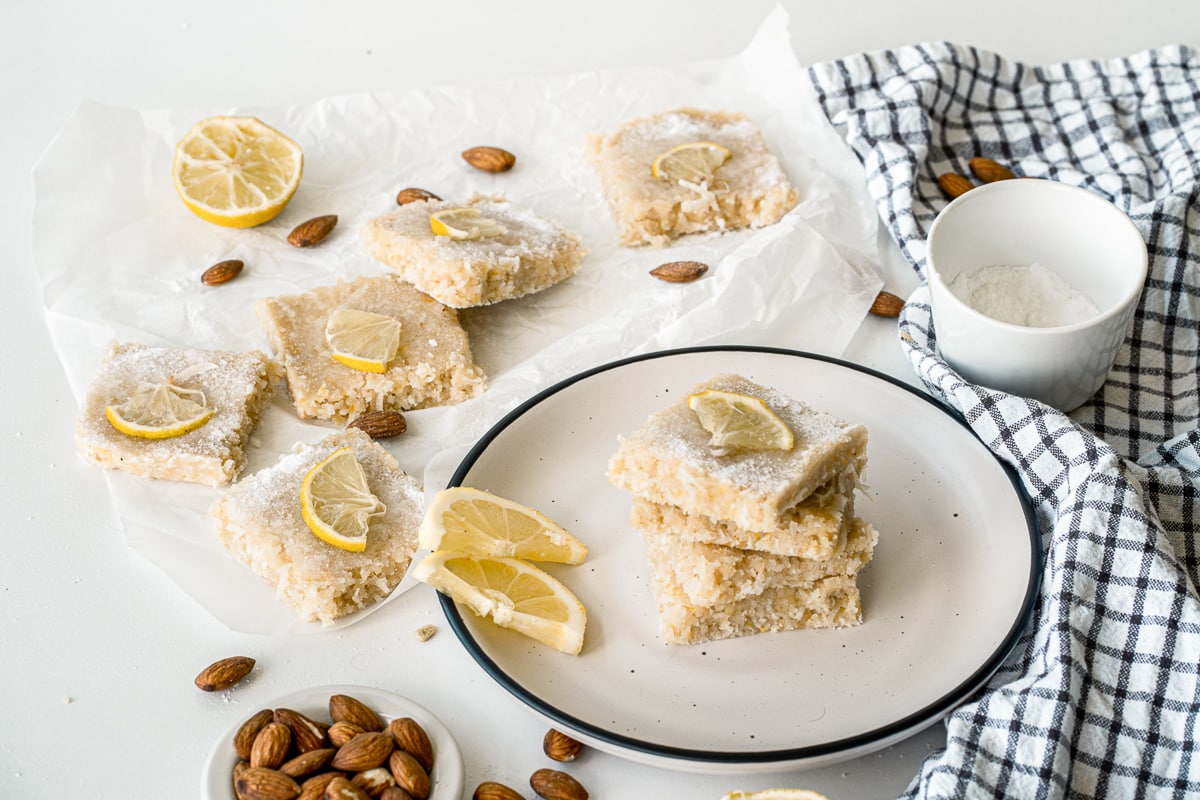 How to Store No Bake Lemon Bars 
Refrigerate | These coconut lemon bars need to be kept in the refrigerator. They will keep for up to a week in an airtight container. If you plan to make these for entertaining, you can make them up to two days in advance. 
Freezer  | Go ahead and slice your bars and place them in a freezer-safe container to store in the freezer for up to three months. Lemon bars make for a great grab-and-go snack or dessert. Just remove one or more from the freezer, and let them thaw in the fridge. Then enjoy! 
How to Zest A Lemon
Zesting a lemon is really simple. Wash your lemon with some cold water and pat dry. Then with your Microplane, rub the lemon against the blades.
If you don't have a zester, you can use a small pairing knife. It is not ideal, but it will work in a pinch. If using a knife, use it to scrape off a thin layer of peel, rotating the lemon.
You want to remove only the yellow part of the lemon. The white part of the lemon will be tart.
Give these easy no-bake vegan lemon bars a try. They are simple to make—no need to turn the oven on—and great for kids and adults.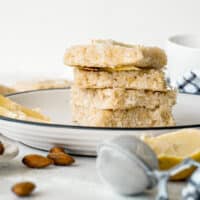 2

cups

almond flour

⅓

cup

maple syrup

1

tsp

vanilla extract

juice of 1 lemon

about 2 tbsp

zest of 1 lemon

2

cups

shredded coconut

pinch

of salt
Ingredient amounts are for a 6'' square baking tray.
The lemon bars can be kept in the refrigerator for up to 1 week.
Calories: 274kcal | Carbohydrates: 23g | Protein: 6g | Fat: 19g | Saturated Fat: 7g | Sodium: 54mg | Potassium: 94mg | Fiber: 4g | Sugar: 17g | Vitamin C: 1mg | Calcium: 68mg | Iron: 1mg