This Portobello Mushroom Steak recipe makes a delicious vegan steak that is incredibly easy to whip up. Make this vegan steak and potatoes recipe for any night of the week!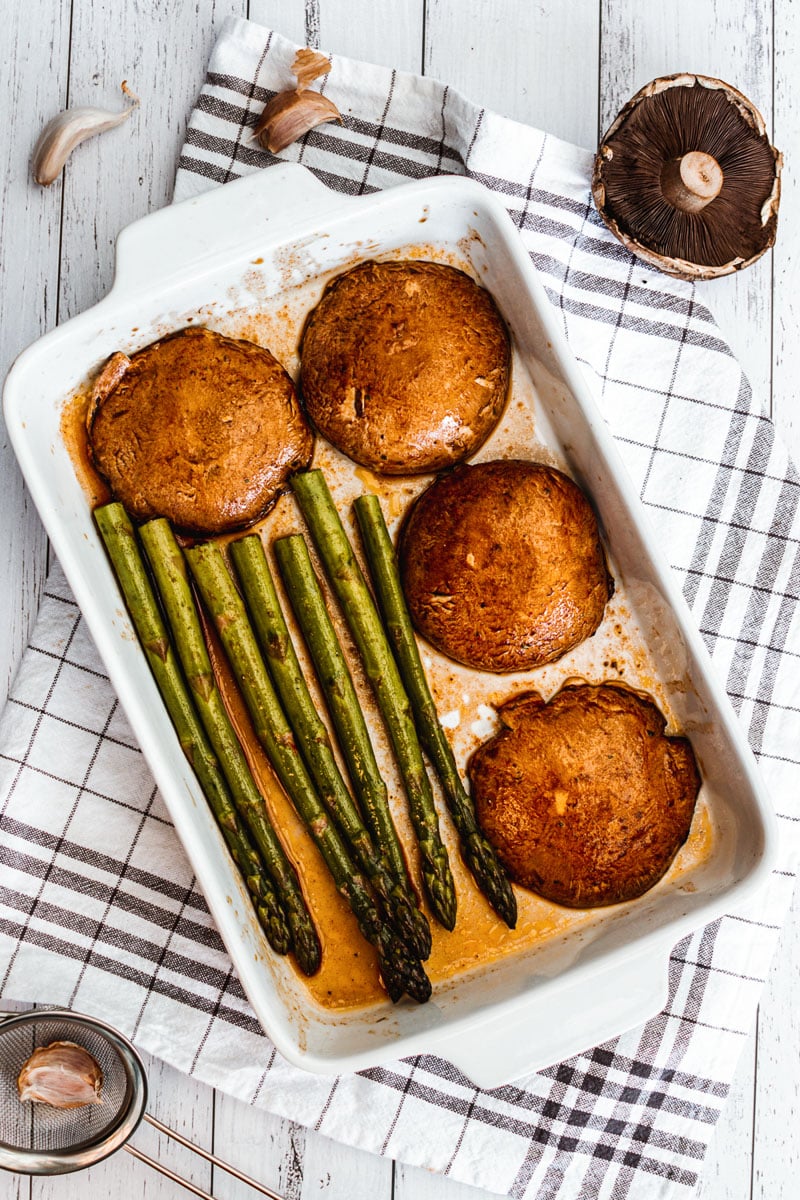 These juicy, seasoned Portobello steaks are baked with asparagus and then paired with vegan mashed potatoes.
There are so many delicious options for meatless dinners! Lately I've been loving these Vegan Sloppy Joes, this Lentil Shepherd's Pie, and these Tofu Enchiladas with Sweet Potato in Mole Sauce. But, I think these Portobello Mushroom Steaks are turning into my new favorite!
This Portobello Mushroom Steak Recipe Is…
Vegan 
Naturally gluten-free
Vegetarian 
Ready in 30 minutes
Simple
Made with everyday ingredients 
Versatile
How to make Portobello Mushroom Steak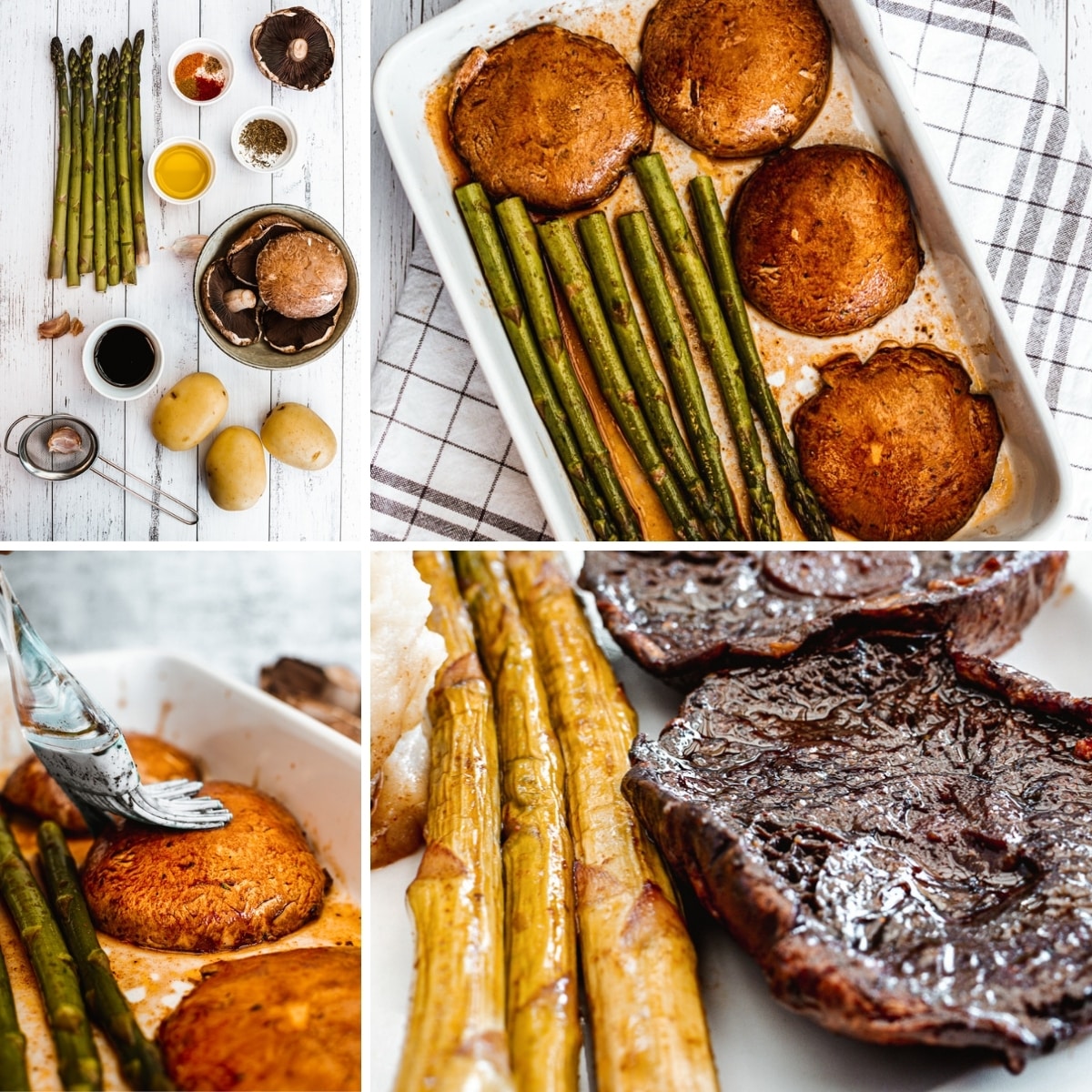 Preheat the oven and mix together the mushroom marinade. 
Prep your mushrooms and then place them in an oven-safe baking dish with the asparagus.
Brush steaks with marinade and bake for 20 minutes. Then remove, flip over, and finish cooking. 
Serve warm and enjoy!
Tips & Tricks for Portobello Mushroom Steak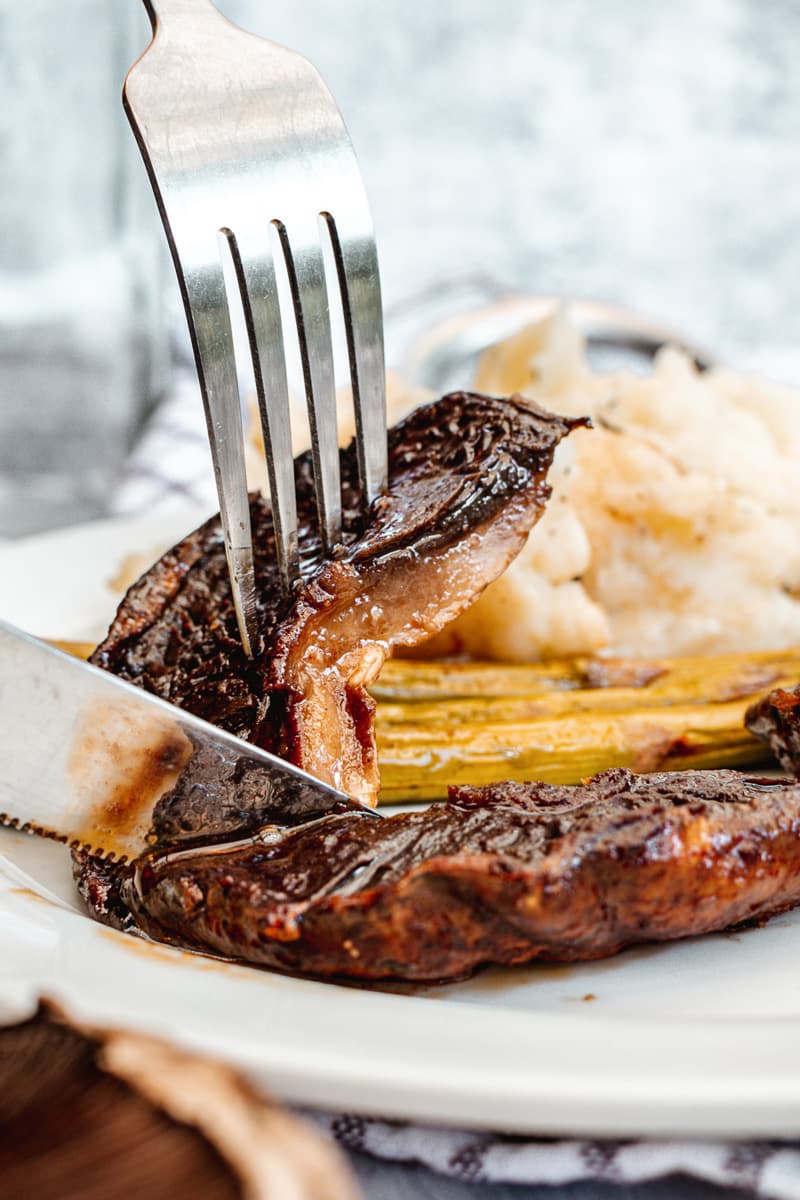 Baking Time
Depending on the size of your mushrooms, the bake time will vary. Make sure you use the baking time in the recipe as a guide. You will need to check on your mushrooms to make sure they are cooked to your preference. 
Cooking Vegetables
I added asparagus into my pan for an extra side. Adding asparagus to the pan is optional; alternately, you could add different vegetables into the pan. Broccoli, snap peas, Brussels sprouts, and more would be tasty. 
Mushroom Marinade
Once you baste the mushrooms, pour the remainder of the marinade into the pan. As the mushrooms bake, they will soak up the marinade flavor. It also provides a nice texture to the outside of the baked mushrooms. 
Variations To Portobello Mushroom Steak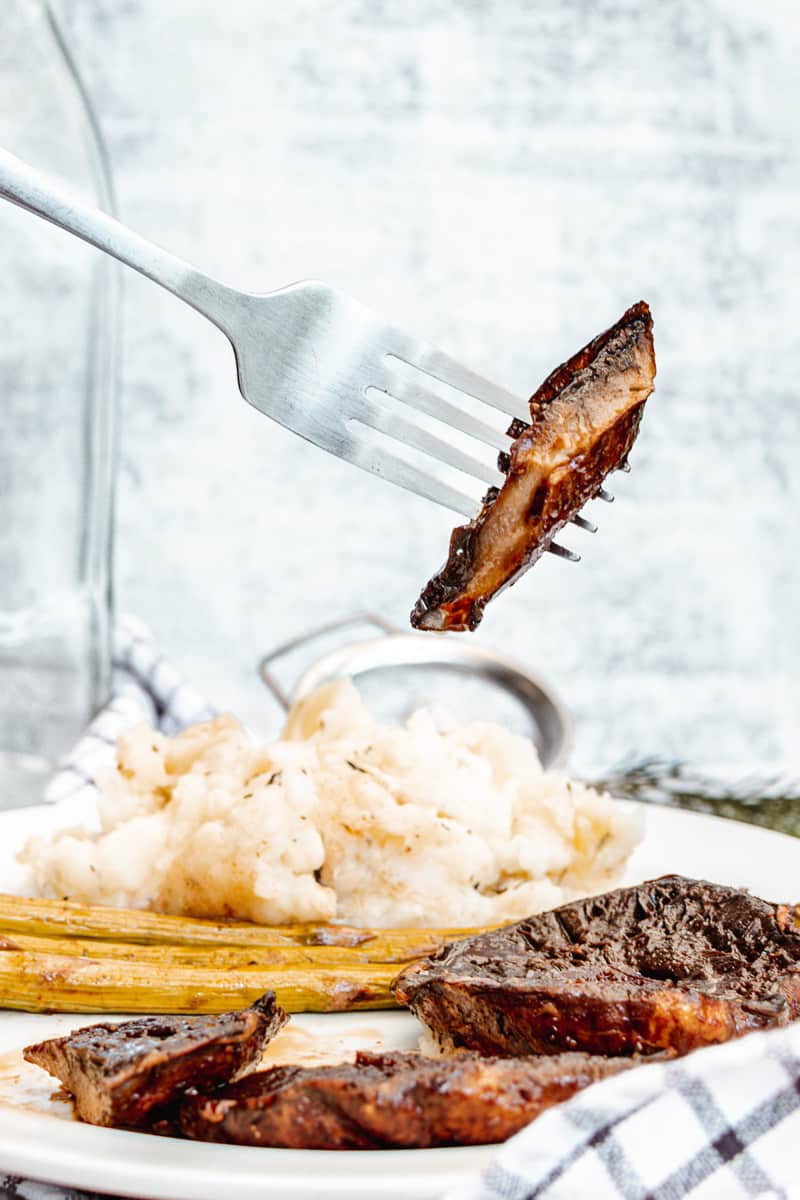 Seasoning the Steaks
I used a simple marinade, but you are welcome to change it up using ingredients you prefer. I find this marinade to have a savory and tangy flavoring that makes these steaks stand out. If you are looking for a different flavor profile, feel free to alter the ingredients to match your flavor preference. 
Adding Vegetables 
Cook your mushrooms with different vegetables. Broccoli, cauliflower, carrots, or even green beans could be a delicious swap for the asparagus. 
Portobello Mushroom Steak FAQs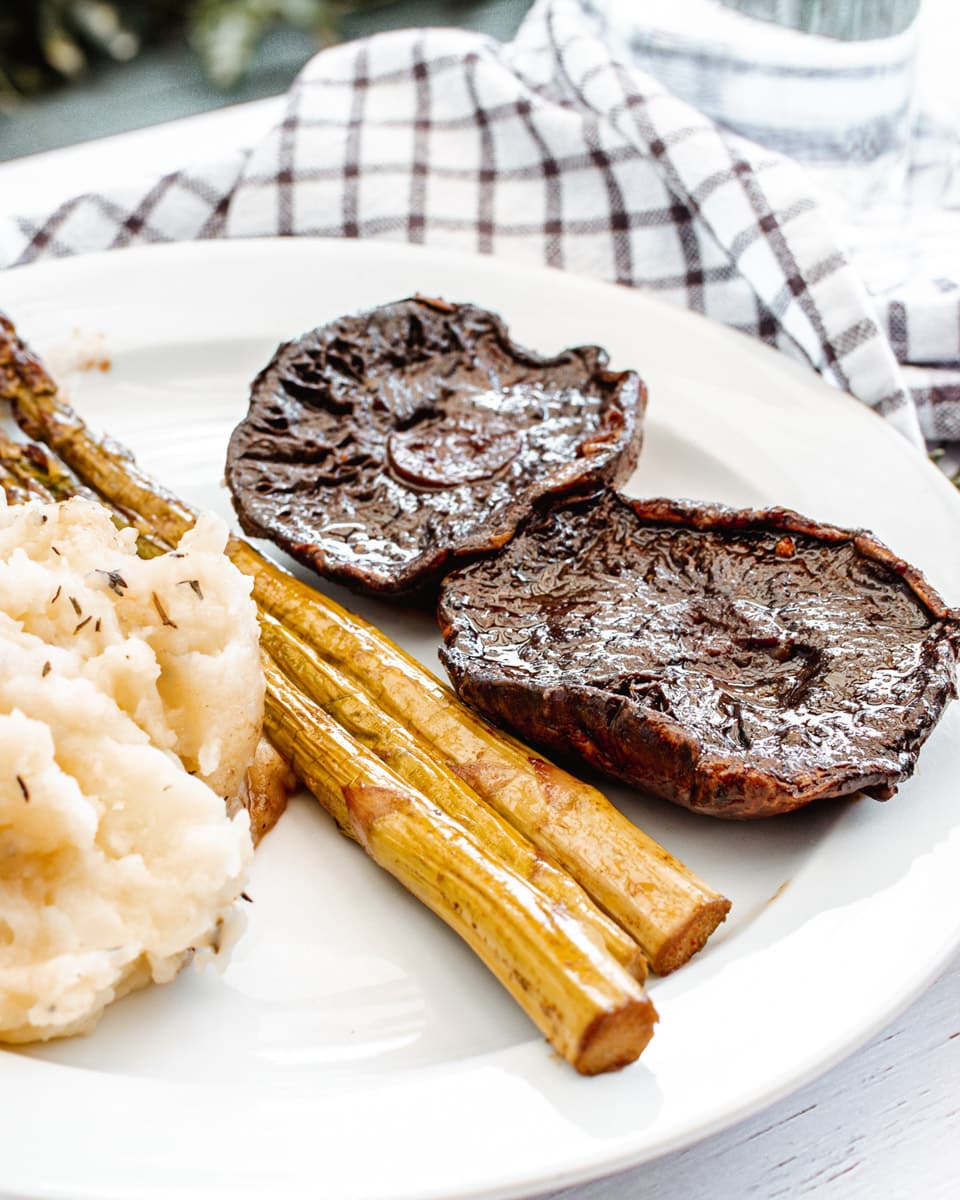 How do you know when mushroom steaks are cooked? 
Your steaks are done once they have browned up a bit in the oven. You will want to bake the steaks to your preference of doneness. Since there is no meat in this recipe, you can cook the mushrooms as long or little as you would like. 
How do you store leftover mushrooms? 
Place your cooked mushrooms in an airtight container and store in the fridge for 2–3 days. You will find that after 3 days the mushrooms begin to get a bit softer in texture. 
How do you reheat mushroom steaks? 
I find that reheating mushrooms steaks in the oven or even a skillet on the stove helps to provide a better texture. You can reheat them in the microwave, but the mushrooms will be a bit softer in texture.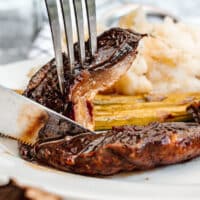 Portobello Steak with Mashed Potatoes
This Portobello Mushroom Steak recipe makes a delicious vegan steak that is incredibly easy to whip up. Make this vegan steak and potatoes recipe for any night of the week!
Servings: 2 servings
Calories: 624kcal
Ingredients
Portobello steaks
4

large

Portobello mushrooms

⅓

cup

balsamic vinegar

¼

cup

olive oil

½

tsp

cumin

½

tsp

black pepper

½

tsp

smoked paprika

3

cloves

garlic

1

tbsp

vegan-friendly steak seasoning

salt

to taste
Mashed Potatoes
3

small

potatoes

1

tbsp

olive oil or vegan butter

½

tsp

salt

½

tsp

black ground pepper

1

tsp

thyme or rosemary

optional
Instructions
Preheat the oven to 400°F.

In a large bowl, make the portobello marinade. Combine the olive oil, balsamic vinegar, spices, and garlic.

Place portobellos and asparagus in a large oven-safe skillet. With a pastry brush, generously brush the marinade over the tops and bottoms of the mushrooms and asparagus.

Arrange mushrooms top side down and pour the remaining marinade over them. Bake for 20 minutes. Remove from oven, flip, and bake another 5–10 minutes or until mushrooms are cooked all the way through.

For Potatoes: Wash and peel the potatoes. Bring them to boil and cook until tender, about 15 minutes. Mash the potatoes using a potato masher or a hand blender. Add olive oil, black pepper, and salt, to taste. Add fresh herbs just before serving.

Enjoy!
Nutrition
Calories: 624kcal | Carbohydrates: 71g | Protein: 15g | Fat: 34g | Saturated Fat: 5g | Trans Fat: 1g | Sodium: 675mg | Potassium: 2260mg | Fiber: 13g | Sugar: 17g | Vitamin A: 2065IU | Vitamin C: 66mg | Calcium: 144mg | Iron: 9mg
Vegan-ize any recipe!
Grab our free vegan cheat sheet, packed with my favorite easy substitutions to make any recipe vegan.