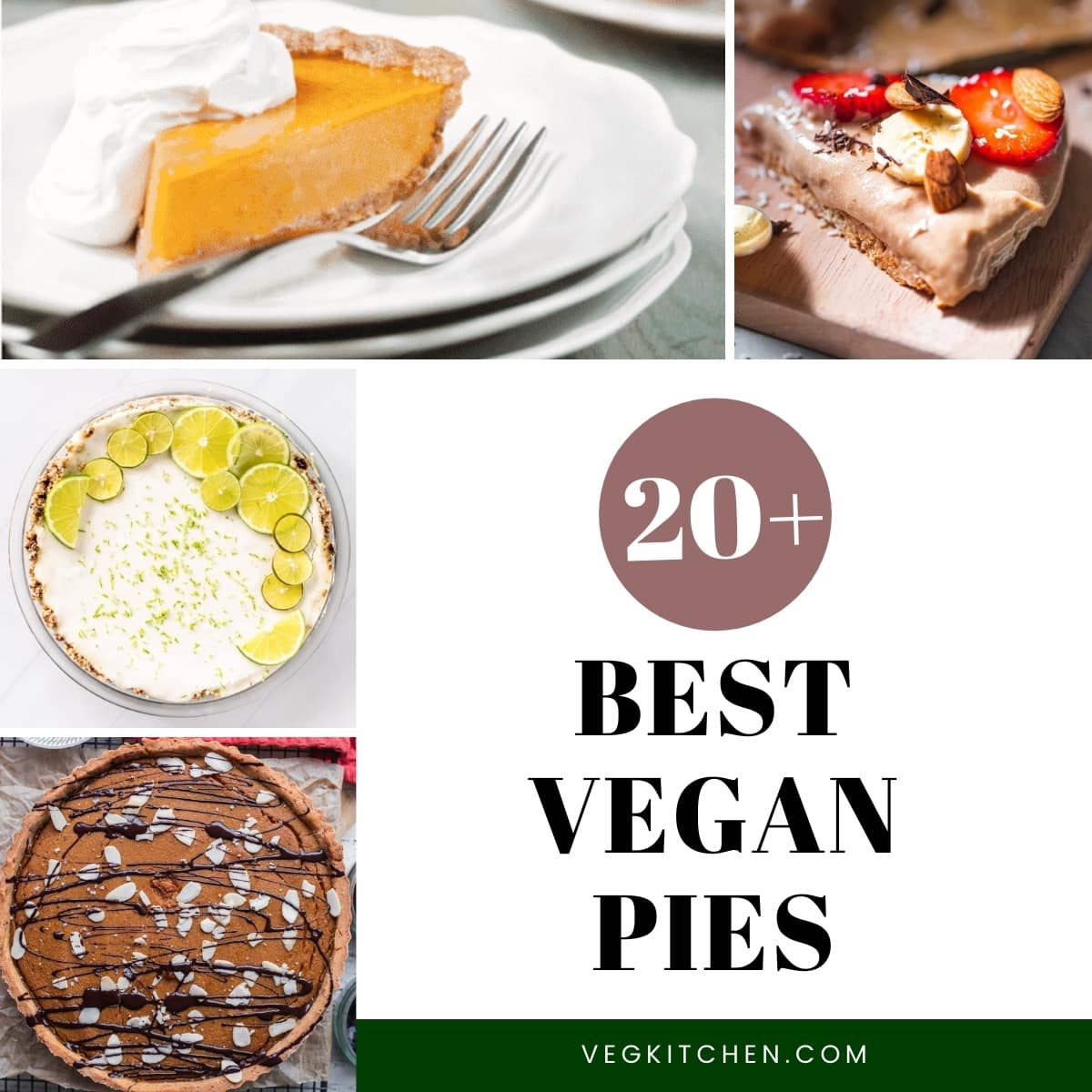 I love pie! There's just something about the combination of sweet semi-liquid filling and flaky crust that just make my heart sing. This list of 20+ best vegan pie recipes includes fruit pies, chocolate-peanut butter pies, and everything in between! You're sure to find a pie to satisfy your sweet tooth here.
The Best Vegan Pies
This list of 20+ best vegan pie recipes includes fruit pies, chocolate-peanut butter pies, and everything in between!
The crust on this Gluten-Free Peach Pie has the exquisite taste of maple syrup in every sweet bite. This pie is filled with pieces of delicious, sweet, juicy peaches.
This Easy Rustic Summer Berry Pie is light, refreshing, and juicy! Its vibrant color showcases the delicious berries. The pie is made with cinnamon, sugar, and orange zest, which add even more to the flavor!
This Granny Smith Apple Crumb Pie is easy to make and pairs beautifully with sweet dried fruit. The granny smith apples in this pie provide a lovely combination of tart and sweet—and this pie is gluten-free! 
This buttery, nutty Vegan Praline Pumpkin Pie is divine. It's gluten-free, has a luscious creamy texture, and is the perfect pie for Autumn!
This delightful Vegan Sweet Potato Pie is made with tofu, sweet potato, nut butter, and more beautiful ingredients. Serve this vibrant pie with a topping of whipped cream!
This pie features a wonderful seeded crust. Enjoy sunflower seeds, pumpkin seeds, and hemp seeds with all their intense health benefits in this Chocolate Pudding Pit with Seed Crust. This pie is topped with a luscious coconut cream whip cream and can be stored in the freezer for up to three months.
This sweet Apple-Cranberry Pie only requires six ingredients to make. It's delightfully sweet and topped with a crunchy granola topping!
This Chocolate-Coated Key-Lime Coconut Creme Pie features a beautiful balance of tart and sweet in every bite. The crust is made with walnuts, hemp seeds, maple syrup, and date puree.
This wonderful pie is creamy and sweet and can be enjoyed guilt-free! The filling is made with tofu, creamy peanut butter, and plant-based milk. As a bonus, this Creamy Peanut Butter Pie can be easily altered by adding banana.
This Apple Crumble Pie uses a few healthy swaps to make it more nutrient-dense. It is a deliciously aromatic pie featuring scents of apple and cinnamon. This pie is entirely vegan and is a great dish to serve anytime!
This Vegan Mud Pie is easy to make and tastes absolutely divine. It's perfect for the novice baker! This pie is rich in chocolate and looks beautiful. It's a great pie to serve for any occasion.
This Vegan Chocolate Mousse and Banana Pie is made with semi-sweet chocolate chips, agave, and banana. It is slightly sweet and perfectly creamy. Top this pie with sliced bananas and enjoy the wonderful taste in every bite!
This Cashew Chocolate Mousse Pie is totally scrumptious! It is made with cashews, silken tofu, and semi-sweetened chocolate chips. For the best taste, top this pie with coconut whipped cream!
This Vegan Key Lime is tangy, creamy, and delightfully sweet. This no-bake recipe is also dairy-free, egg-free, and gluten-free! It's easy to make and tastes heavenly.
This luscious, creamy Vegan Pumpkin Pie is wrapped in a flaky, mild-tasting crust. It has a sweet taste and is entirely vegan!
This Vegan Cherry Pie is made with fresh cherries and a wonderful homemade crust. It's equally tasty served hot and cold. This pie is entirely vegan and can be served with a lattice top or the traditional full-covered crust.
This Vegan Banana Cream Pie features a wonderful banana-toffee middle and is topped with dried fruit and nuts. It's very simple to make and will impress even the pickiest of eaters!
This Vegan Banoffee Pie with Date Caramel Sauce is entirely plant-based! It is sweetened with date caramel and takes only thirty minutes to bake. You'll be enjoying this pie in no time!
The crust of this pie is made with almonds, macadamia nuts, shredded coconut, and more delicious ingredients. This Rasberry Lemon Mousse Tart has a soft, sweet flavor and a wonderful texture.
This luscious, creamy Pumpkin Pie Mousse can be enjoyed any time of the day! It is made with banana, pumpkin puree, and maple syrup. Wonderfully sweet, this mousse also has a hint of nuttiness.
This Vanilla Pudding Pie Filling is smooth and can be enjoyed on its own with fresh fruit or in a pie! It is quick to prepare and will be crowd favorite.
This delightful Buckeye Pie is topped with a beautiful chocolate crust and filled with a luscious peanut butter mousse. Since this pie is made with tofu, it has many vitamins—along with tasting absolutely decadent!
Reader Interactions