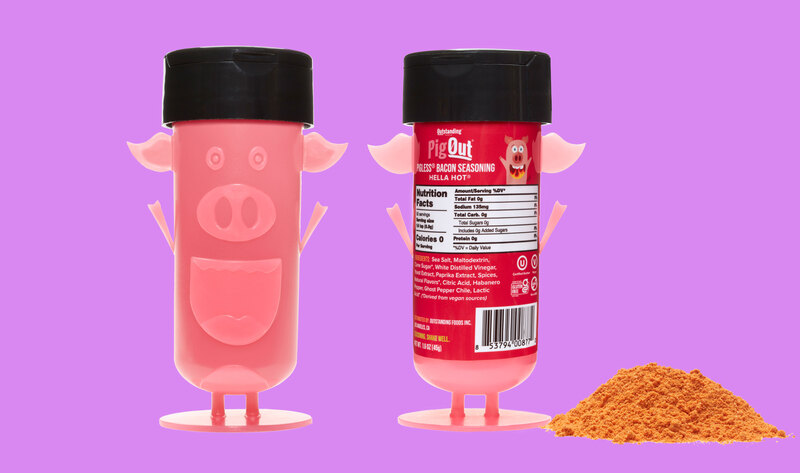 Today, celebrity-backed vegan snack brand Outstanding Foods announced the launch of its newest product, PigOut Pigless Bacon Seasoning. Available in Original, Hella Hot, White Chedda, and KC BBQ flavors, the animal-free seasoning—packaged in pig-shaped containers—retails for $7.99 and is available for purchase exclusively through the Outstanding Foods website. For every seasoning purchase, customers will receive a free e-book from Chef David Anderson—co-founder of Outstanding Foods, JUST, and former chef at Beyond Meat—with recipes featuring PigOut Pigless Bacon Seasonings.
"As a vegan for over 30 years, I frequently missed the smokey, tasty flavor of bacon but there weren't any plant-based bacon seasonings on the market that filled that taste bud gap," Anderson told VegNews. "In the interest of plant-based foodies everywhere, I set out to create a truly awesome bacon seasoning. These seasonings will give those of us who miss bacon that flavor you crave without any pig."
All the vegan snacks
The launch of PigOut Pigless Bacon Seasonings follows Outstanding Foods' launch of TakeOut Meal-In-A-Bag Puffs last October. Available in Pizza Partay, Chill Ranch, Hella Hot, and White Chedda flavors, the chef-crafted puffs are packed with 21 grams of protein and 30 percent of recommended servings of essential vitamins and minerals such as calcium, iron, zinc, vitamins A, B12, and more.
Last year, Outstanding Foods' also launched PigOut Pork Rinds. Available in Original, Hella Hot, Texas BBQ, and Nacho Cheese, the soy-based vegan rinds were launched at 200 7-Eleven locations across Southern California as part of the chain's Snacks & Sips initiative, which aims to introduce customers to new up-and-coming brands.