Whip up a batch of these vegan almond flour pancakes for your breakfast this morning. These almond flour-based pancakes are filled with flaxseed, ripe bananas, and more to help add nutrients and flavor.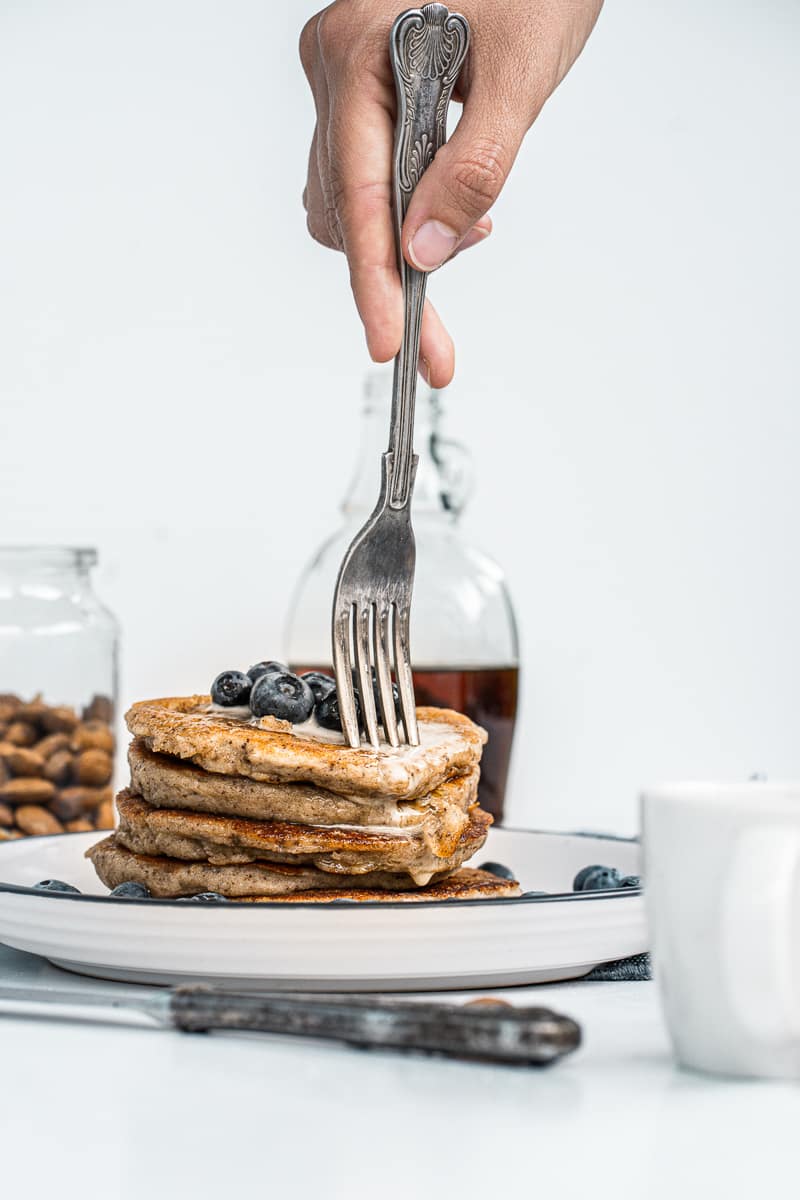 Drizzle on some syrup, dust with powdered sugar, or add on some fresh berries. No matter how you serve up these homemade vegan pancakes, they are a hit. 
These Vegan Almond Flour Pancakes are…
Gluten-free
Quick to make
Freezer-friendly
Something the whole family can enjoy 
How to Make Vegan Almond Flour Pancakes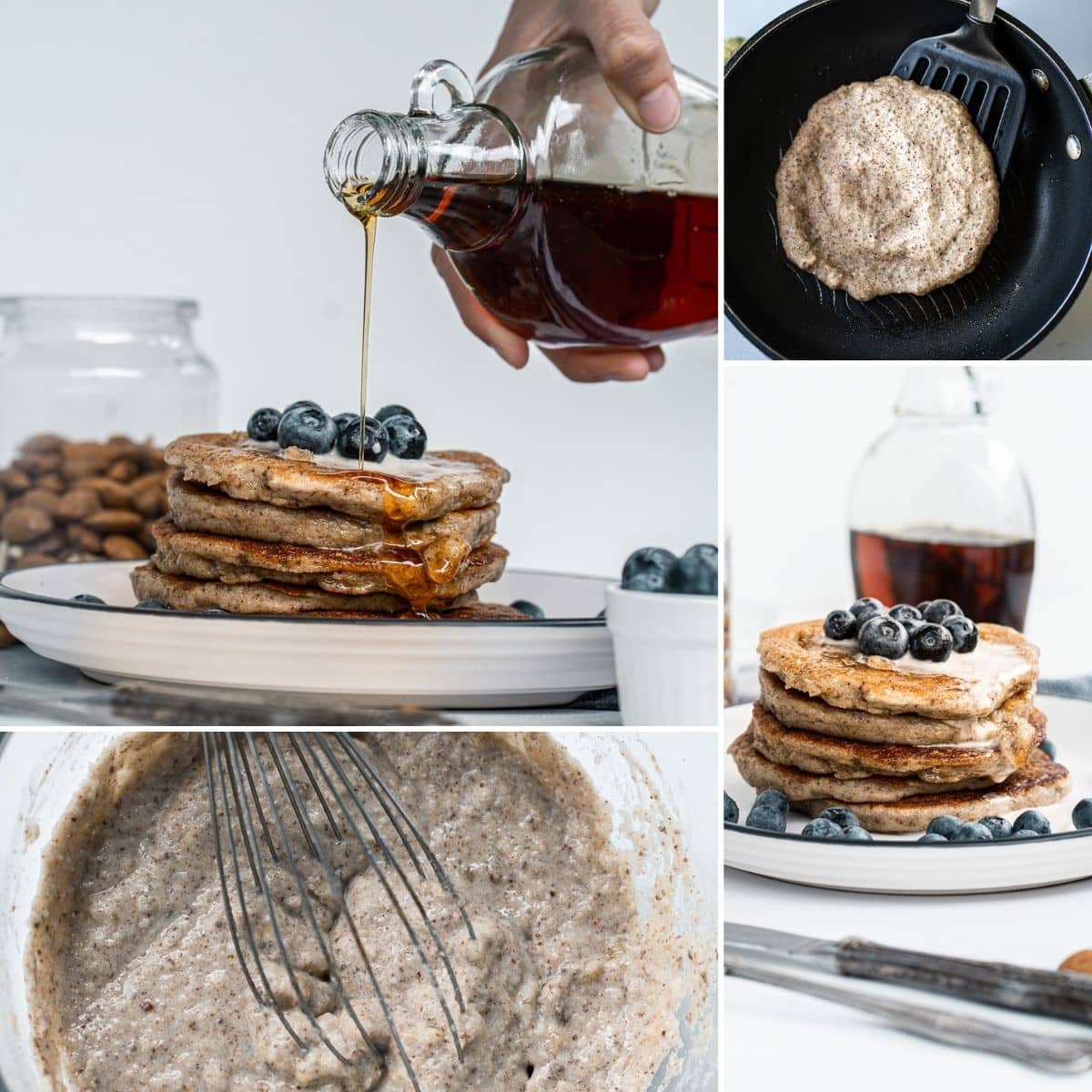 In a bowl, whisk together the almond milk, flaxseed, 3 tablespoons water, and vanilla. Mix well. 
Next, mash bananas and incorporate them into the batter. 
Now add in the two flour blends, cinnamon, and salt. 
Pour a thin layer of oil into your pan, and heat. Then add in your pancake batter, and cook until bubbles form around the edges. 
Flip and repeat until the pancakes are fully cooked. 
Garnish with warm syrup, fruit, nuts, etc. 
The full measurements and instructions for this pancake recipe are in the printable recipe card below. 
Tips and Tricks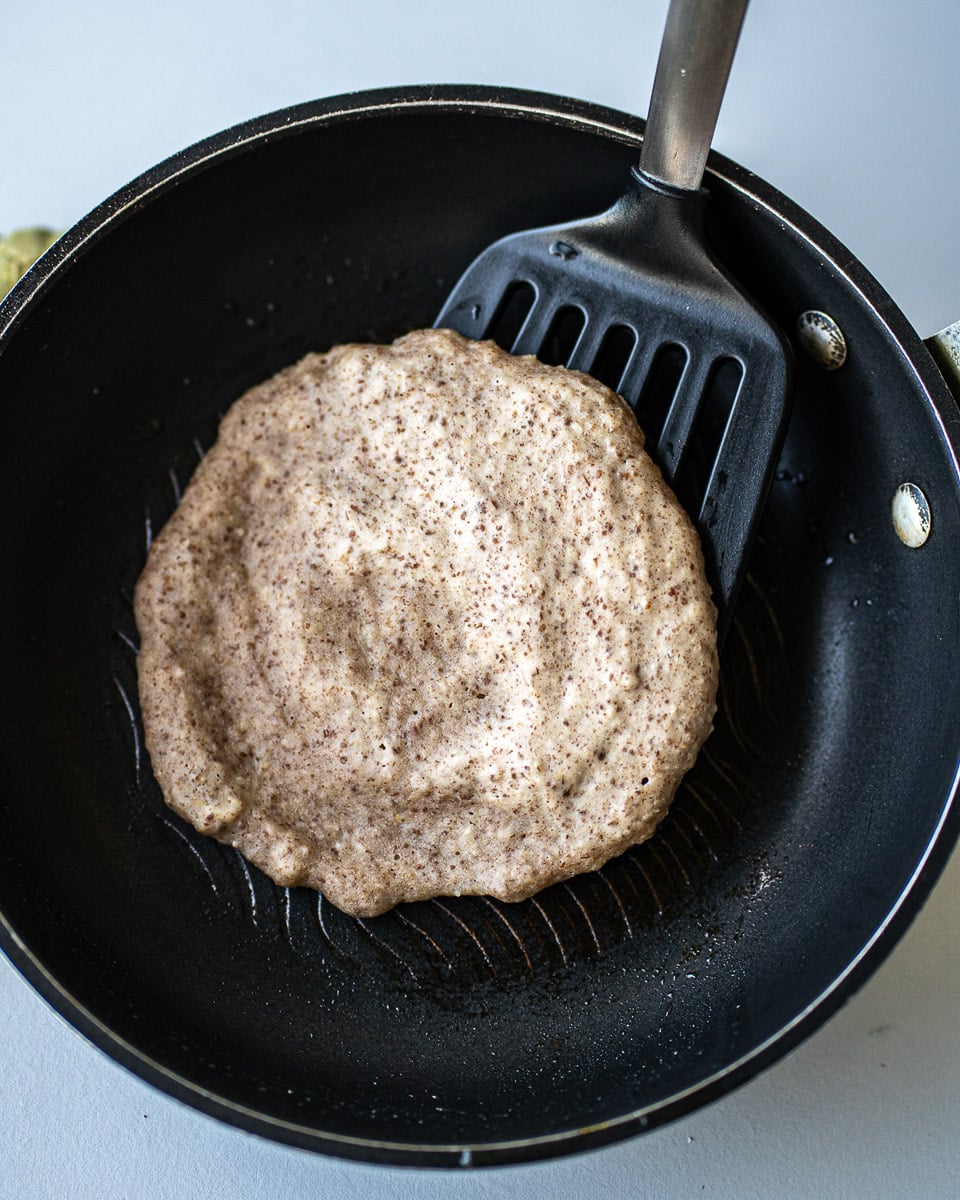 Hot Griddle 
Pour the pancake batter into a hot griddle that has been oiled. Otherwise, you won't get that browned outside on your pancakes and the texture won't be the best. 
Pancake Flipper 
Grab a pancake flipper—which is a really large spatula. These are great for sliding under the pancakes to flip easily. I have found these to be a handy tool when it comes to making pancakes. 
Griddles 
If you don't own a pancake griddle, you might really enjoy getting one. You are able to cook a handful of pancakes at once. It helps speed up making breakfast. Alternately, you can be cooking sausage or bacon on one side of the griddle while you are cooking your pancakes on the other side. 
Variations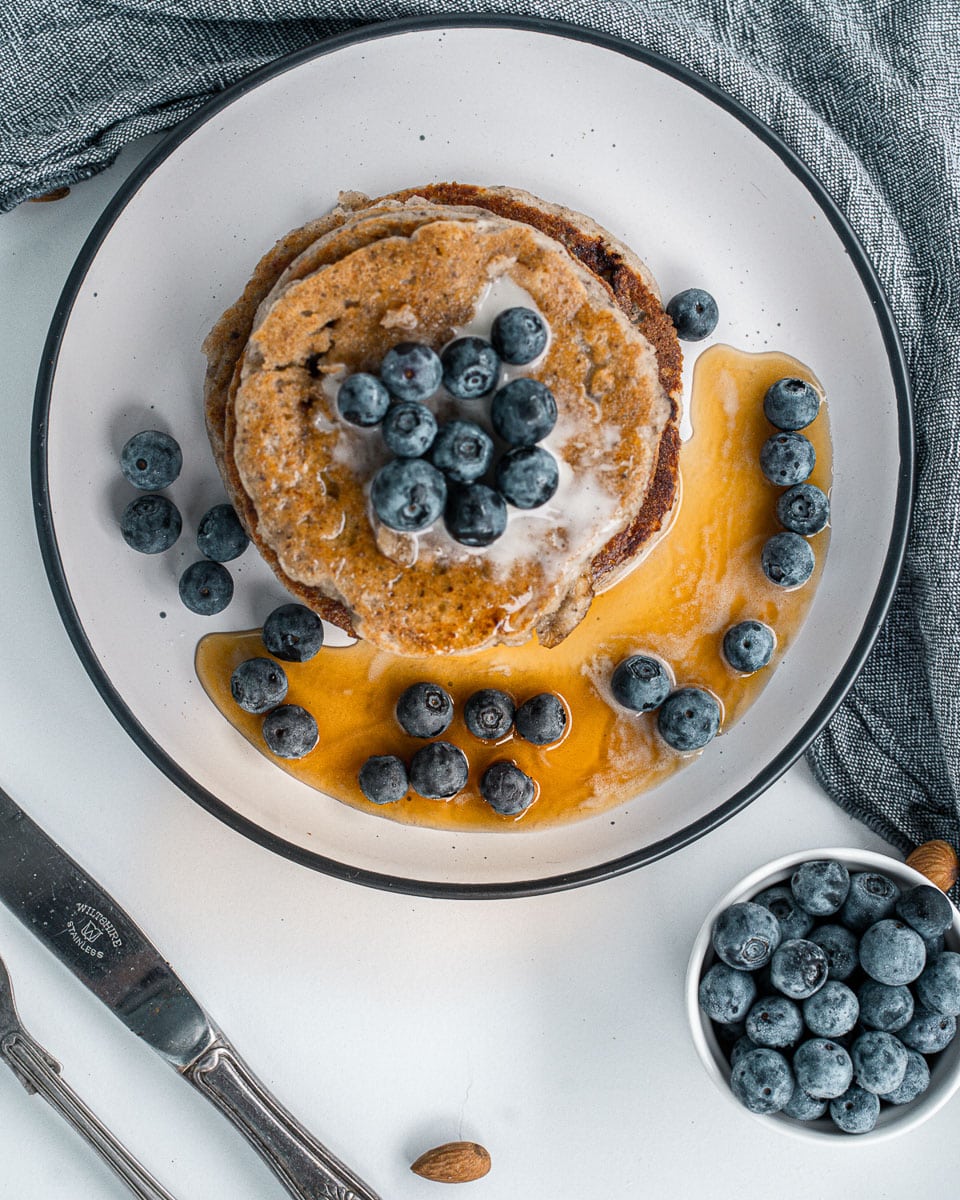 Fresh Fruit or Chocolate Chips 
Reach for some vegan chocolate chips or toss some fresh fruit into the pancake batter; either option will give you a more flavorful pancake. Have fun and use what you generally would when you make pancakes. 
Almond Extract 
Instead of vanilla extract, use almond extract. It adds a totally different flavor to the pancakes, and it is so tasty. You could even try half-vanilla and half-almond extract in the pancake batter.
Vegan Almond Flour Pancakes FAQs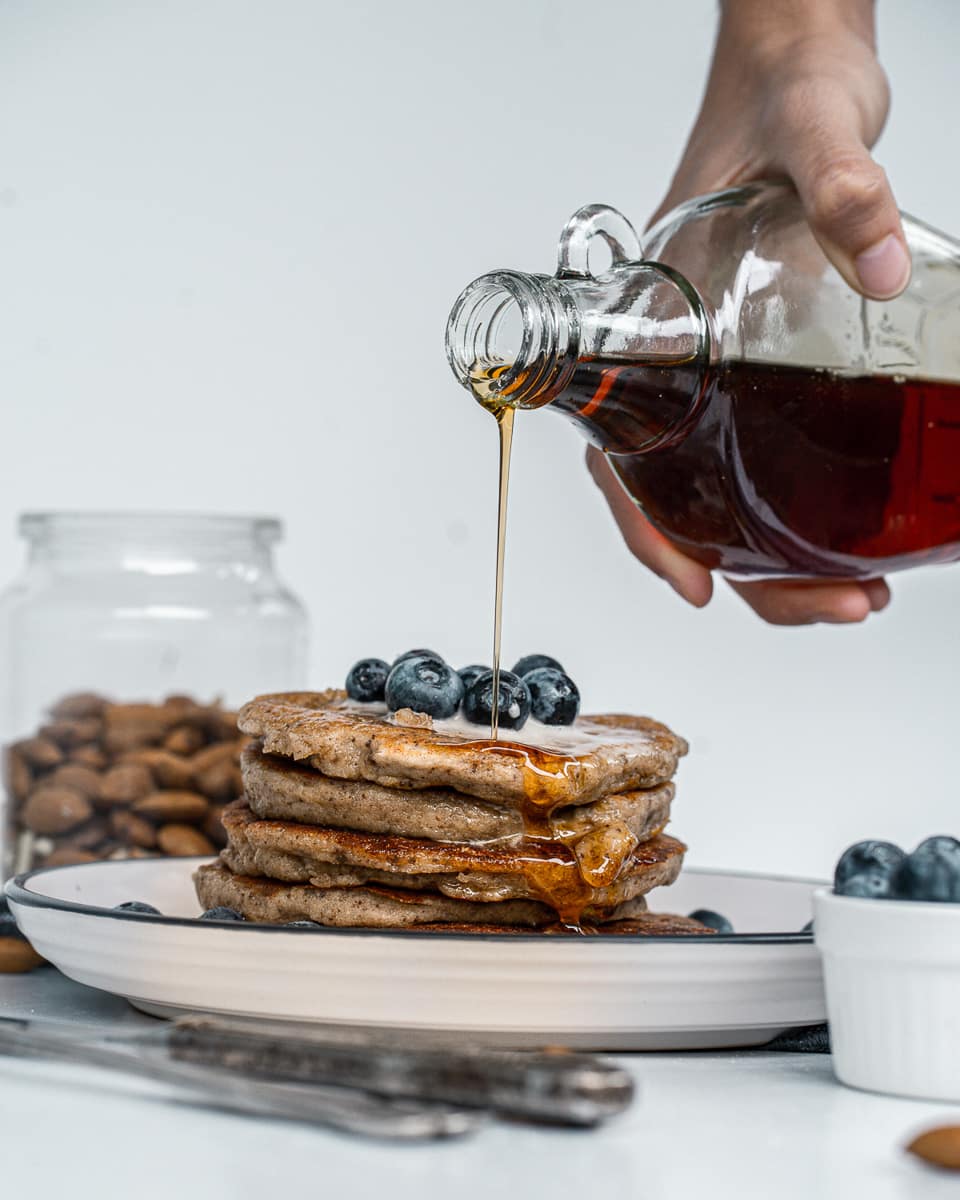 What does flaxseed do in vegan pancakes? 
The flaxseed is made into flaxseed eggs. Adding water to the flaxseed creates an egg replacement in a traditional pancake recipe. 
How to store leftover pancakes? 
If you do not eat all the pancakes, go ahead and refrigerate them. They will last 2–3 days in the fridge. 
You can eat these refrigerated pancakes cold or warm them up in the microwave. If choose to use the microwave, place a cup of water in the microwave along with the pancakes. This will keep the pancakes moist. 
Can you freeze almond flour pancakes? 
Go right ahead and freeze any vegan pancakes you don't want to eat right away. Just lay out the pancakes in a single layer and flash freeze them. 
Once the pancakes are frozen, transfer them to an airtight container or freezer bag. Then freeze the pancakes for up to 3–4 months.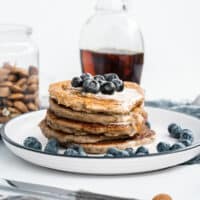 1

cup

almond flour

½

cup

gluten-free flour or all-purpose plain flour

1

tsp

vanilla extract

1

tsp

baking powder

¼

tsp

salt

1

overripe banana

mashed

½ -¾

cup

almond milk

1

tbsp

flaxseed + 3 tbsp warm water

Optional: ½ tsp ground cinnamon

Optional: fruits to garnish
Calories: 175kcal | Carbohydrates: 17g | Protein: 6g | Fat: 10g | Saturated Fat: 1g | Sodium: 196mg | Potassium: 96mg | Fiber: 3g | Sugar: 3g | Vitamin A: 13IU | Vitamin C: 2mg | Calcium: 110mg | Iron: 1mg