This Vegan Bolognese Sauce is the perfect Italian-inspired sauce to eat atop your favorite noodles. And because this recipe is vegan, compared to regular Bolognese sauce, it takes a fraction of the time to make.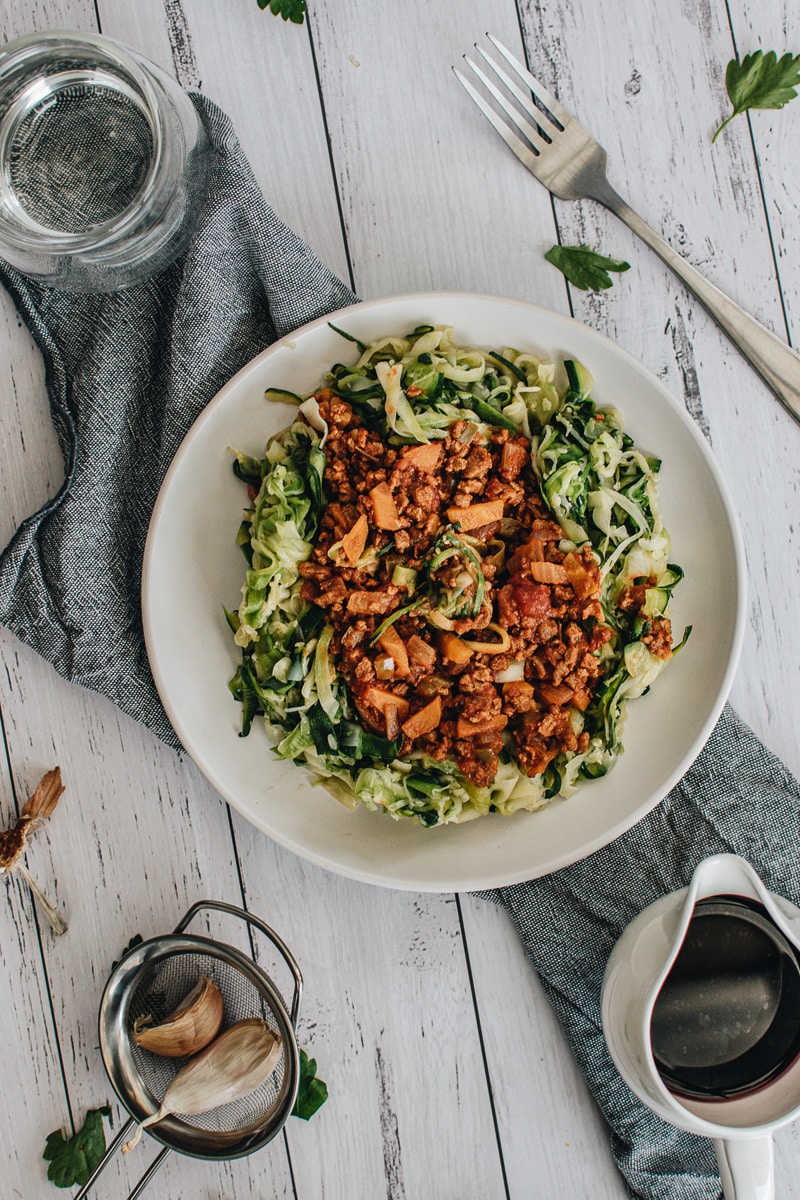 This vegan Bolognese recipe is packed with flavor! Its tomato sauce and red wine base are perfectly complemented by garlic, paprika, and oregano—a quintessential Italian spice combo.
And it definitely pays to be vegan with this recipe because it only takes 30 minutes to make! Regular Bolognese sauce can take hours, but this vegan recipe uses textured soy protein, which is ready in a jiffy!
This vegan Bolognese recipe is… 
vegan
vegetarian
plant-based
gluten-free
ready in 30 minutes
a quick tomato sauce recipe
How to Make Vegan Bolognese Sauce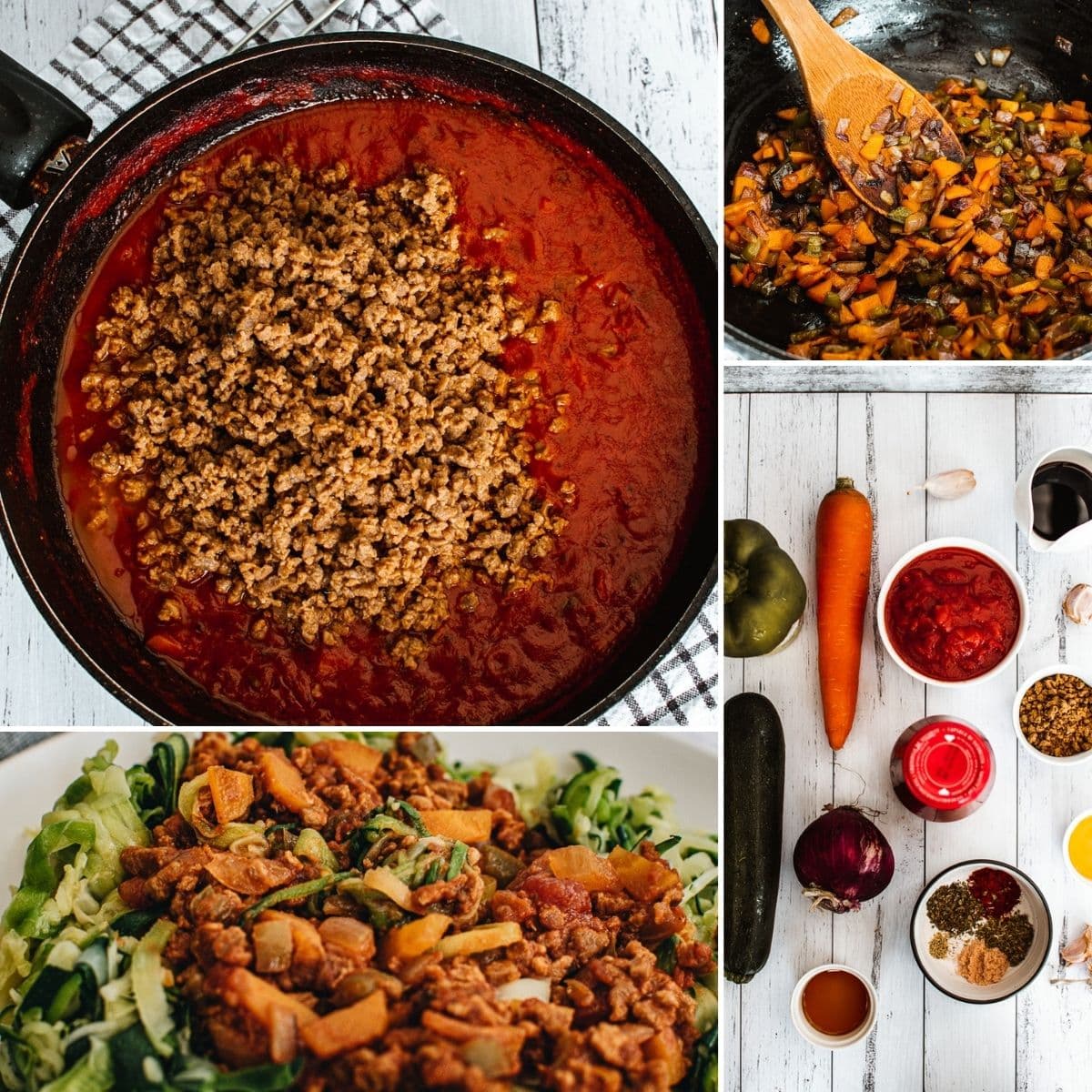 Heat olive oil in a large pot on the stove. 
Chop the onion, carrot, garlic, and green pepper. Make sure to remove the seeds from the green pepper and discard. 
Add the chopped vegetables and garlic to the pot and sauté. Stir occasionally so that nothing sticks to the bottom of the pan. 
Once the onions are translucent, add the paprika and oregano along with the vegan red wine. 
Stir the ingredients, bring them to a simmer, and then cover the pot to let the wine cook down. 
Next, add the diced tomatoes, the tomato sauce, and the maple syrup to the pot. 
Cover the pot again to let it cook and soften the tomatoes. 
While the sauce is cooking, start making the textured soy protein. 
Hydrate the textured soy protein by boiling it in water. Make sure the water covers it. Keep adding water until the soy protein is tender. 
Use a colander to get rid of the extra water. 
Add the soy protein to the sauce, combine, and cook for just a bit longer. 
Serve the vegan Bolognese sauce over your favorite noodles and enjoy!
Scroll down for the full recipe with measurements and detailed instructions.
Variations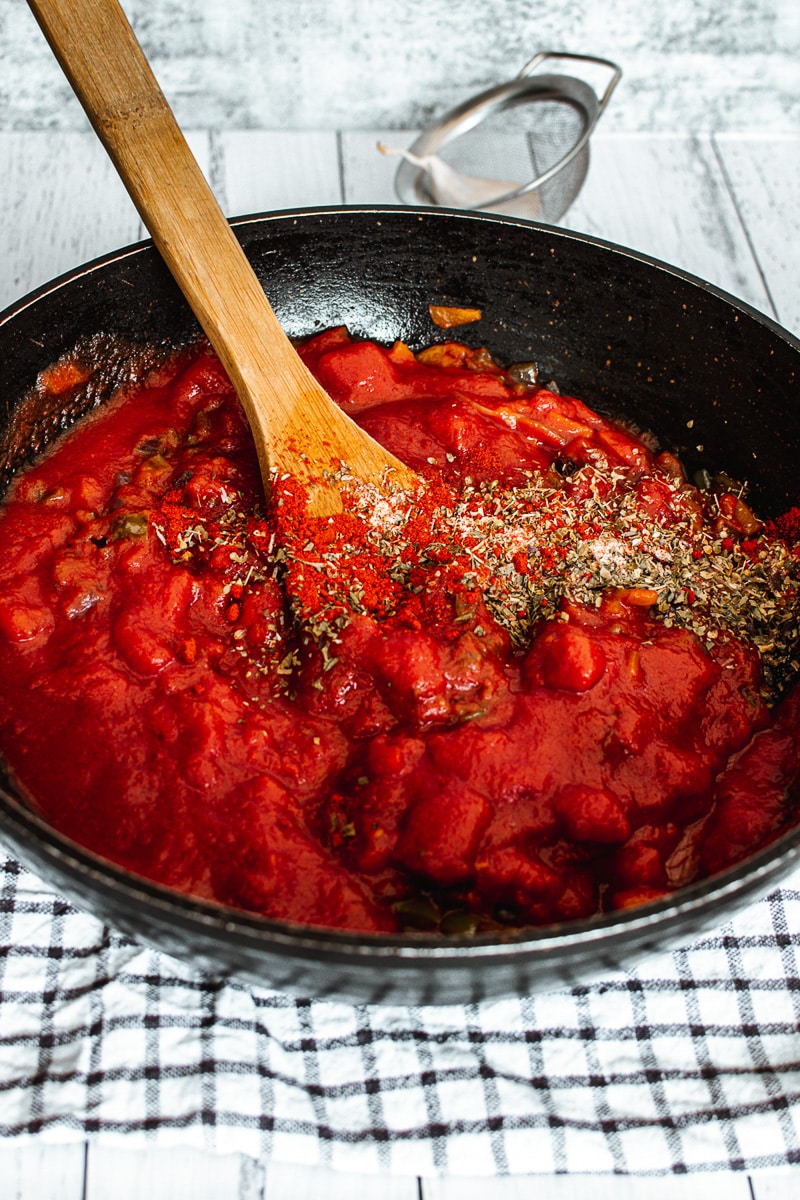 Fresh Toppings
Who doesn't love a picture-worthy meal? Beautiful and delicious! 
Top your noodles and vegan Bolognese sauce with halved cherry tomatoes and fresh basil. If you have some extra time, you can make some vegan parmesan to top it off. 
Try It With Veggie Noodles
While egg and flour noodles will work great with this vegan Bolognese sauce, you can also try it with veggie noodles. You can buy these at the store or grab your spiralizer and make your own. 
Try this sauce with noodles made from zucchini, summer squash, sweet potatoes, carrots, or beets.
Vegan Bolognese Sauce FAQs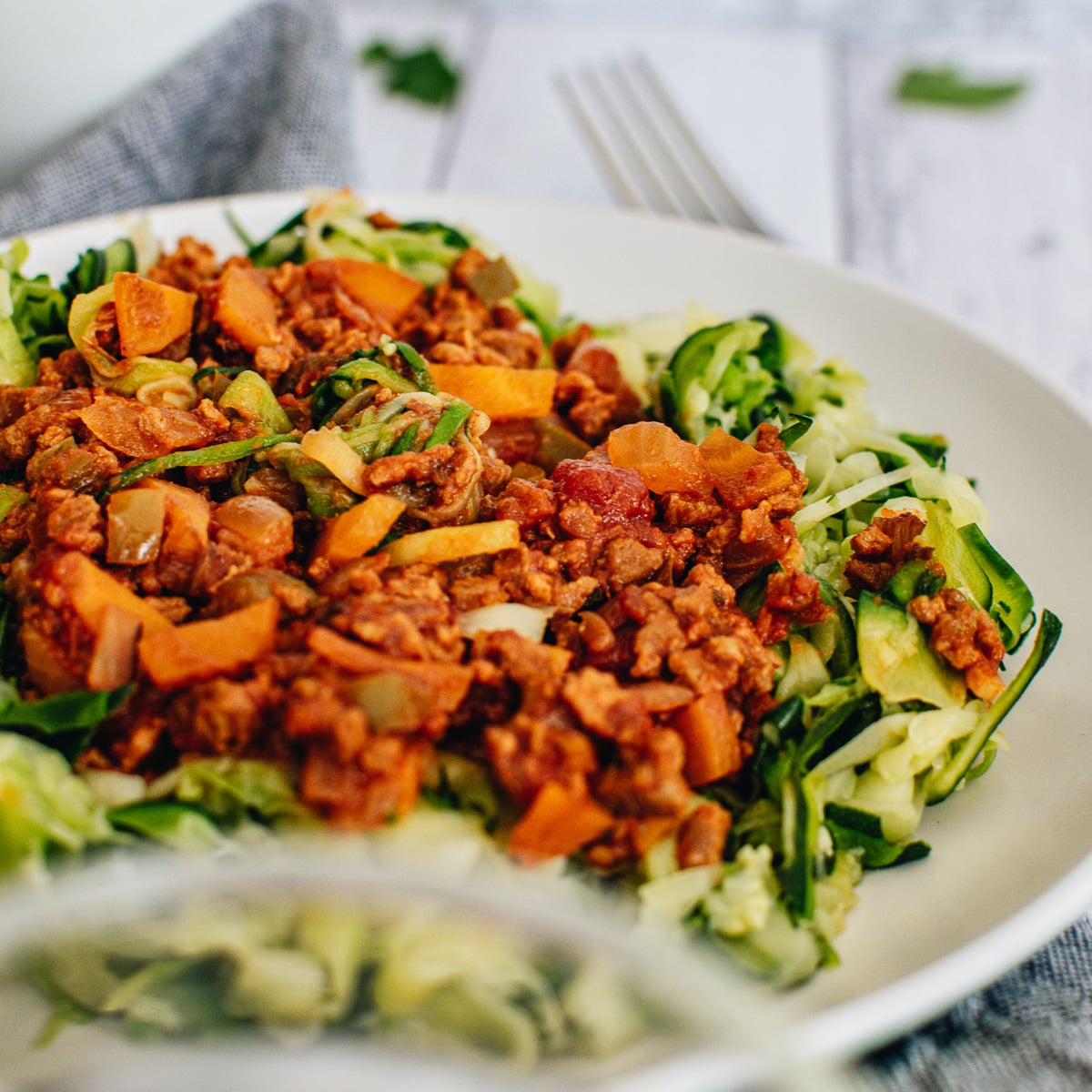 How long should you simmer Bolognese?
For this vegan Bolognese recipe, you'll simmer your sauce for 10 minutes after adding the wine and herbs and then again for 10 to 15 minutes after adding the tomatoes and maple syrup. 
Though other recipes for Bolognese take far longer because of the meat, this vegan version is much quicker because the soy protein is cooked separately. 
Can you overcook Bolognese?
Nope! You can't overcook Bolognese. Just keep it hydrated so as it doesn't burn on the bottom of the pan. If it's looking like the liquid level is getting low while you're simmering the sauce, add some more liquid.  
Do you simmer Bolognese with lid on or off?
For vegan Bolognese, you're totally fine to simmer the sauce with the lid on. This will speed up the cooking time and works just as well as simmering it with the lid off. 
Why is my Bolognese sauce watery?
If your Bolognese sauce is too watery, you may just need to simmer it for longer. To thicken it up, you might also try adding something more solid like more diced tomatoes that will soften and thicken the sauce.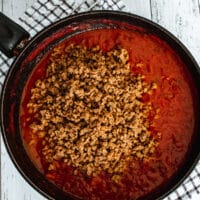 1

cup

textured soy protein

2

tbsp

olive oil

1

onion

1

carrot

3

cloves

garlic

1

tsp

paprika

1

tsp

dry oregano

½

cup

vegan red wine

1

tbsp

maple syrup

1

can diced tomato

1

cup

tomato sauce

½

red or green pepper

1

cup

water

Salt & black pepper to taste
In a large pot, heat 2 tablespoons oil over medium heat.

Chop the onion, carrot, garlic, and pepper. Transfer to a pot and sauté for about 10 minutes, stirring occasionally. Once onions are fragrant and translucent, add fresh herbs and wine, bring to a simmer and cover for 10 minutes to let the wine cook down.

Add the diced tomatoes, tomato sauce, and maple syrup to the simmering vegetables. Stir to combine, season with salt and pepper, then cover again and let cook for another 10-15 minutes.

Meanwhile, hydrate the soy protein in boiling water. The water should easily cover it, you need to get a tender "minced meat", add as much water as you need. You can always use a colander to get rid of extra water.

Finally, add the soy "meat" to the sauce, cook for just another minute.
Calories: 233kcal | Carbohydrates: 24g | Protein: 14g | Fat: 7g | Saturated Fat: 1g | Sodium: 487mg | Potassium: 578mg | Fiber: 7g | Sugar: 13g | Vitamin A: 3037IU | Vitamin C: 31mg | Calcium: 149mg | Iron: 5mg