Consider whipping up this delicious Vegan Charcuterie Board for your next entertaining needs or movie night at home. This board is loaded with vegetables, homemade hummus, chips, and more.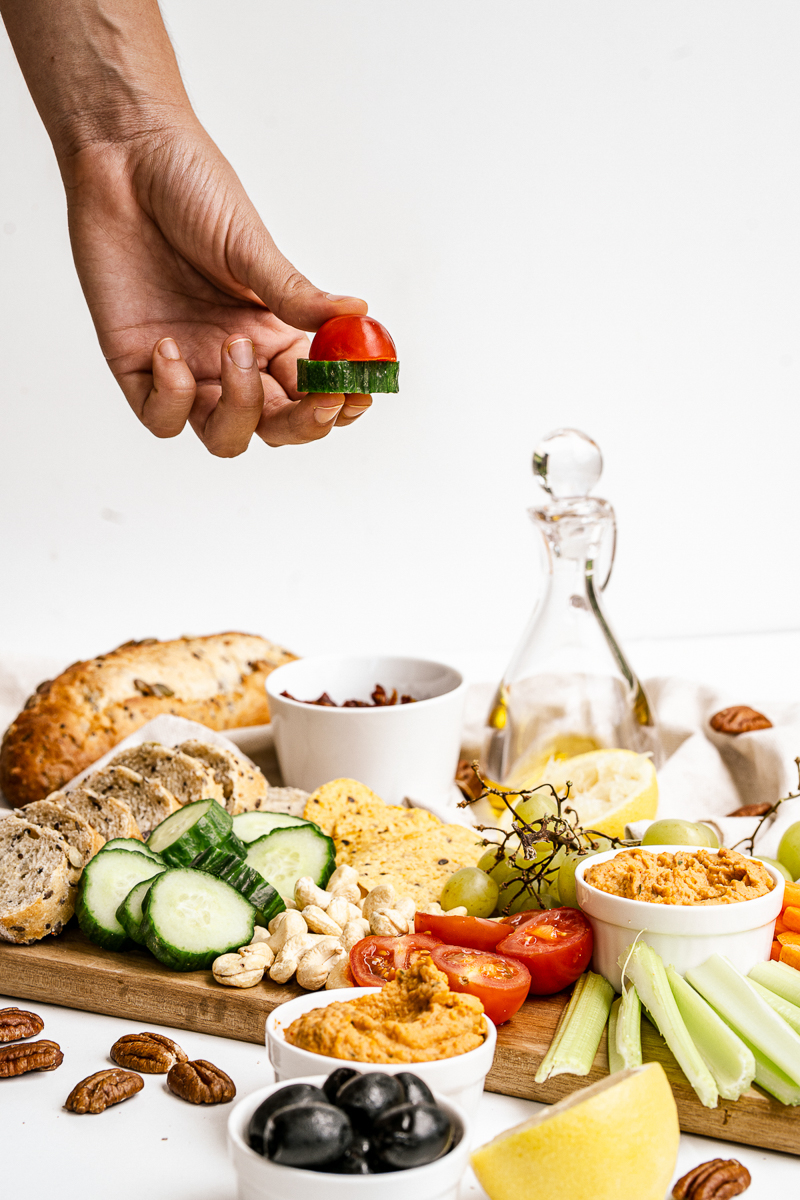 This vegan snack board is loaded with healthy and satisfying snacking options. Crunchy nuts, creamy hummus, etc.
Want to get a bit fancier than just basic hummus? Try adding this Vegan Jackfruit Crab Dip or this Garlic Cashew Cheese spread to your board. Or simply spice up your hummus game (literally) with this Grilled Red Pepper Hummus.
Why You Will Love This Vegan Charcuterie Board…
Simple assembly
Homemade hummus
Crisp veggies, crunchy nuts, etc. 
Nice variety of snacks 
Vegan-friendly 
Stunning presentation 
While you're here, be sure to grab a copy of my free vegan cheat sheet. It's packed with all my favorite easy substitutions to vegan-ize just about any recipe!
How to Make Vegan Charcuterie Board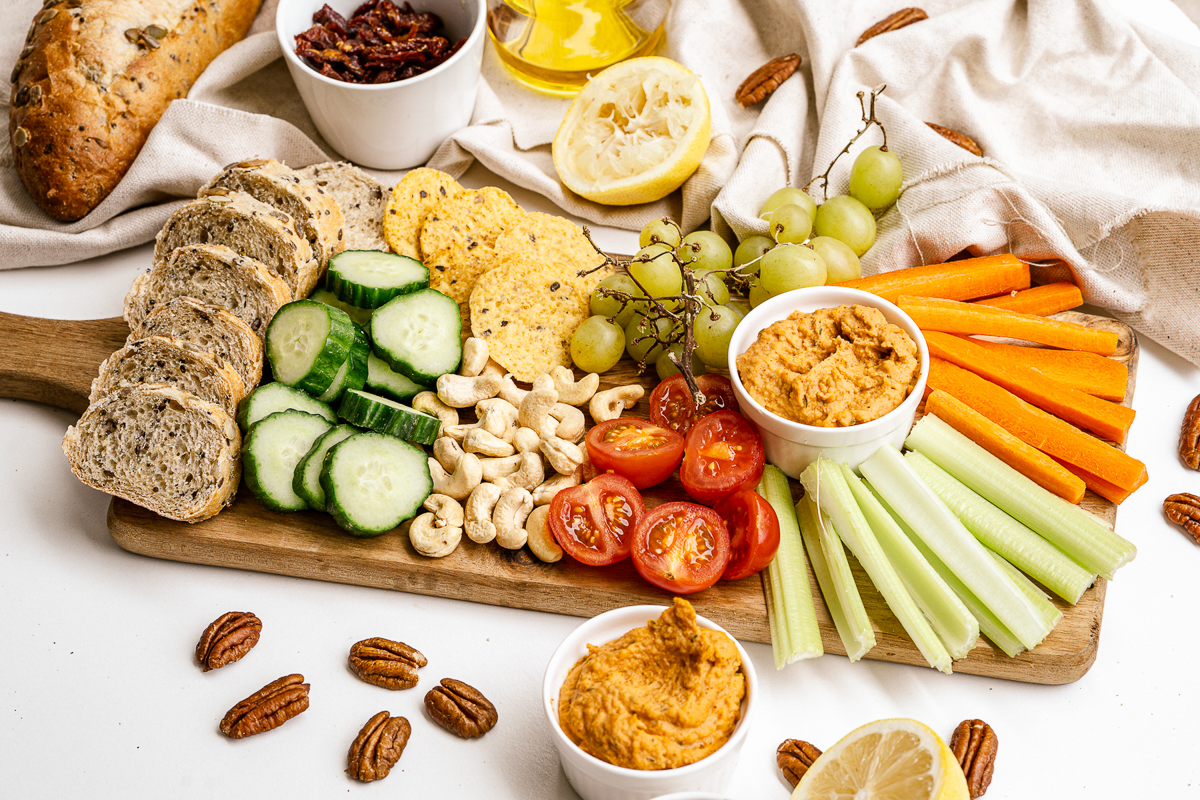 Start by adding all the ingredients for your hummus in the blender or food processor. Mix until creamy in texture.
Pour the hummus into serving bowls, and place on a charcuterie board.
Assemble all your snacks around it, and get to snacking!
Tips and Tricks for Vegan Charcuterie Board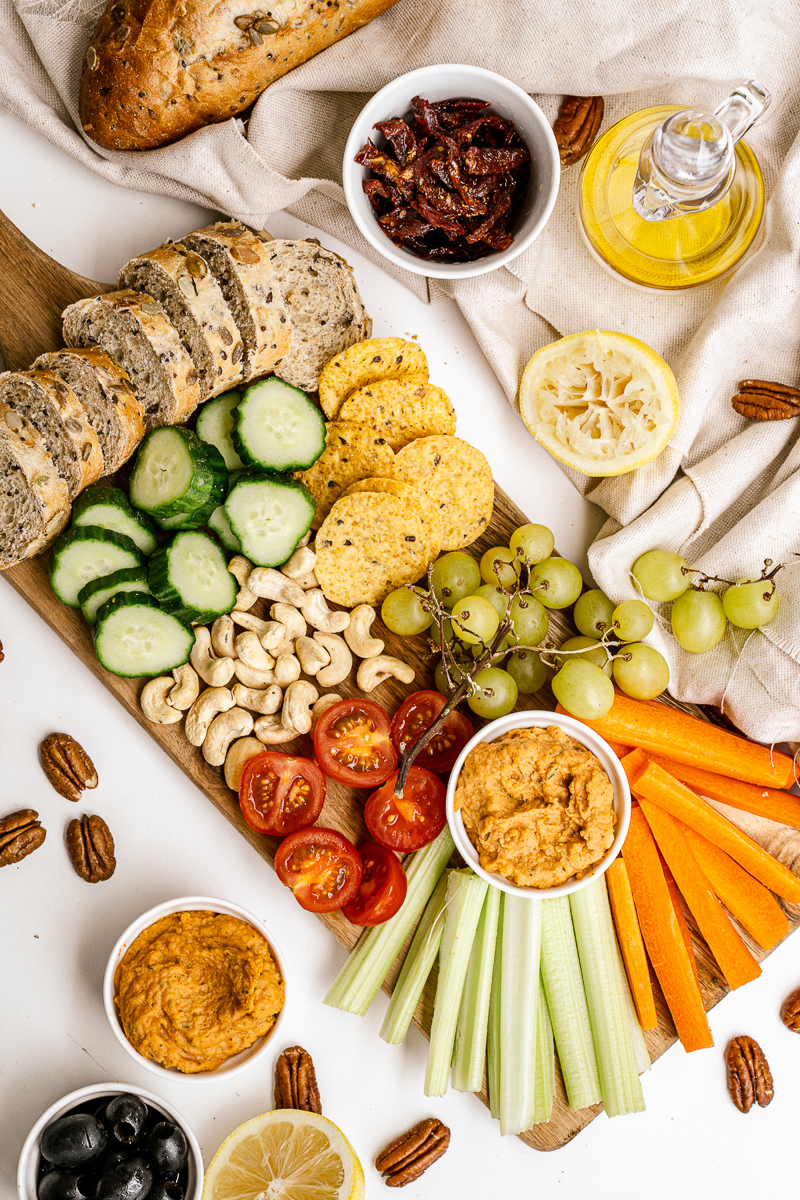 Choosing A Board 
Making a charcuterie doesn't mean you have to go out and buy a super expensive board. Just reach for a board or tray that is large enough to hold all you plan to serve.
Even a cookie sheet can be a base for your board. Make sure to pick a tray that has enough room for all your snacks to fit and doesn't leave a lot of empty space. The board needs to look full.
Dips 
Consider adding in a few bowls of dip. Even if you are placing the same hummus on both ends of the board, the placement can help create balance.
However, a few different dips will help balance out your board flavor-wise as well as visually. For example, a chocolate hummus could be a tasty pairing with some fruit on one end of the tray. 
Prepare in Advance 
You can prepare your board in advance if you want to prep. Just assemble your board as you would like, cover tightly with plastic wrap, and store in the fridge until you are ready to serve. 
Variations To Vegan Charcuterie Board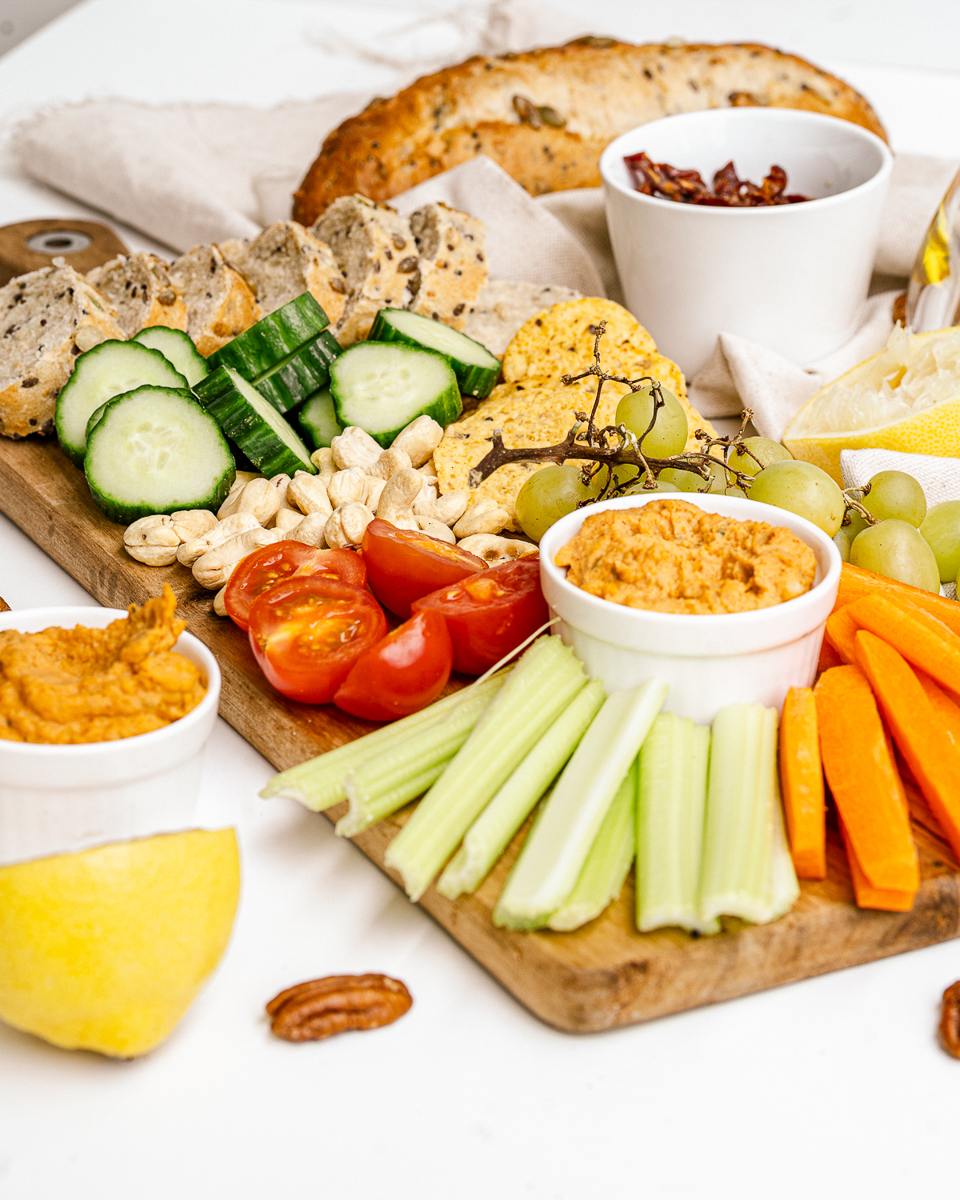 Snacking Options 
Change up the snacking options to fit what you have on hand. Add in some pieces of fresh fruit or pita bread for dipping. Create your grazing board to fit what you want to have. 
Dipping for Vegetables 
You can find tons of recipes for savory dips for dipping veggies. To avoid confusing dips, try making one side of your board savory and another side sweet.
Charcuterie FAQs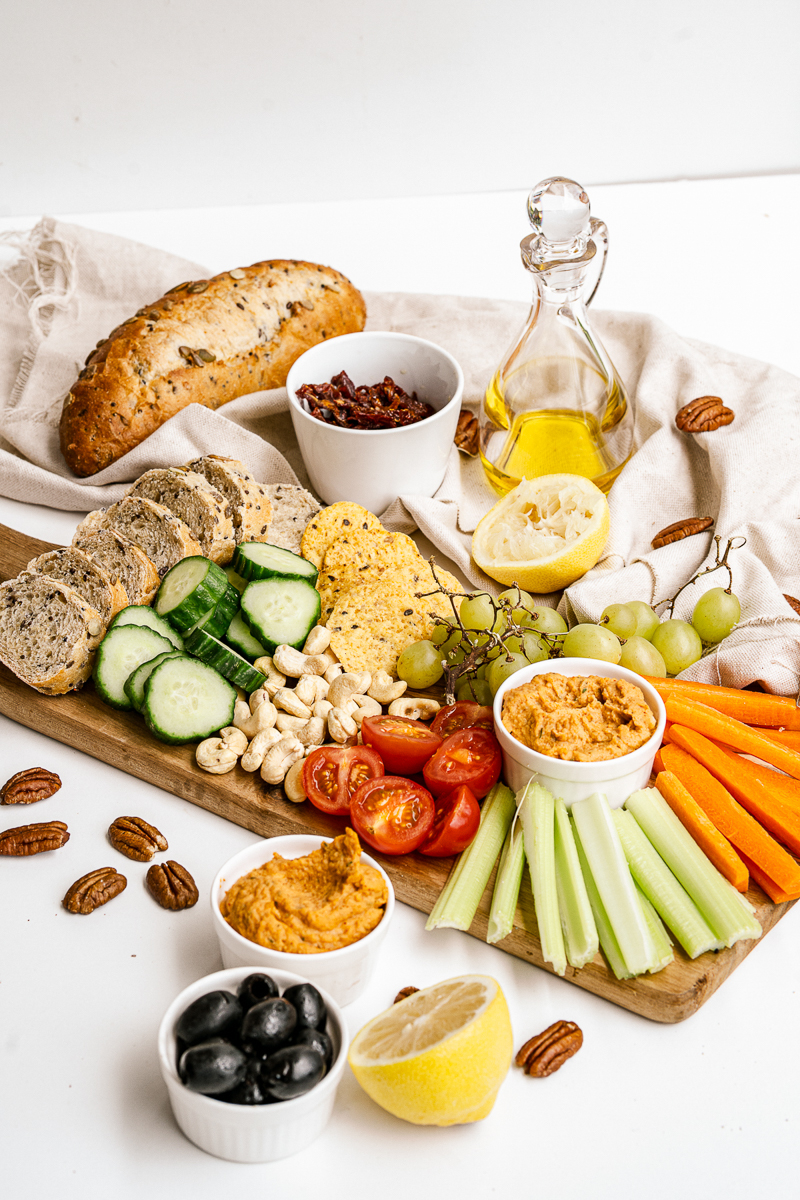 How do you say "charcuterie board?"
Not quite sure how to say "charcuterie?" Here is how to pronounce it: "shahr-ku-tuh-ree."
How do you build a charcuterie board? 
Start by placing dip on both ends of the board. Then begin to add vegetables, nuts, and such on the board. I began by laying items around the bowls, and then worked my way out to the edge of the board. 
Are a grazing board and a charcuterie the same thing? 
Essentially, yes, the two names are the same thing. You will find that—no matter the name—an arrangement of snacks on a tray or board makes a great appetizer, snack, etc.
What are items to put on a vegan charcuterie tray? 
Vegetables, veggie "meat," vegan cheese, dips, crackers, bread, etc. You might even enjoy adding in some nuts, fresh fruit, and more.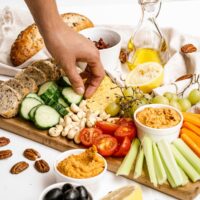 Vegan Charcuterie Board
Consider whipping up this delicious Vegan Charcuterie Board for your next entertaining needs or movie night at home. This vegan charcuterie board is loaded with vegetables, homemade hummus, chips, and more. 
Servings: 10 servings
Calories: 254kcal
Ingredients
Board
2

carrots

peeled and sliced into matchsticks

1

cucumber

sliced

3

celery stalks

trimmed and cut in half lengthwise

½

cup

pecans

1

cup

grapes

1

cup

cherry tomatoes

halved

½

cup

cashews

½

cup

sundried tomatoes

1

cup

corn chips

½

cup

olives

baguette

sliced
Hummus
15

oz

chickpeas

canned, drained, and rinsed

1

garlic clove

¼

cup

fresh parsley

½

tsp

salt

1

tbsp

olive oil

plus extra for drizzling

1

tbsp

tahini paste

½

tsp

smoked paprika

plus extra for garnish

juice of ½ lemon
Instructions
Add all hummus ingredients to the bowl of a food processor. Blend on high speed until it forms a smooth paste.

Garnish hummus with additional smoked paprika and a drizzle of olive oil.

Arrange hummus and all remaining ingredients onto a large serving platter to form your charcuterie board.
Nutrition
Calories: 254kcal | Carbohydrates: 29g | Protein: 8g | Fat: 14g | Saturated Fat: 2g | Trans Fat: 1g | Sodium: 300mg | Potassium: 553mg | Fiber: 6g | Sugar: 9g | Vitamin A: 2413IU | Vitamin C: 11mg | Calcium: 68mg | Iron: 3mg
Vegan-ize any recipe!
Grab our free vegan cheat sheet, packed with my favorite easy substitutions to make any recipe vegan.