These vegan chocolate crinkle cookies are soft, chewy, chocolatey, and delicious! Dusted with powdered sugar, these vegan chocolate cookies will remind you of snow, but be warm as holiday spirit!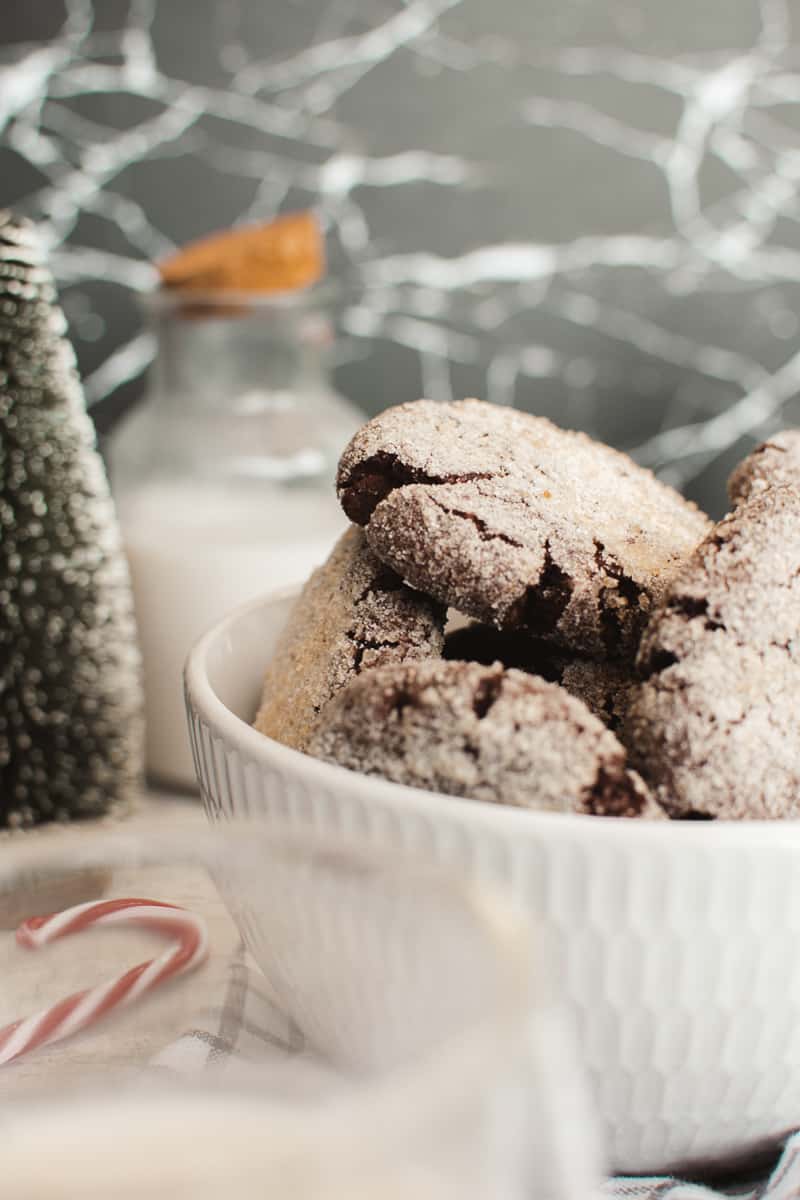 These vegan crinkle cookies may be dairy-free and egg-free, but they're just as scrumptious as any other chocolate crinkle cookies you've ever had! And they're super easy to make too!
All you do is mix together the ingredients, form the dough into balls, roll them in powdered sugar, and bake! They'll crinkle as they cool and leave you will a soft, gooey cookie everyone will love!
This vegan chocolate crinkle cookies recipe is… 
vegan
vegetarian
nut-free
dairy-free
egg-free
ready in 30 minutes
a quick chocolate treat
How to Make Vegan Chocolate Crinkle Cookies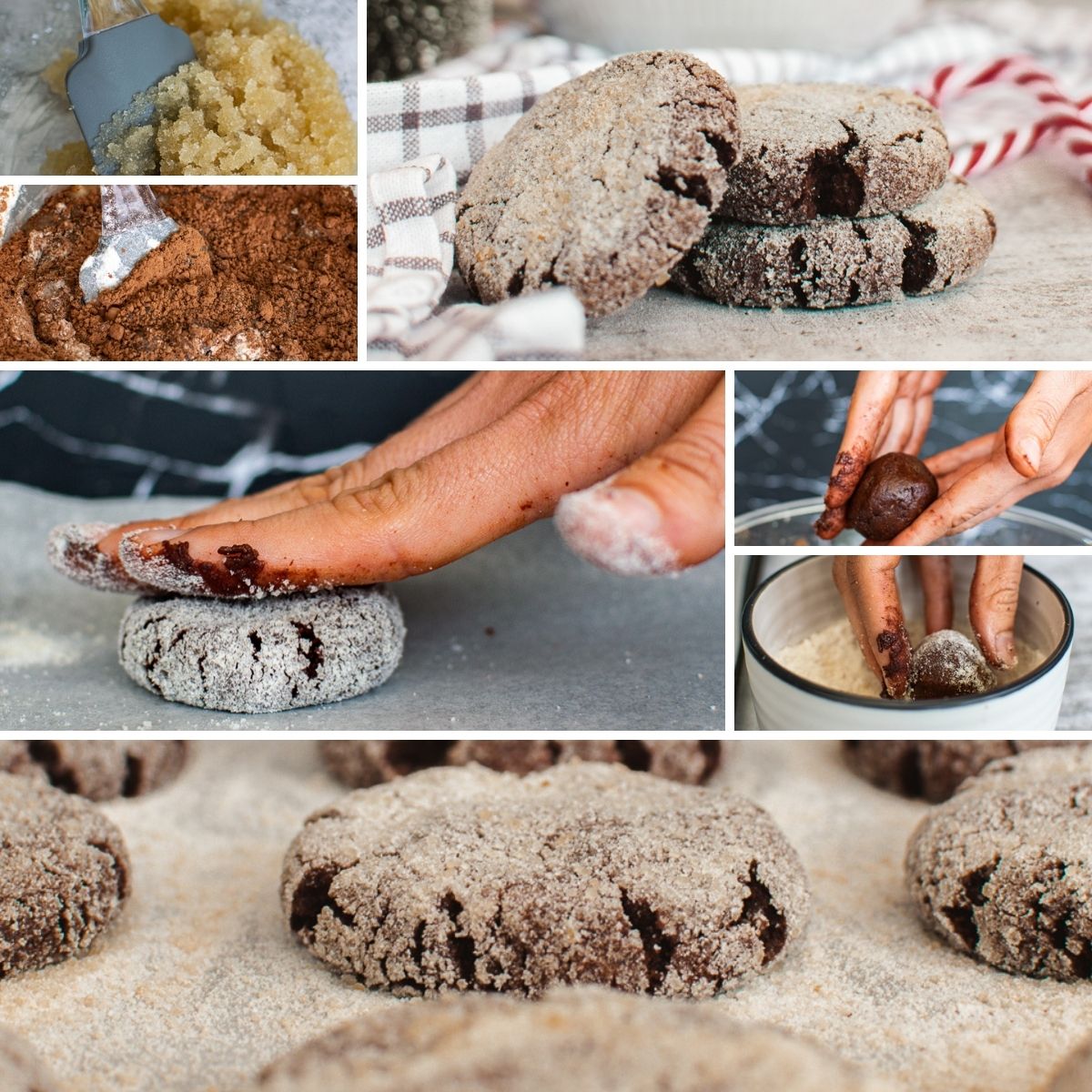 Preheat the oven and line two baking sheets with parchment paper. 
In a large bowl, add the sugar and canola oil. 
Stir the ingredients with a wooden spoon until they are combined and smooth. 
Add the ground flax seeds, non-dairy milk, and vanilla and combine well. 
Sift in the flour, cocoa powder, baking powder, and salt. You can use a sifter or a fine mesh strainer.
Stir the ingredients until they are combined with the wet ingredients and a dough forms. 
Place the powdered sugar in a small mixing bowl. 
Scoop out a tablespoon of dough at a time, and shape into balls.
Roll the balls in the powdered sugar, making sure you cover all the sides. 
Place the balls onto the baking sheet, leaving room for them to spread. 
Bake the cookies until they are done. They will appear slightly undercooked and soft, but they will become firmer as they cool. 
Cool the cookies on the baking sheet before serving. 
Scroll down for the full recipe with measurements and detailed instructions.
Tips & Tricks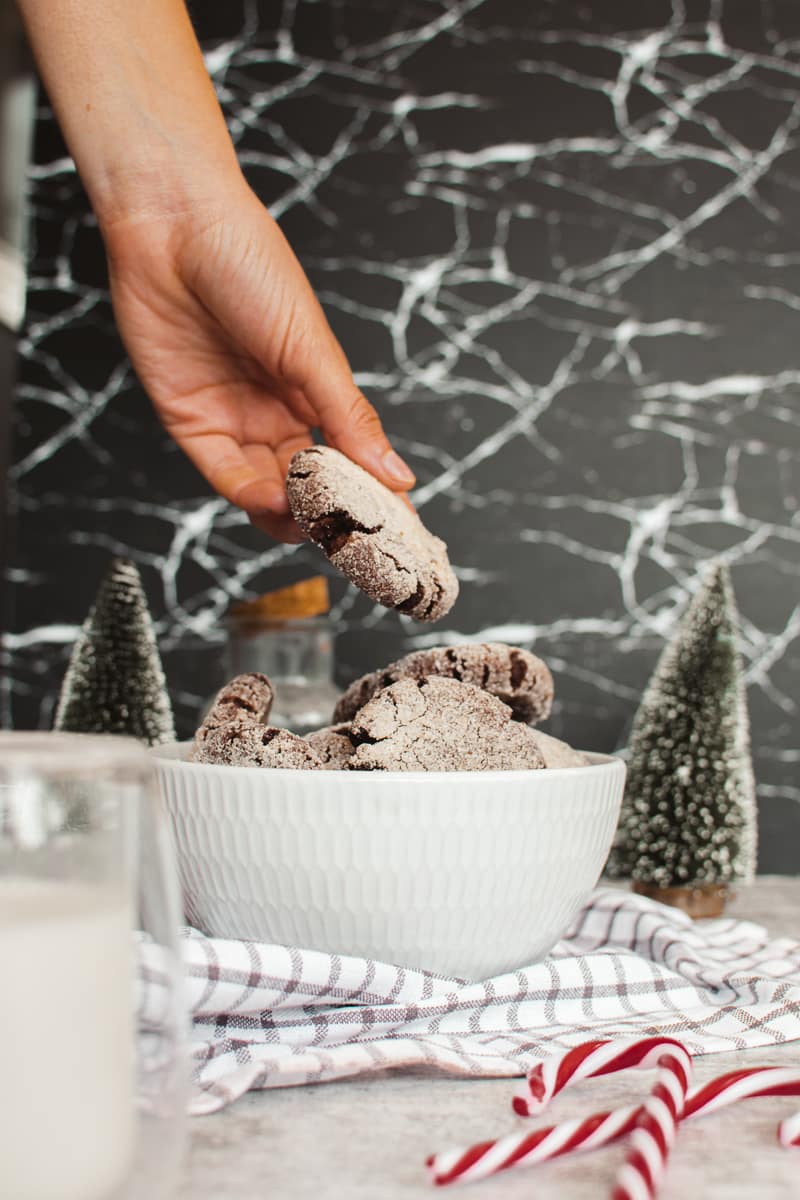 Extra Powdered Sugar Please!
When you roll the dough in the powdered sugar, the rule is the more the better! Not only will your cookies be yummier, they'll be prettier too! 
Sifter
A sifter is a kitchen tool that has very small holes in it through which the flour falls. It breaks up the coarse particles by grinding them against one another. 
A fine mesh strainer can also work for this recipe. 
FAQs About Vegan Chocolate Crinkle Cookies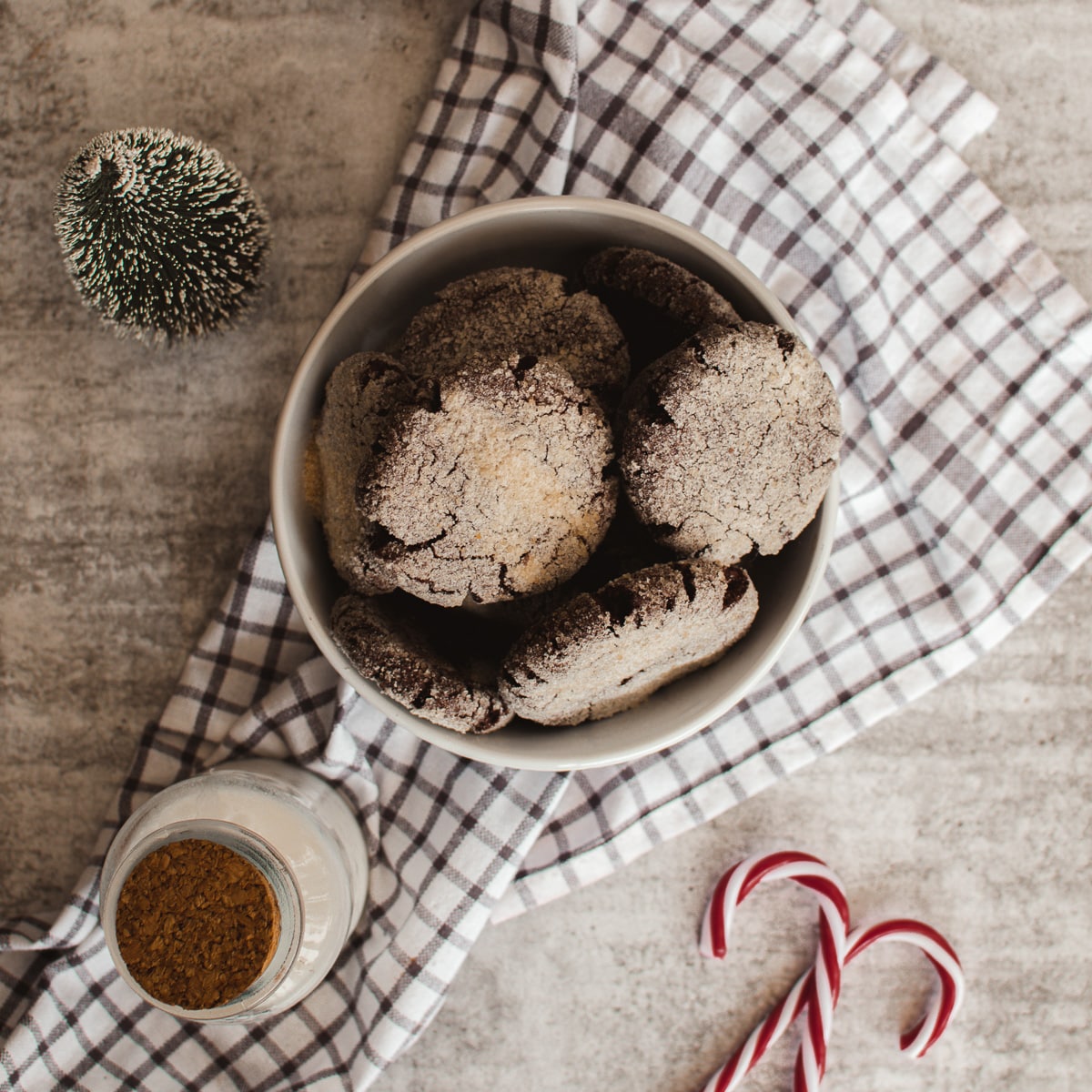 What makes a cookie crinkle?
A cookie crinkles when the top surface dries out before the cookie is finished spreading and rising. It will then harden and crack, giving it that crinkled look. 
 What is a chocolate crinkle cookie?
A chocolate crinkle cookie is a traditional Christmas cookie. It has a rich flavor like a brownie, but it's thick and soft in the center. 
These vegan crinkle cookies are chewy and harden as they cool.
What do crinkle cookies taste like?
Vegan chocolate cookies are chocolatey and rich and sweetened with powdered sugar. 
Why is my crinkle flat?
If your vegan crinkle cookies come out flat, you may need to chill the dough 30 min in the fridge before rolling it into balls. If you don't, it's possible the cookies may not spread while they bake. 
Too little flour can also make them flat. 
Why is my crinkle cookie dough sticky?
Your crinkle cookie dough might be too sticky if you added too much oil. If you didn't, you may want to try chilling the dough in the fridge, or they won't be the right consistency when you take them out of the oven. 
More cookie recipes
If you love these cookies, then you must try out these other recipes to make.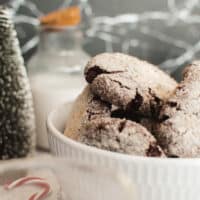 1

cup

granulated sugar

1/3

cup

canola oil

OR melted coconut oil

1

tablespoon

ground flax seeds

1/3

cup

non-dairy milk

1

teaspoon

pure vanilla extract

1 1/4

cups

all-purpose flour

1/2

cup

cocoa powder

1

teaspoon

baking powder

1/4

teaspoon

salt

1

cup

powdered sugar

for rolling
Calories: 221kcal | Carbohydrates: 39g | Protein: 2g | Fat: 7g | Saturated Fat: 1g | Sodium: 89mg | Potassium: 83mg | Fiber: 2g | Sugar: 27g | Vitamin A: 26IU | Vitamin C: 1mg | Calcium: 37mg | Iron: 1mg