Learn how to make Vegan Nutella at home in no time. This silky-smooth homemade Nutella is so rich and decadent, and it's made with just 7 simple ingredients! Use it to dip fresh fruit, use as a frosting for desserts, and more.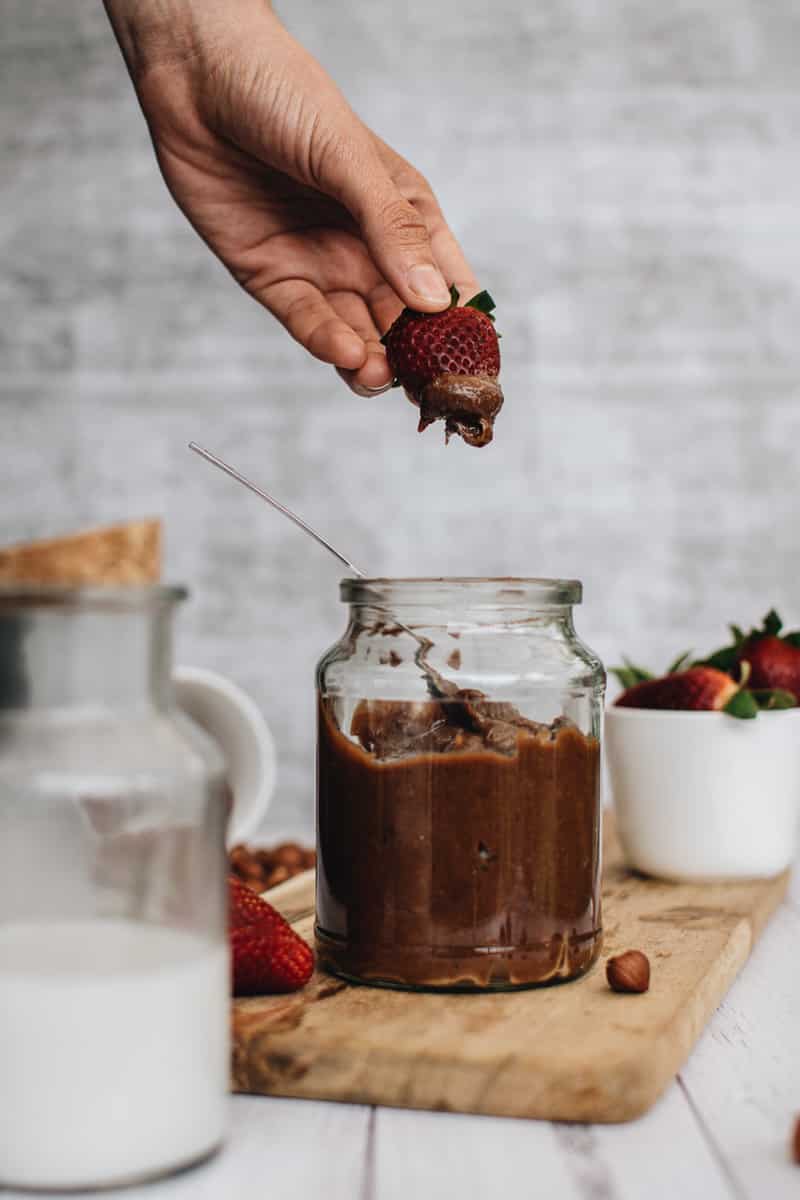 This chocolate hazelnut spread uses raw hazelnuts, 60% dark chocolate, and a few other ingredients. Make yourself some homemade Nutella in no time and enjoy your creamy and delicious chocolate spread. 
This Vegan Nutella Is…
vegan 
vegetarian 
gluten-free 
dairy-free 
spreadable and creamy 
a great frosting for desserts 
storable for 1 month 
How to Make Vegan Nutella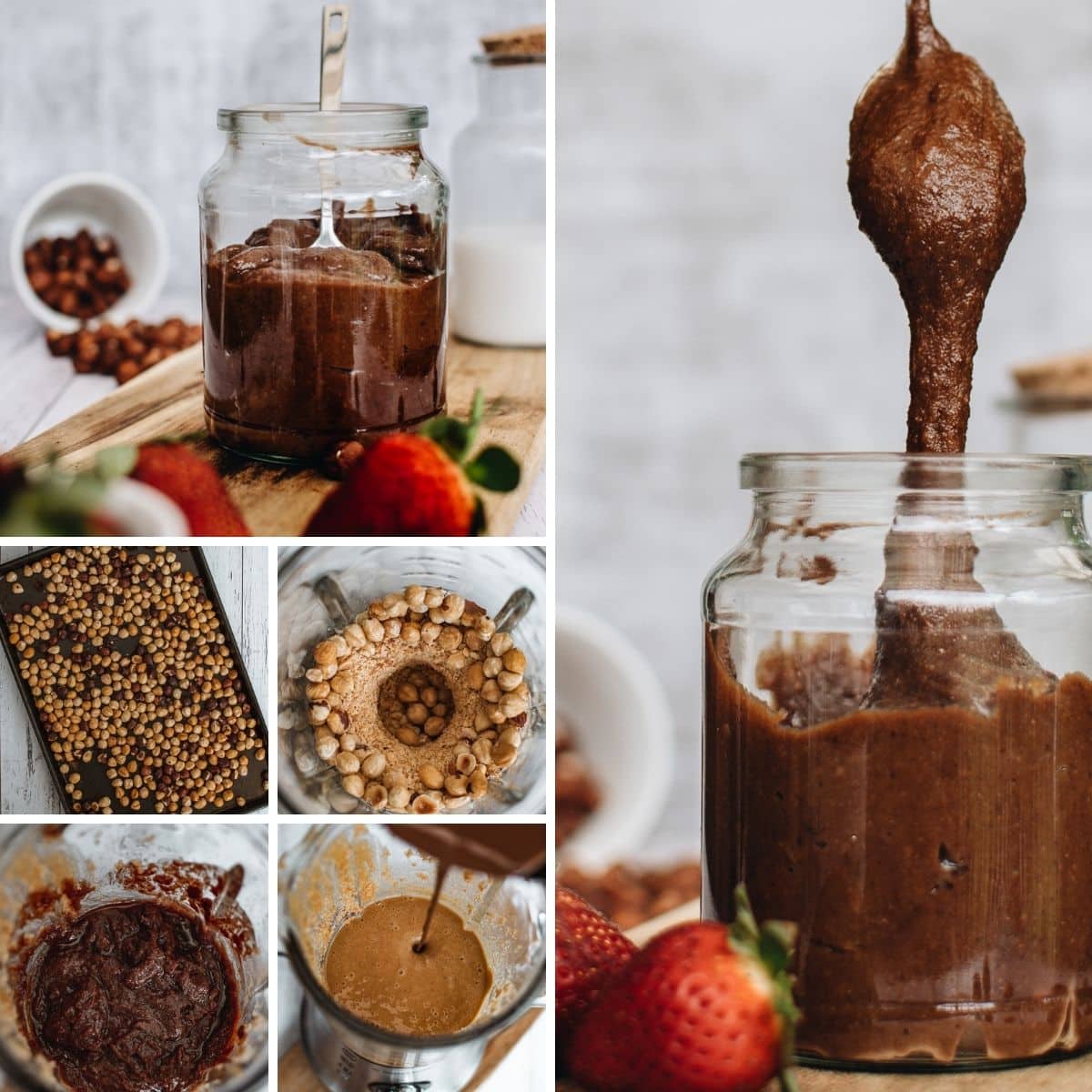 Start by preheating the oven to 350°F. 
You want to spread out all your hazelnuts onto a pan and roast as directed on a baking sheet. 
Toss roasted hazelnuts into a food processor and pulse until you have a thick nut butter. 
Once the nut butter is ready, pour in the coconut oil and melted chocolate. Then add in the vegetable milk, vanilla, maple syrup, and sea salt. Process a bit longer until well mixed. 
Transfer to an airtight container and store.
Scroll down for the full recipe and measurements to the Nutella recipe. 
Tips and Tricks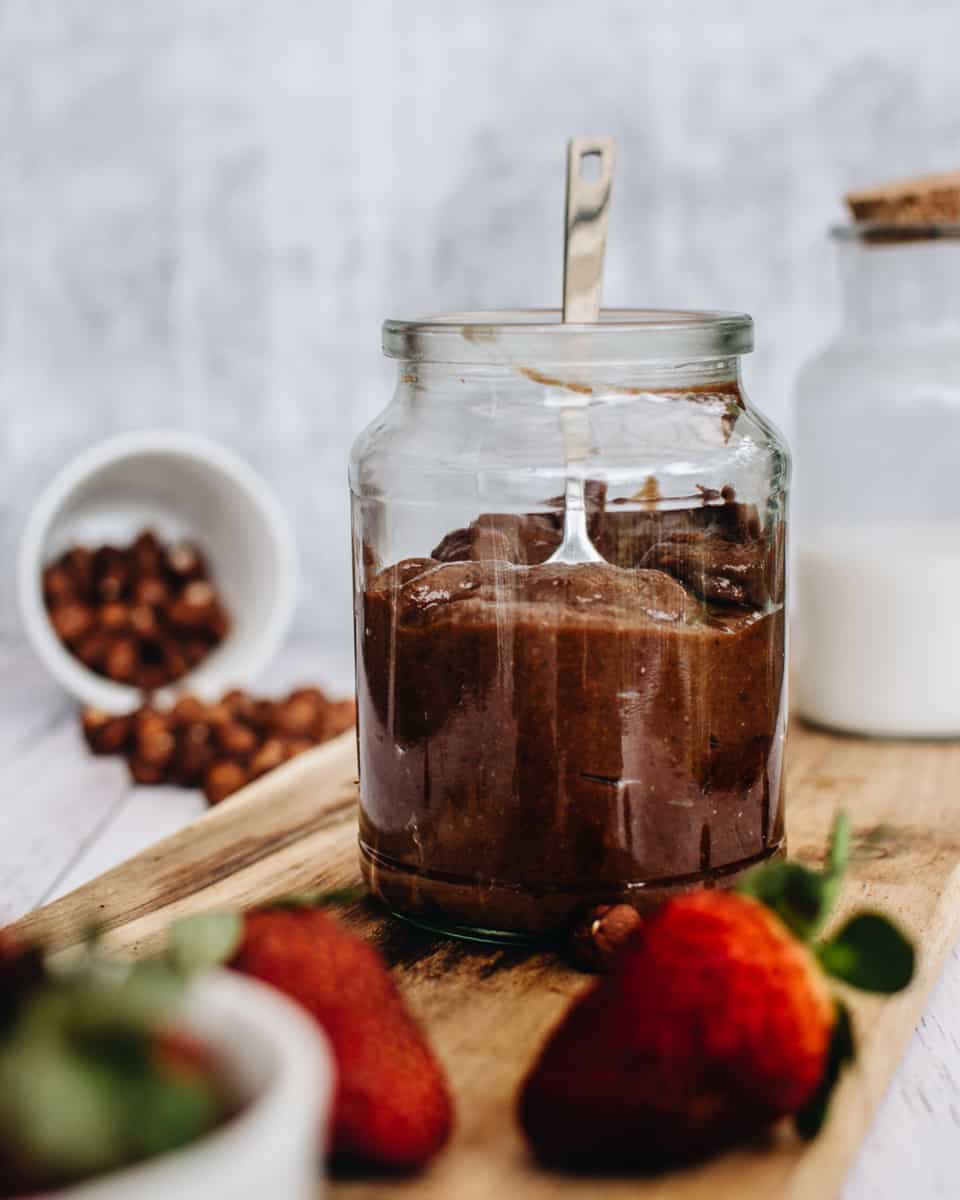 Thickness
When making homemade chocolate hazelnut spread, you will find that storing the Nutella in the refrigerator will leave it thicker. If you store it at room temperature, it will be a bit thinner in texture. 
Remove Skins From Hazelnuts
One easy way to remove the roasted hazelnuts' skins is to place them on a dishtowel. Then fold the towel over and rub vigorously to remove the shells. This will give your chocolate nut spread a creamier texture.  
Variations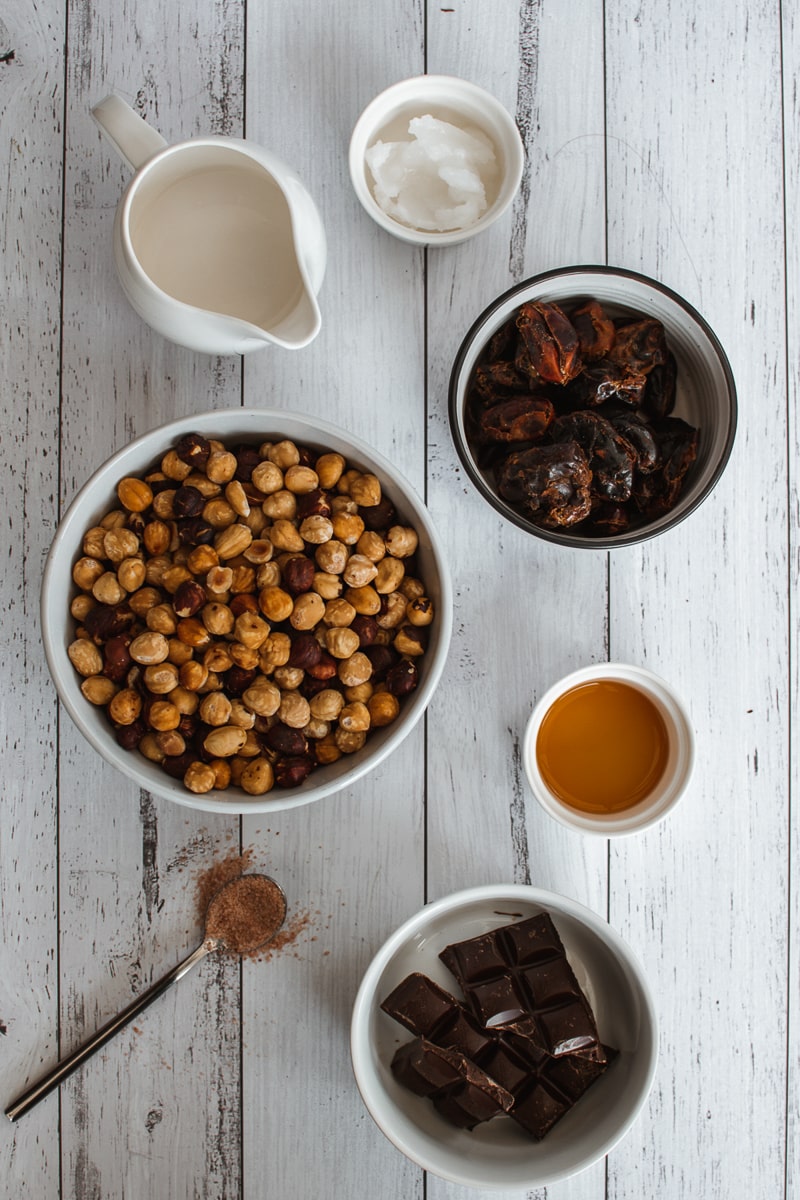 Swapping Nuts
Consider swapping out the hazelnuts for another nut like cashews or almonds. Granted, it will no longer be a hazelnut spread. But you can essentially roast, blend, and mix any kind of nut just like hazelnuts to make a chocolate nut spread. 
High Powered Blender 
It would be best to use either a high-speed blender or food processor to get the right consistency for your nut spread. Otherwise, you will find your nuts don't break down enough to make it as creamy as you would hope. 
Frosting 
When making a homemade frosting, consider adding some of the spread to give it a Nutella flavoring! This chocolate nut spread is so easy to incorporate into baking and other sweet desserts. 
Vegan Nutella FAQs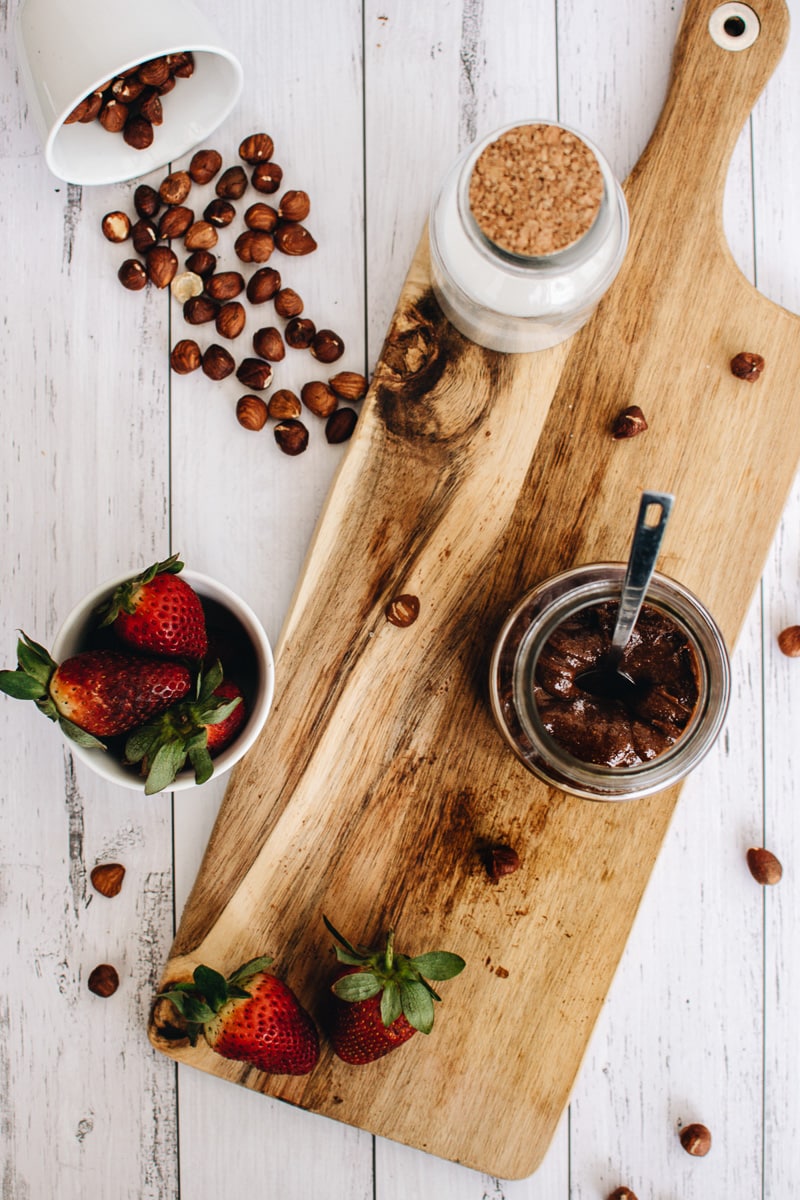 Can I Use Artificial Sweeteners In Vegan Nutella? 
You will find that using artificial sweeteners will stiffen up the spread. That is why I recommend using maple syrup or date puree to add enough sweetness to the spread. 
How Can I Use Nutella Spread? 
This chocolate Nutella spread can be used to spread on waffles, toast, stir in batters for cookies, cakes, and more. Or you can eat a little off a spoon. The possibilities are endless on how to enjoy this spread. 
Can You Double This Nutella Spread Recipe? 
This recipe can double and triple very easily. Just make sure you have enough room in your food processor or high-speed blender. Then store remaining Vegan Nutella in a sterilized jar.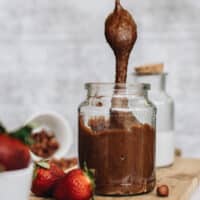 400

g

raw unsalted hazelnuts

skinned

100

g

60% dark chocolate

2

tbsp

coconut oil melted

4

tbsp

maple syrup

or 3 tbsp date puree

½

cup

vegetable milk

1

tsp

vanilla extract

¼

tsp

sea salt
Heat your oven to 175°C (350°F).

Spread the hazelnuts in a baking tray, and roast for 15 minutes.

Remove from the oven, and place into a food processor or high-speed blender.

Blitz for a few minutes, until you have a thick and creamy nut butter. (You'll probably need to stop and scrape down the sides of the bowl—or jar—a few times.)

While the nuts are processing, break the chocolate into small pieces and melt with the coconut oil.

Once the nut butter is ready, add the melted chocolate and coconut oil, maple syrup, vegetable milk, vanilla extract, and salt.

Blitz for another couple of minutes, until everything is completely mixed together and smooth.

Transfer to a sterilised jar, and store at room temperature or in the fridge for a thicker texture. It will remain good for a month.
Calories: 596kcal | Carbohydrates: 28g | Protein: 11g | Fat: 52g | Saturated Fat: 11g | Trans Fat: 1g | Cholesterol: 1mg | Sodium: 101mg | Potassium: 604mg | Fiber: 8g | Sugar: 15g | Vitamin A: 20IU | Vitamin C: 4mg | Calcium: 103mg | Iron: 5mg