Looking for a delicious soft and jam-filled thumbprint cookie? These vegan thumbprint cookies are so easy, delicious, and only need 5 simple ingredients!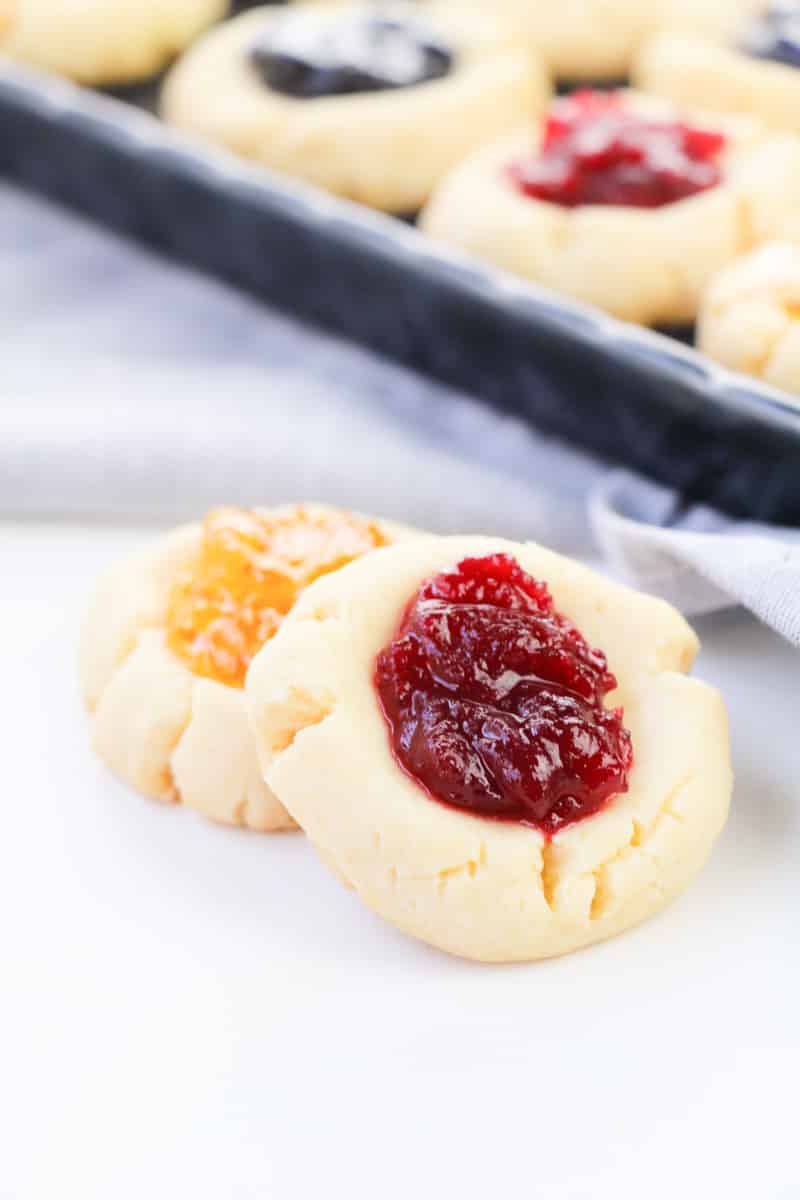 These buttery soft cookies are creamy, moist, and filled with your favorite ham filling. We're talking melt-in-your-mouth tasty. Make these anytime of year, but they are especially perfect as a holiday treat!
This Vegan Thumbprint Cookie Recipe Is…
Vegan Friendly 
Made with 5 ingredients 
Homemade 
Can use any jam for the filling 
Great for holiday baking 
And if you're here planning a plant based holiday menu, be sure to check out our complete Vegan Thanksgiving and Vegan Christmas cookbooks too!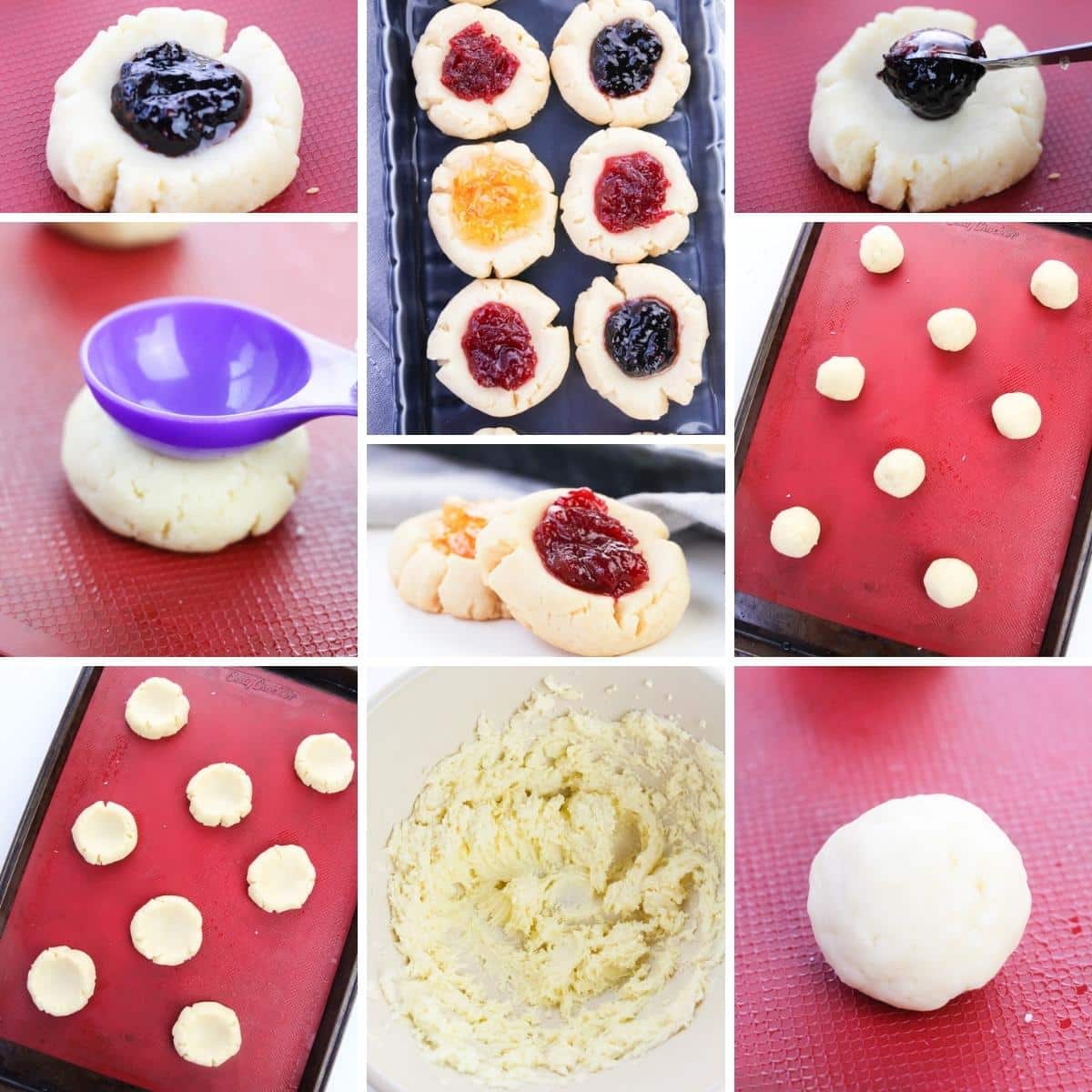 How to Make Vegan Thumbprint Cookies 
Start by lining your baking sheets and preheating the oven. 
In a stand mixer, whip up the butter and sugar until nice and creamy. 
Add in the flour and vanilla. 
Roll into balls, and make a dip in the center of each cookie. 
Bake as directed, and remove and let cool. Press the spoon into the cookies to make an indent a gain. 
Fill with your favorite jam and serve up these thumbprint cookies! 
Full directions for this thumbprint cookie recipe are in the printable recipe card featured below.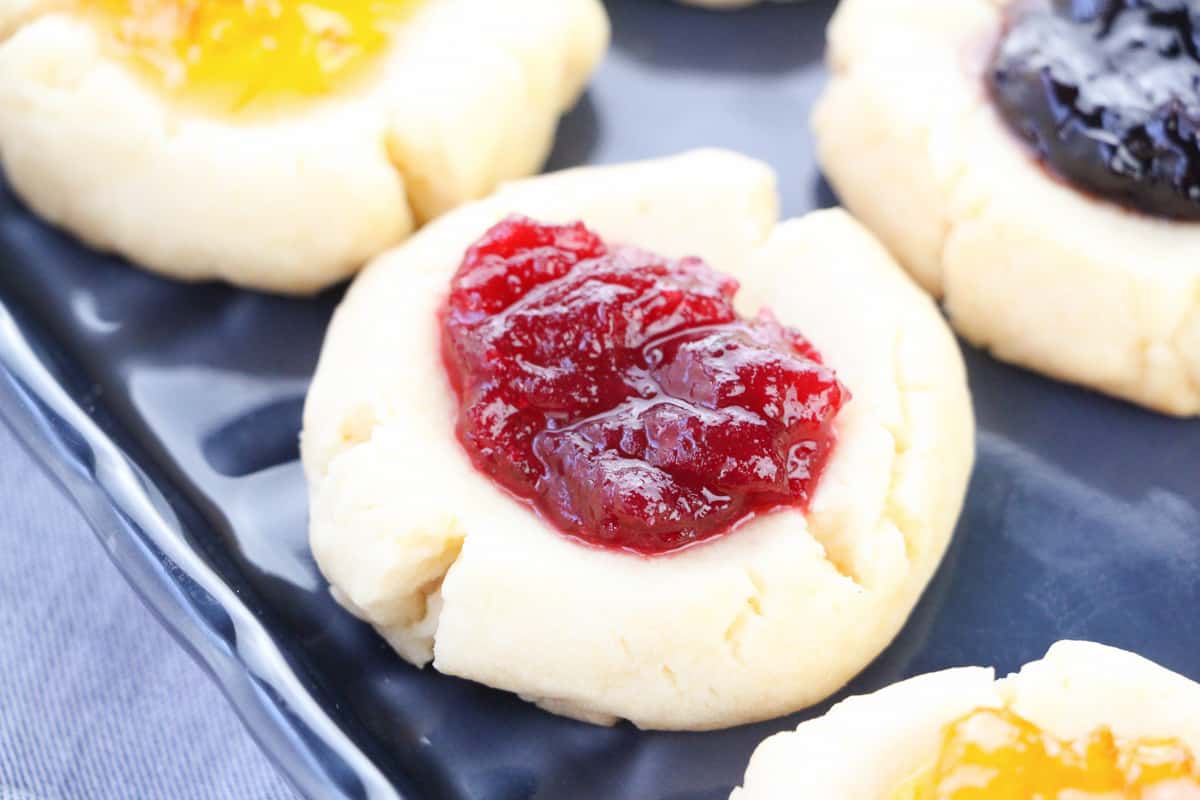 Expert Tips For Vegan Cookies 
Use Silicone Mats 
I love using silicone baking mats to place on my cookie sheets. It creates a non-stick surface and no need for a cooking spray. It is quick, easy, and clean up is a breeze. 
Get a Cookie Scoop! 
I always recommend using a cookie scoop. The reason being is that you can then ensure all the cookies are even in size so they all bake evenly. No under and over baked cookies from eyeballing the size!
Indent the Center Twice!
You will indent the center of your thumbprint cookies before baking them, but they will puff up a bit in the oven. Once you pull your cookies out of the oven, use a back of the spoon to indent your cookies a second time before they cool. This is important so you have room for the jam to fill in the center. 
Tasty Variations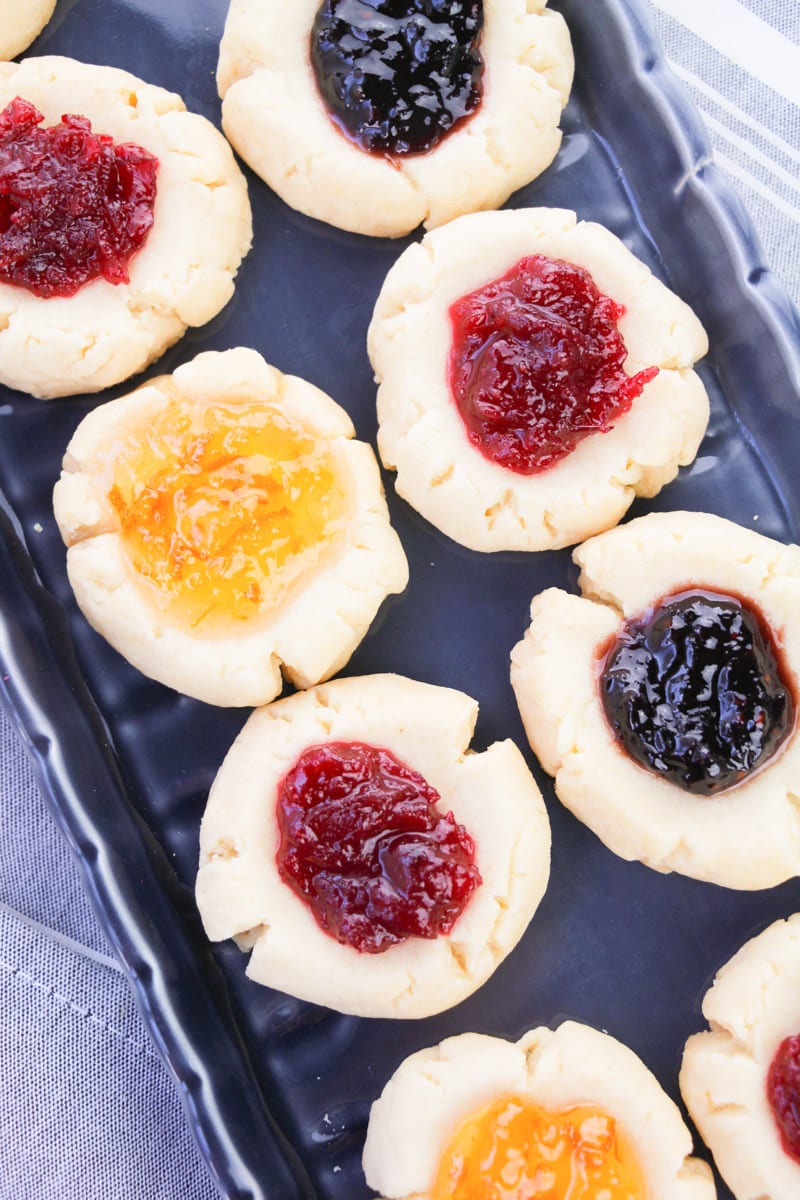 Mix up the Filling 
Try using a chocolate ganache (vegan friendly), pie filling, or any jam or jelly of your choice. The choices are pretty endless. I love mine with strawberry, blueberry, or apricot jam.
Drizzle with Vegan Chocolate 
For some added flavor and a pretty finish, try melting some vegan-friendly chocolate chips and drizzling them over top of your baked cookies!
Add Sprinkles
Sprinkles are fun! So go ahead and add some holiday inspired sprinkles for a fun and festive garnish.
Common Questions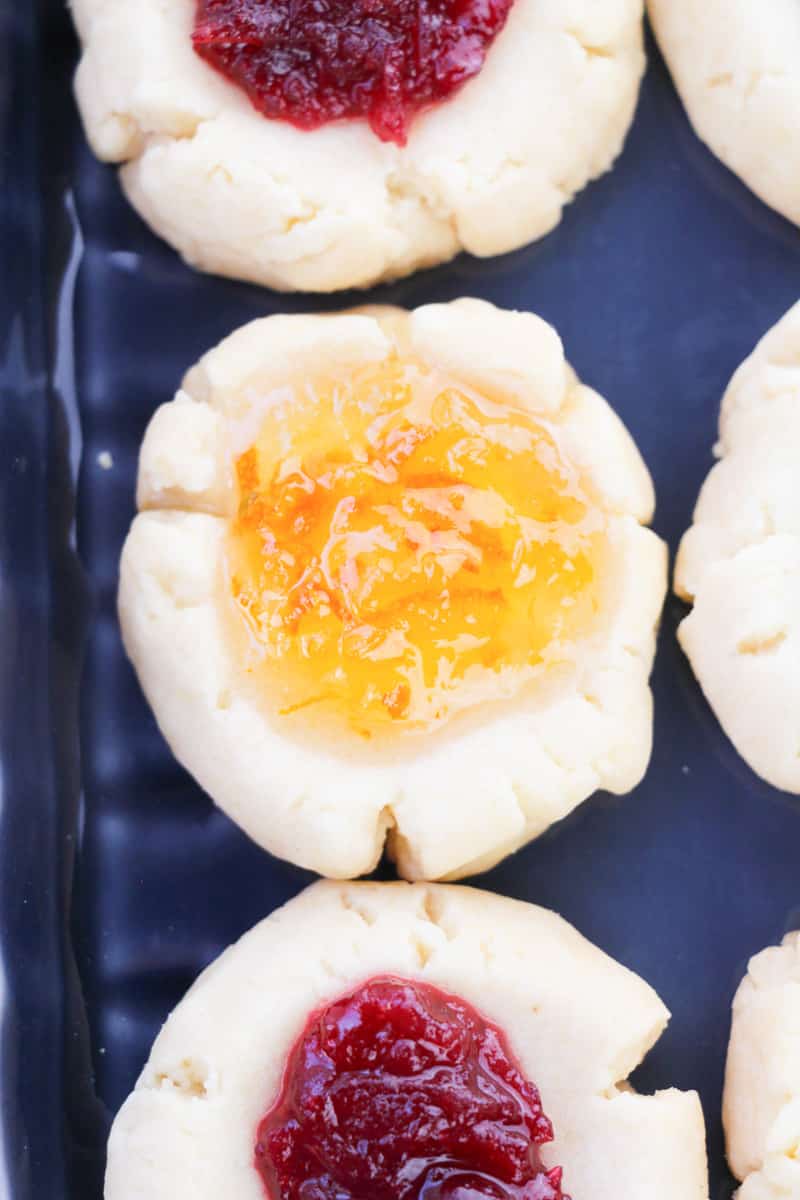 Do these thumbprint cookies need refrigeration? 
With the jam in the center, you will want to refrigerate the thumbprint cookies. Otherwise, the cookies will spoil at room temperature. 
Can I freeze jam-filled thumbprint cookies? 
Yes, these jam filled cookies can be frozen. Do a single layer in a freezer container. If you need more than one layer, place wax paper between each layer of cookies so they don't stick together. 
Can I make these cookies in advance? 
If you want to make the thumbprint cookies in advance, go right ahead. I recommend only making 24 hours in advance. Otherwise, the cookies can dry out quite a bit. Just make sure to cover well and refrigerate until ready to serve. 
Which vegan butter should I use?
Any brand that melts well will do the trick. I've head great luck with Earth Balance brand!
More Recipes
If you love these vegan thumbprint cookies, be sure to check out these other tasty ideas:
And if you're here planning your holiday menu, don't forget to check out our new Vegan Thanksgiving and Vegan Christmas Cookbooks!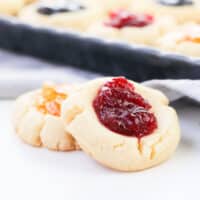 Vegan Thumbprint Cookies
Looking for a delicious soft and jam-filled thumbprint cookie? These vegan thumbprint cookies are so easy, delicious, and only need 5 simple ingredients!
Servings: 35 cookies
Calories: 146kcal
Ingredients
1 ½

cups

Vegan Butter

softened

¾

cup

Sugar

organic

1

teaspoon

Vanilla Extract

3 ½

cups

All-Purpose Flour

1

cup

jam

any flavor
Instructions
Preheat oven to 350F degrees.

Line two baking sheets with parchment paper or a silicone mat.

In a stand mixer, beat the butter and sugar together until it becomes light and creamy, about 2 minutes. Add the vanilla extract.

Slowly add in the flour, while mixing, until it is just incorporated.

Roll the dough into 35 balls, and arrange them on the baking sheets about 1″ apart.

Use an spoon to press down on the top of the cookies,

Flatten them and make a small divot in the center of each cookie.

Bake the thumbprint cookies for 12-15 minutes, until lightly golden brown.

Immediately after baking, press the spoon into each indent again, as they likely will rise back up a bit during baking.

Cool the cookies on the cookie sheet until safe to handle.

Fill each thumbprint cookie with approximately 1 to 1 ½ teaspoons of jam.

Serve and enjoy!
Nutrition
Calories: 146kcal | Carbohydrates: 21g | Protein: 1g | Fat: 6g | Saturated Fat: 2g | Polyunsaturated Fat: 2g | Monounsaturated Fat: 3g | Trans Fat: 1g | Sodium: 66mg | Potassium: 24mg | Fiber: 1g | Sugar: 9g | Vitamin A: 370IU | Vitamin C: 1mg | Calcium: 4mg | Iron: 1mg
Vegan-ize any recipe!
Grab our free vegan cheat sheet, packed with my favorite easy substitutions to make any recipe vegan.